30+ Halloween Costumes For Best Friends
Halloween is about to come and the annual Halloween costume parties are always an event most girls look forward to. It's the only time of the year when you can be whoever you want to be but yourself, and it's a pretty good time to celebrate the wackiness of your imagination with your friends.
Going to a Halloween costume with your best friends? Why not dress up in the same costume together? Or dress up as popular best friends, too? The possibilities are endless but choosing the best costume this year can be a daunting task.
If you're unsure what or who you and your best friend want to be this Halloween, here are some great costume ideas to get you started:
Thing One and Thing Two costumes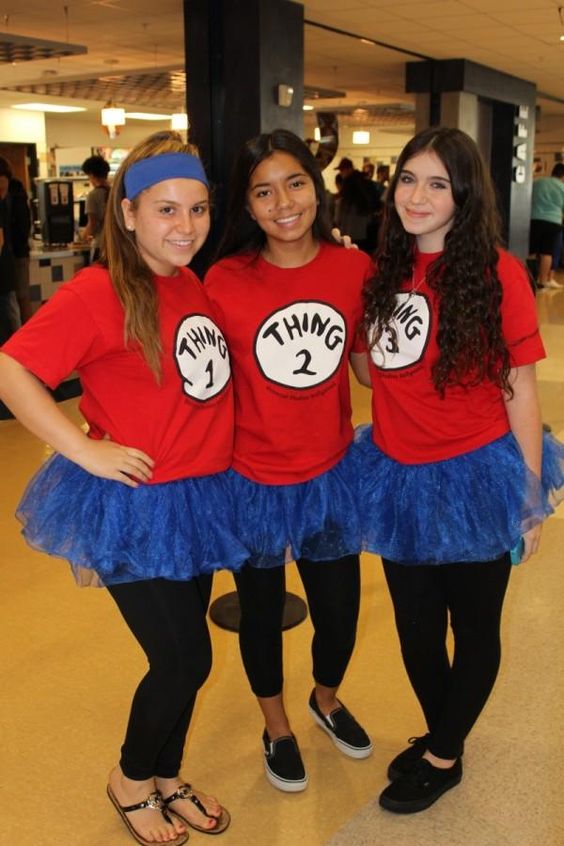 Alvin And The Chipmunks Costumes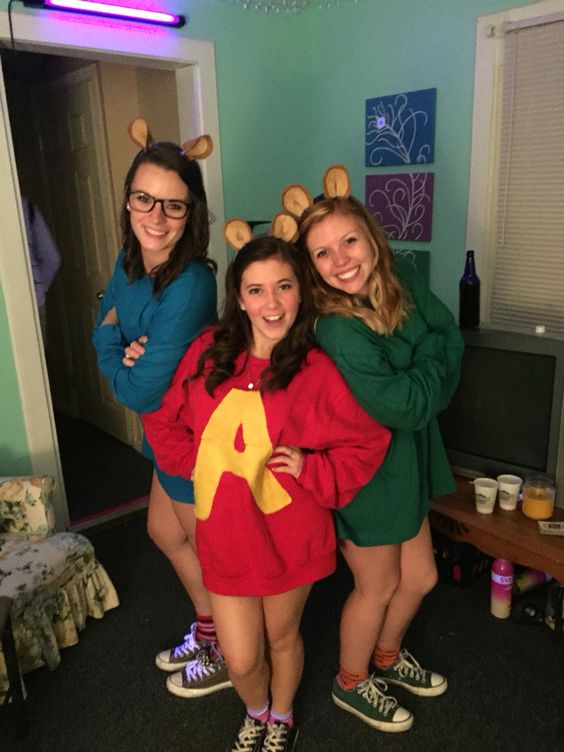 Peanut Butter And Jelly Costume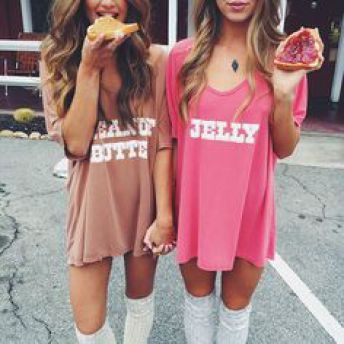 Three Blind Mice Costumes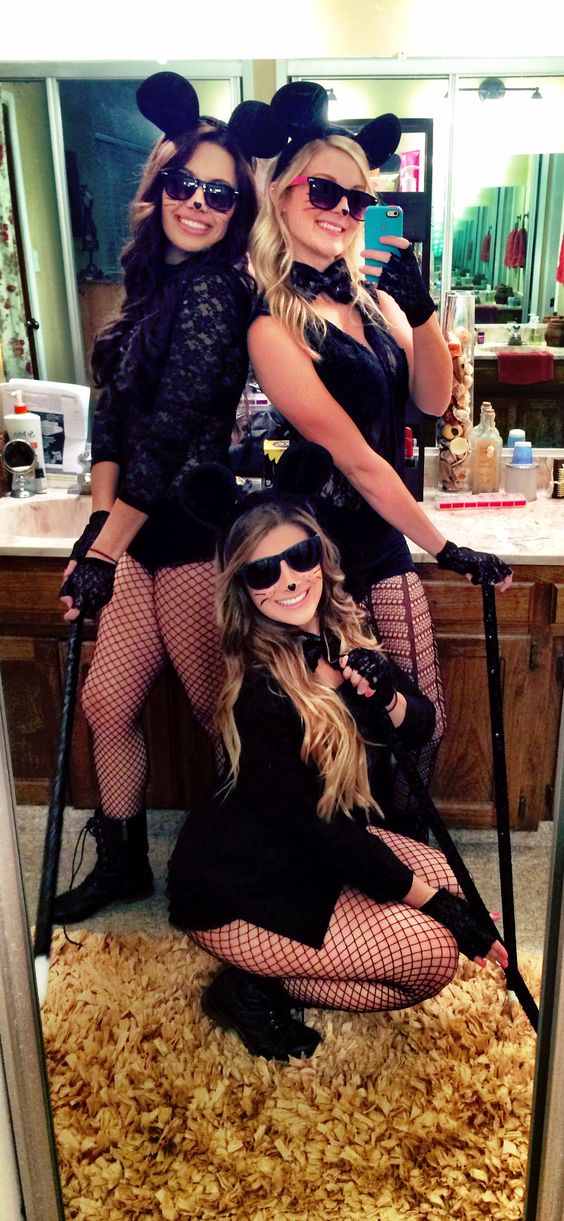 Wear your all-black ensembles, a pair of black sunglasses, and a mouse headband to become the 3 blind mice. Cute and utterly easy to recreate.
Emoji Halloween Costume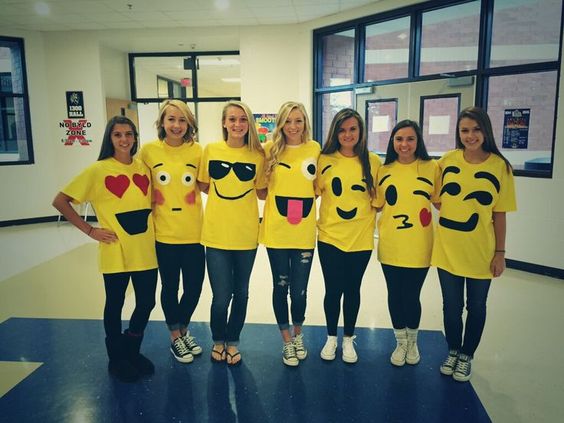 Wizard of OZ Costumes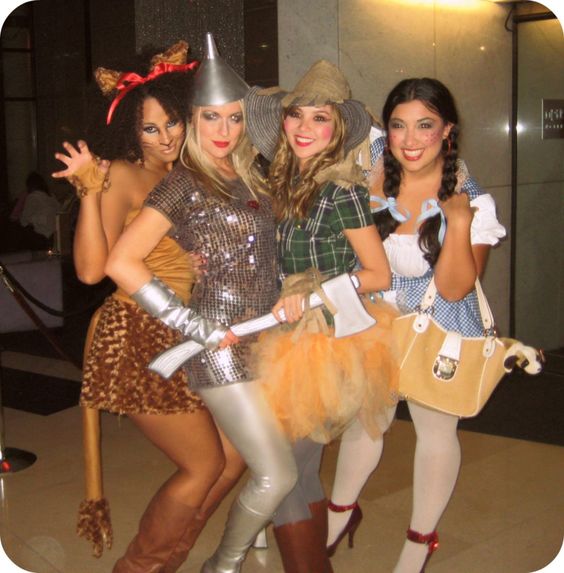 If you're heading to a party as a group of 4, then this Wizard of Oz idea is simply perfect. Have someone dress as Dorothy, as the Tin Man, as the Lion, and as the Scarecrow to complete the characters. And if you have one more member, she can definitely be the witch.
Snowman Costumes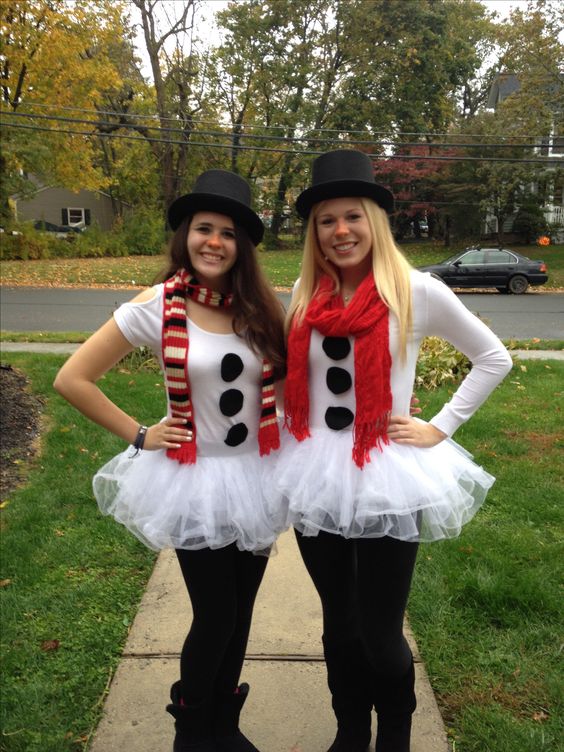 Create your very own version of what a snowman looks like and complete the look with an all-winter ensemble. Now no one can say you didn't prepare for winter at all.
Ninja Turtle Costumes for Girls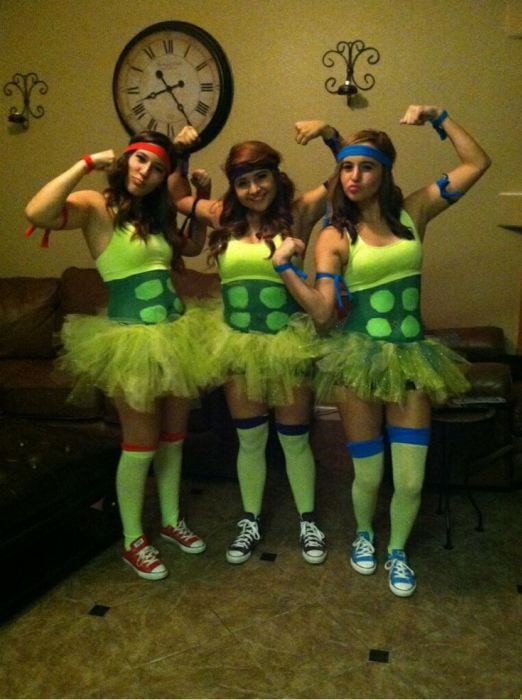 Do you want to be a kickass Ninja Turtle? Don't ever do it alone – enlist your friends to complete the famous pizza-eating, ass-kicking mutants.
Frat Boy Halloween Costume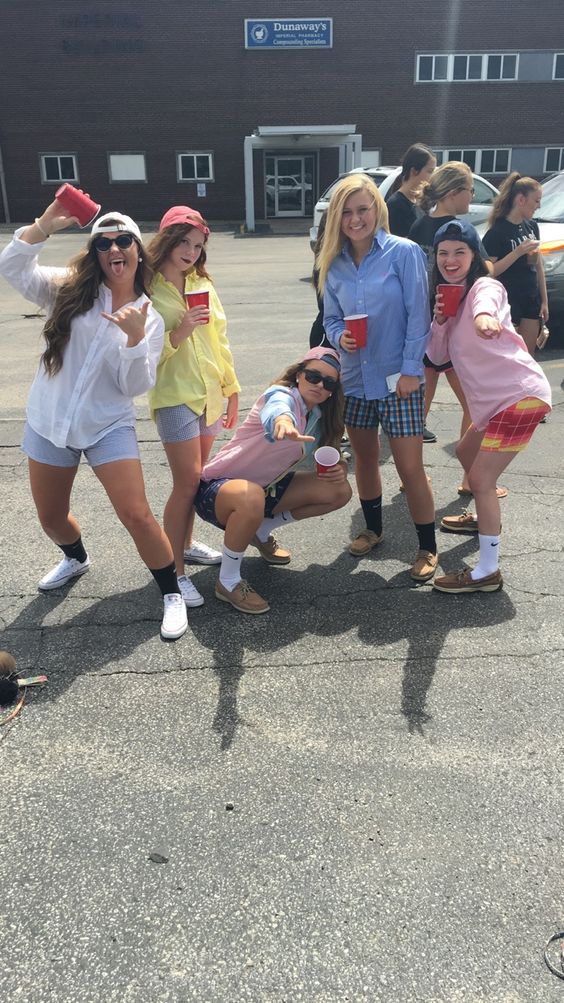 Mock the classic Frat Boy outfit by wearing long sleeve shirts and a baseball cap with your friends. The idea is simple and shows you and your friends have no care in the world whatsoever. And guarantee, you're sure to get some heads scratching at the party.
A League Of Their Own Costume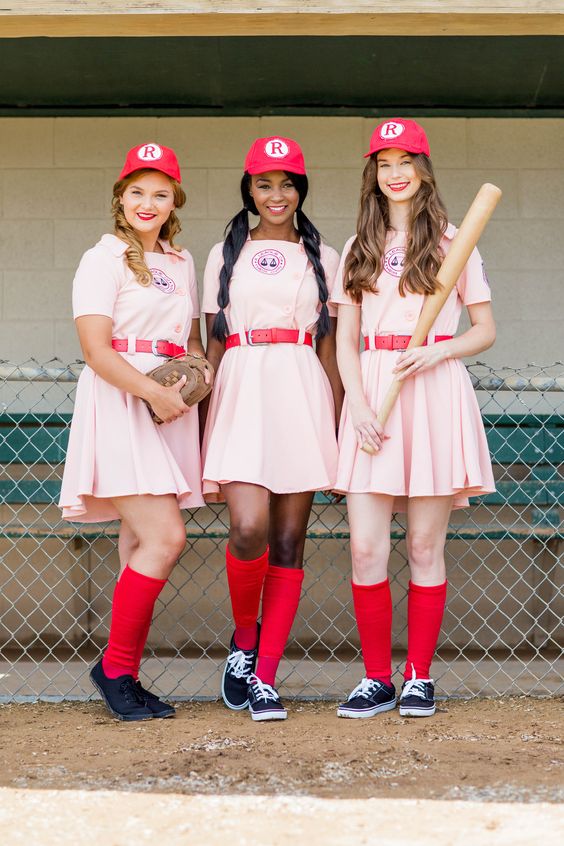 via camillestyles
Social Media Group Costumes for Girls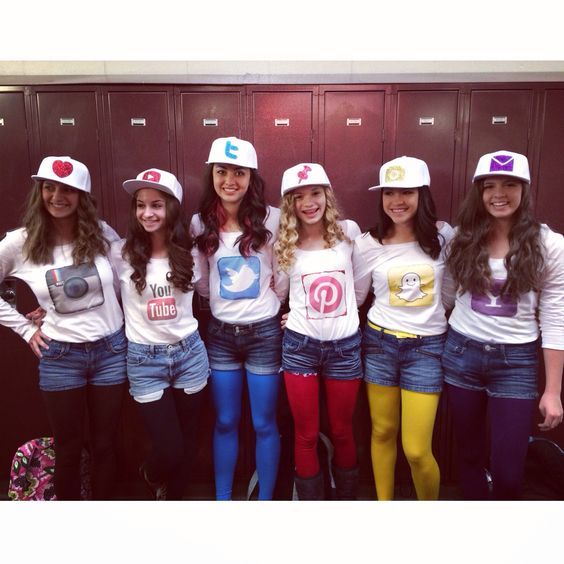 Everyone loves social media. In fact, one can safely say that everyone's slightly addicted. Why not wear your favorite social media sites as a group? Wear your Facebook, Instagram, Twitter, and Youtube t-shirts this Halloween!
Mario and Luigi Halloween Costumes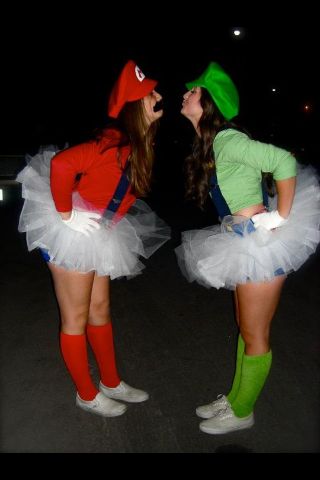 Sure, these two are brothers, but you can come as Mario and Luigi to the party, too. They're iconic and the outfits are easy to come up with. Just make sure the hats are on point as these two have, and you're good to go.
Fox in Socks and Cat in the Hat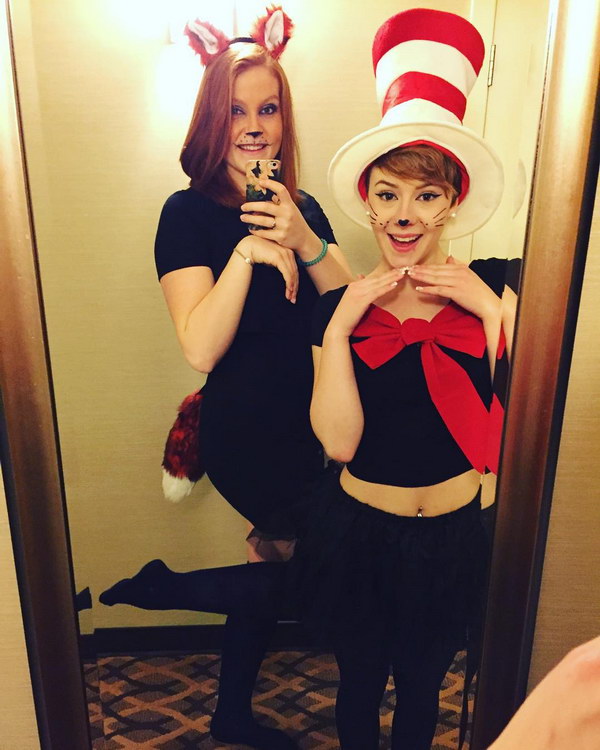 Children's book characters are always a good idea. Take for example this cat in the hat and fox in socks costume idea – super cute, recognizable, and so easy to put together.
Girl Best Friend Costumes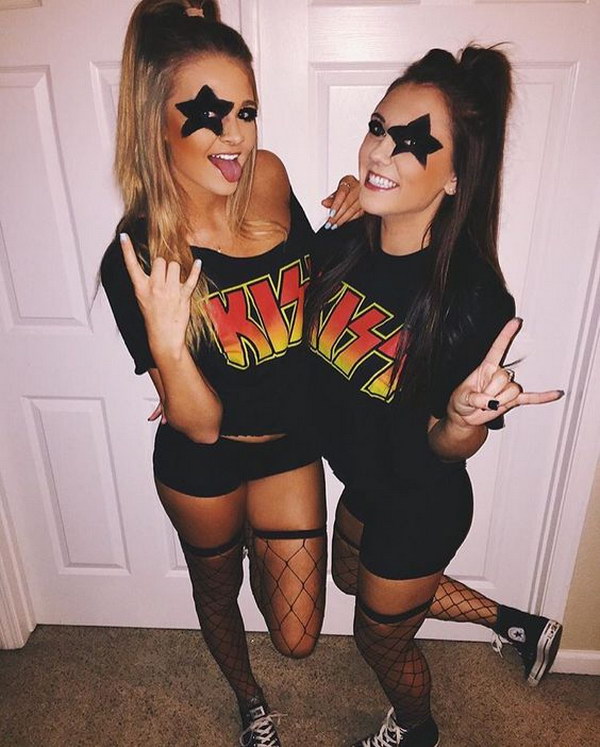 Pick a band that you both like, or anything for that matter and dress alike. This duo is dressed up as Kiss band members, complete with black nail polish, face make-up, and of course, fishnet stockings.
Netflix And Chill Costume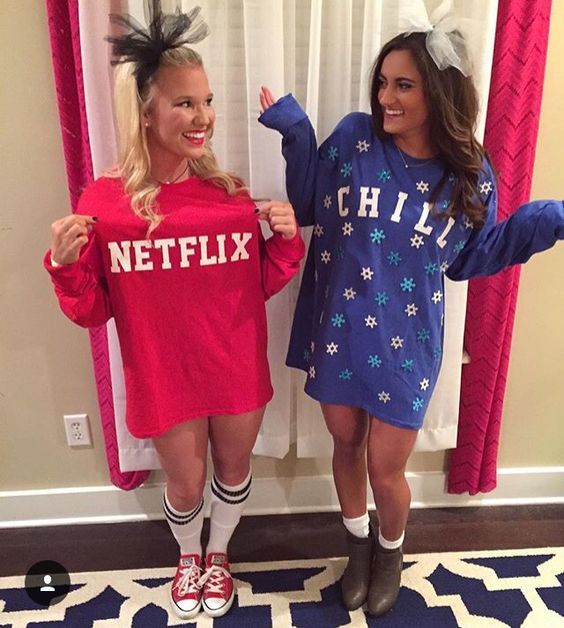 Bambi And Thumper Costumes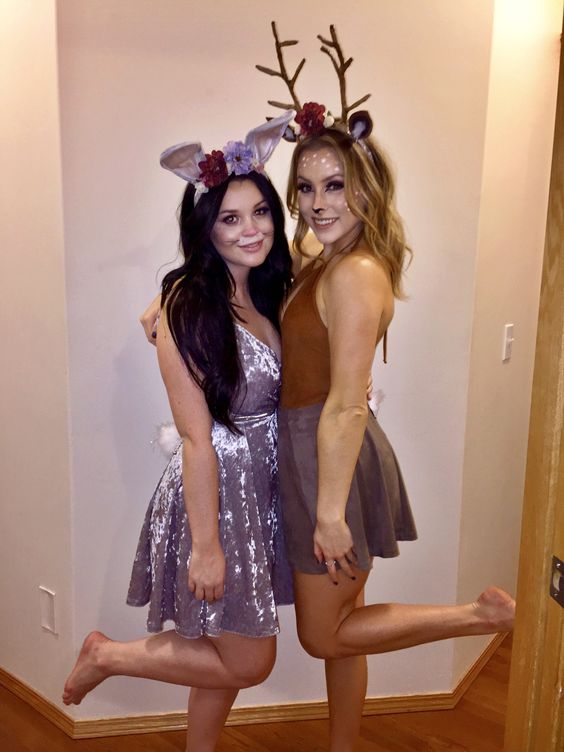 Lilo And Stitch Halloween Costume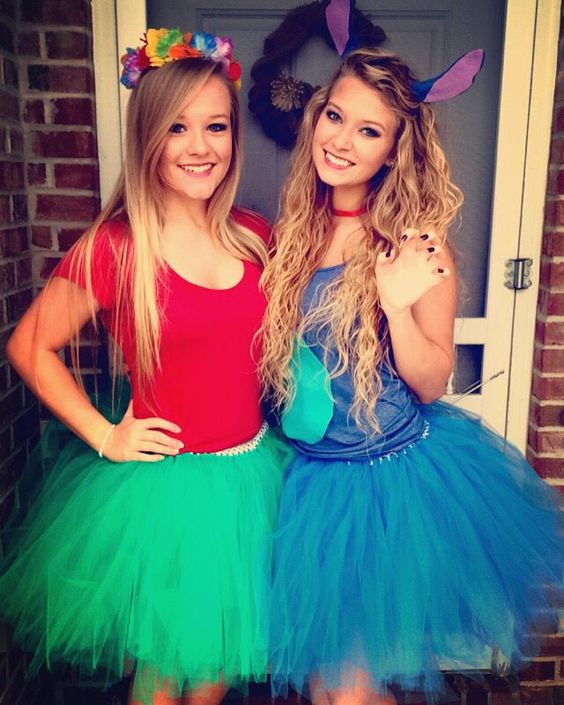 The bond between these two beloved Disney characters is epic. Dress up as the lovable alien and her loyal human and bring the luau to the party.
Cute Disney Costumes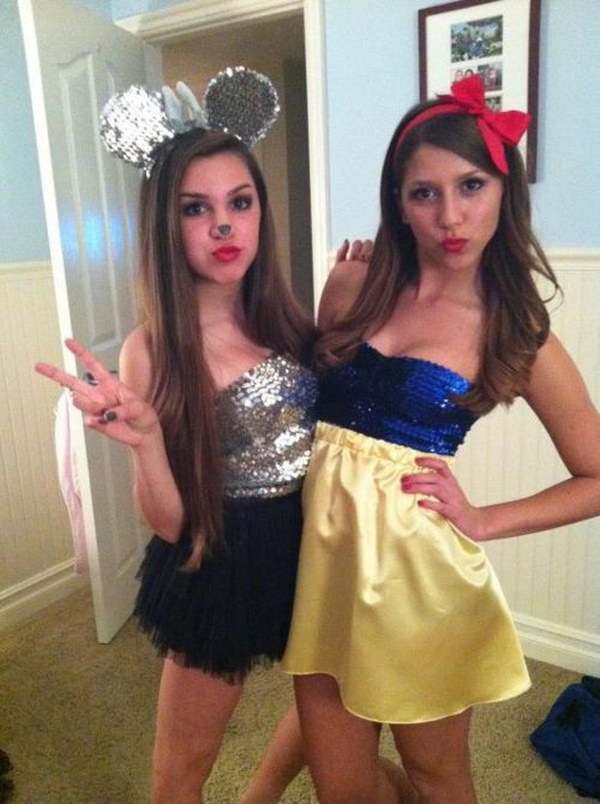 Who doesn't love a Disney princess? Wear your cutest versions of any of the Disney princesses this Halloween and make your childhood dream of being a Disney princess come true.
Sailors Halloween Costume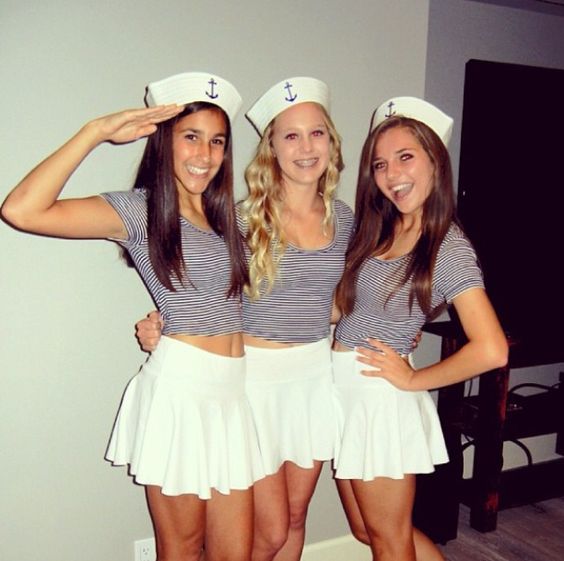 Sailor costumes verge on being cute and sexy at the same time. Wear a simple navy blue dress and don sailor hats for that quick and easy Sailor Halloween costume.
Mermaid Man And Barnacle Boy Costumes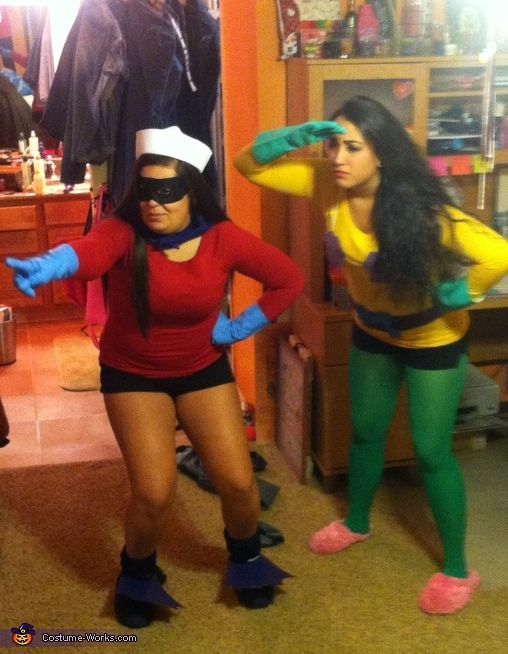 If you opt to do the superhero duo costume, make sure you do it the right way. This mermaid man and barnacle boy costume idea shows you and your best friend sure have great senses of humor.
Sugar Skull Halloween Costume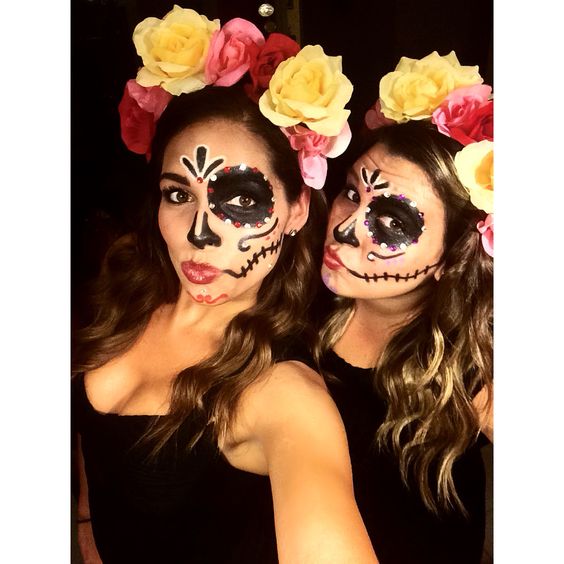 Paint half your faces with the famous sugar skull or day of the dead mask and wear a spanking outfit to go with it. Your faces may look scary but that doesn't mean your body should. Balance the face paint with sexy outfits that are sure to turn heads.
Cheech And Chong Costume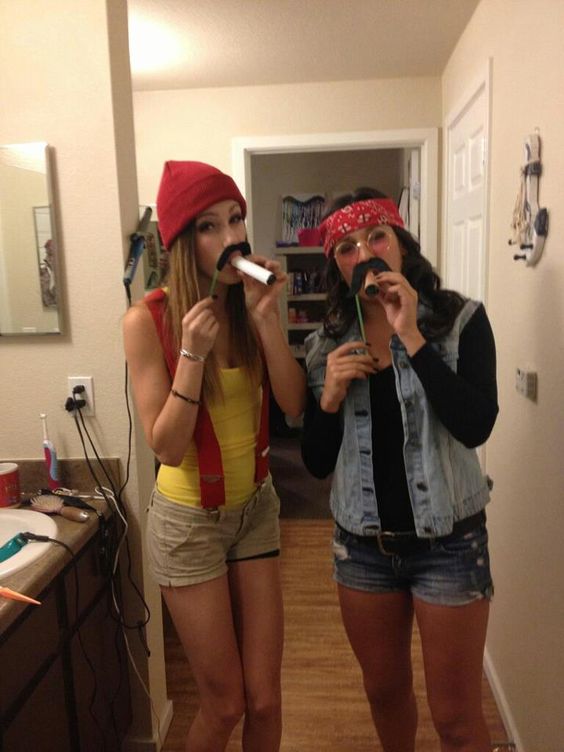 Cat Dog Costume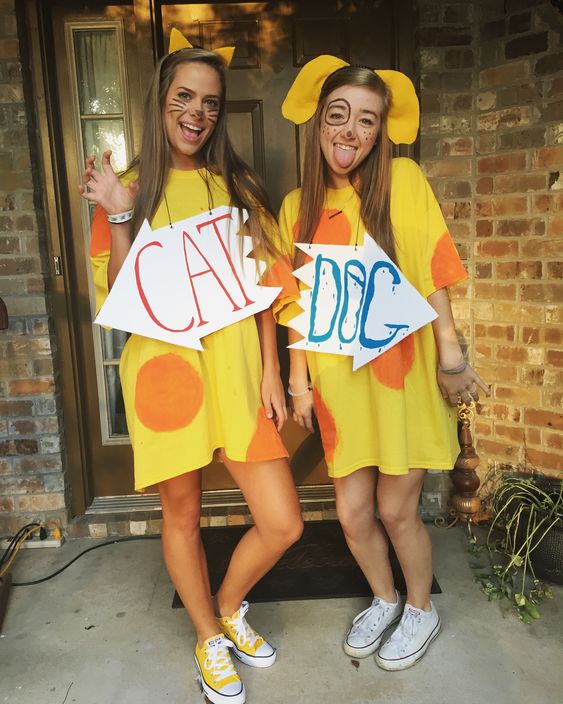 Fruit Halloween Costume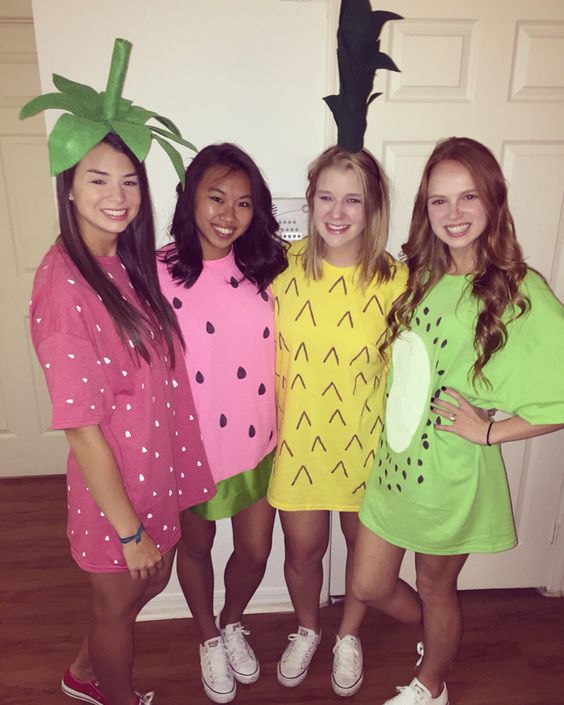 Dress as your favorite fruits this Halloween and come to the party as a fruit salad or fruit basket – it doesn't get any sweeter than that!
Sexy Halloween Costumes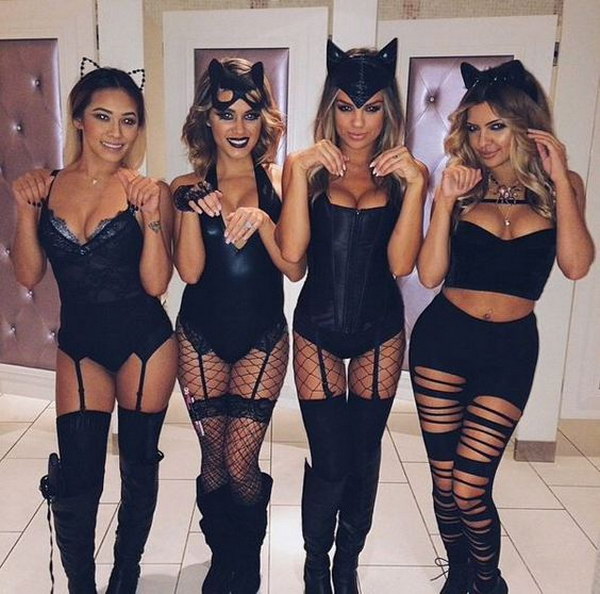 A Halloween party is never complete without a group of friends who don their tightest all-leather catsuits to the party. Be that group of friends and make everyone happy.
Angel and Devil Costumes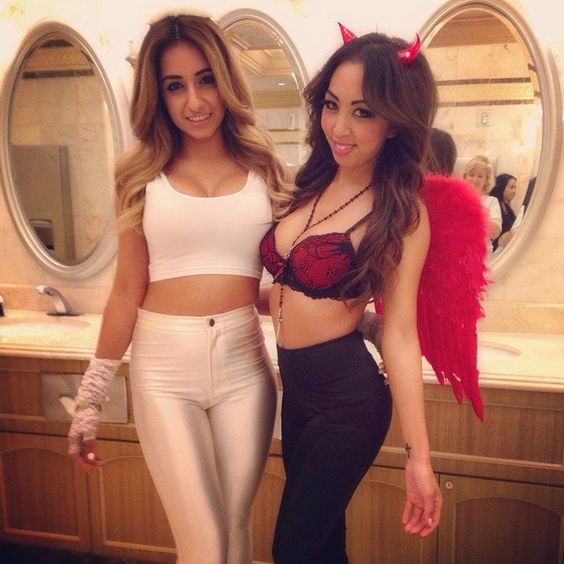 The angel and the devil always go hand in hand, so why not wear them as costumes for Halloween? Show both of your innocent and bad sides and get everyone talking by how badass you two are!
Spongebob And Patrick Costumes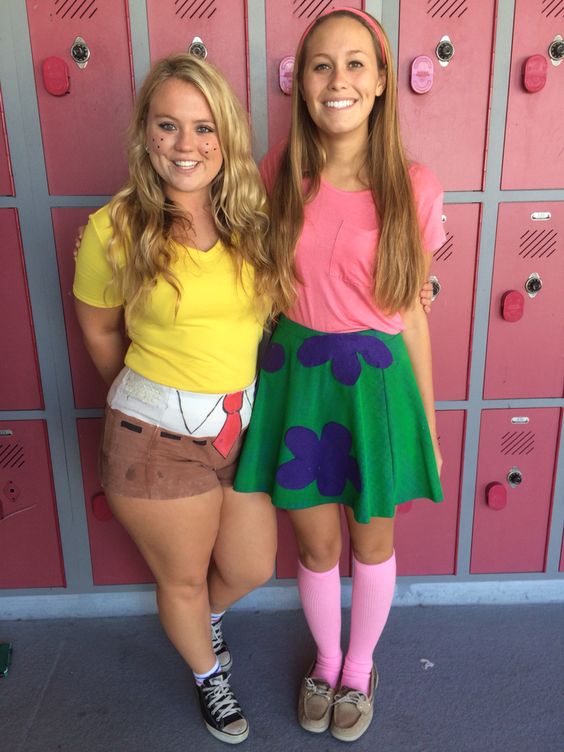 Who doesn't love this wacky duo from Bikini Bottom? The ultimate example of best friends, they are always there for each other despite their shinanigans. Show the party how deep your friendship is by dressing as these two lovable characters.
Vs Angel Halloween Costume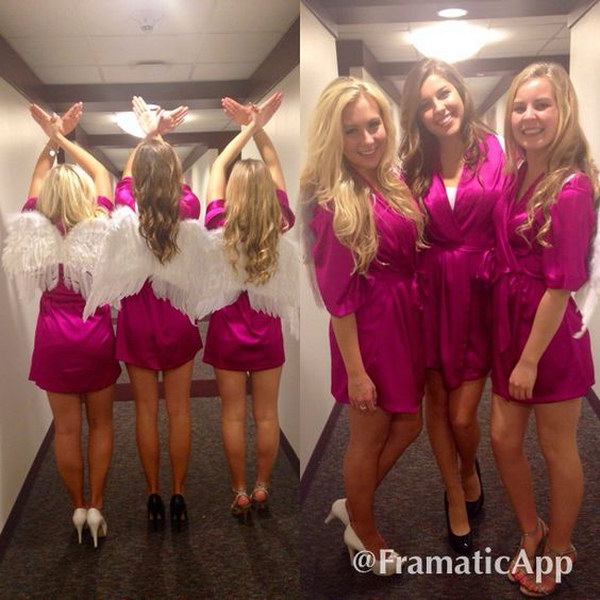 Every girl wants to be a Victoria Secrets model on the runway. Dress the part by curling your hair into waves, and donning the iconic pink robes with tiny wings on the back.
Lady Liberty And Uncle Sam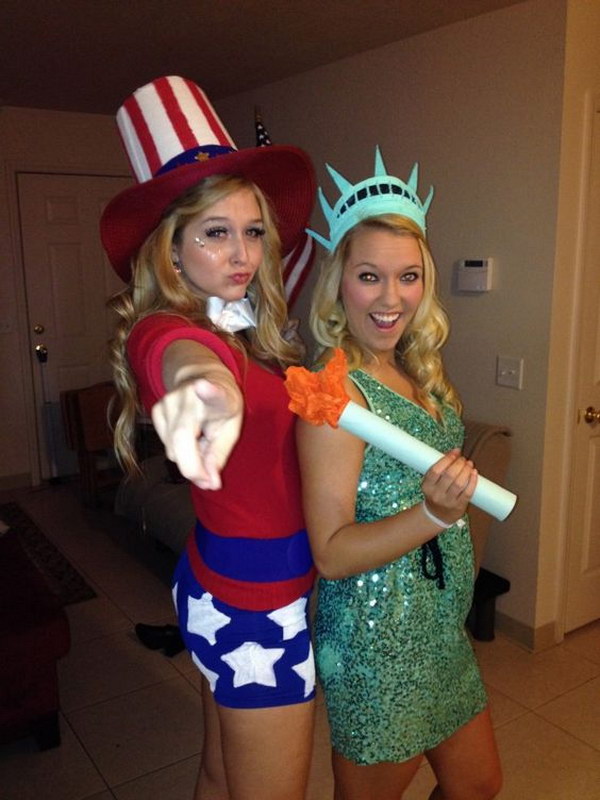 Show your love for your country by wearing the ultimate symbols of the USA. It doesn't get more patriotic than that.
Deer And Hunter Costume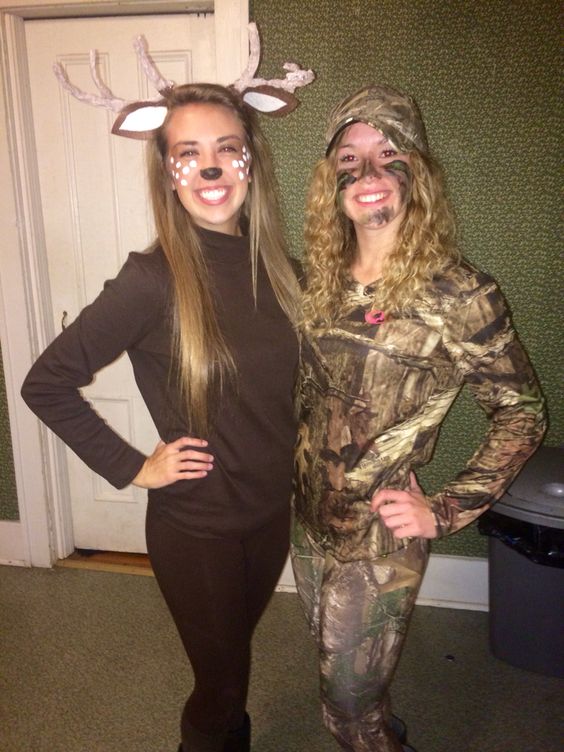 Toddlers And Tiaras Halloween Costume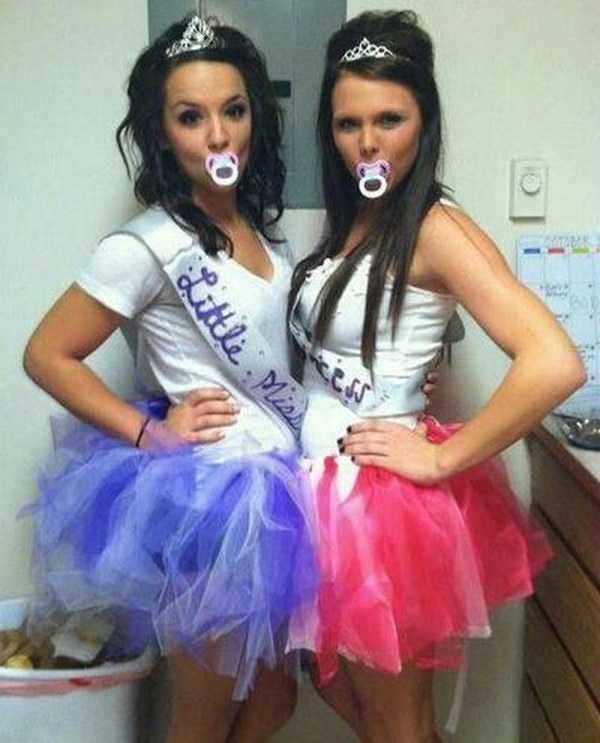 Be as cute as little toddlers in this funny and super cute costume idea. Wear the sash and and of course, the tiaras and pacifiers to channel your inner little girls/beauty queens!
Rock Paper Scissors Costume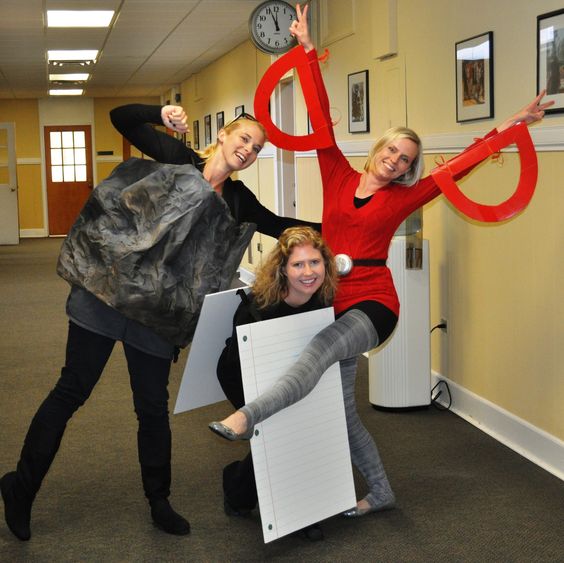 This costume idea is so genius you're sure to get the laughs at any Halloween party. Though the rock, paper, and scissors are doomed to fight each other, it's no question that one is never complete without the others. Show 'em how tight your friendship is with this super cute costume idea.
Audrey Hepburn Costumes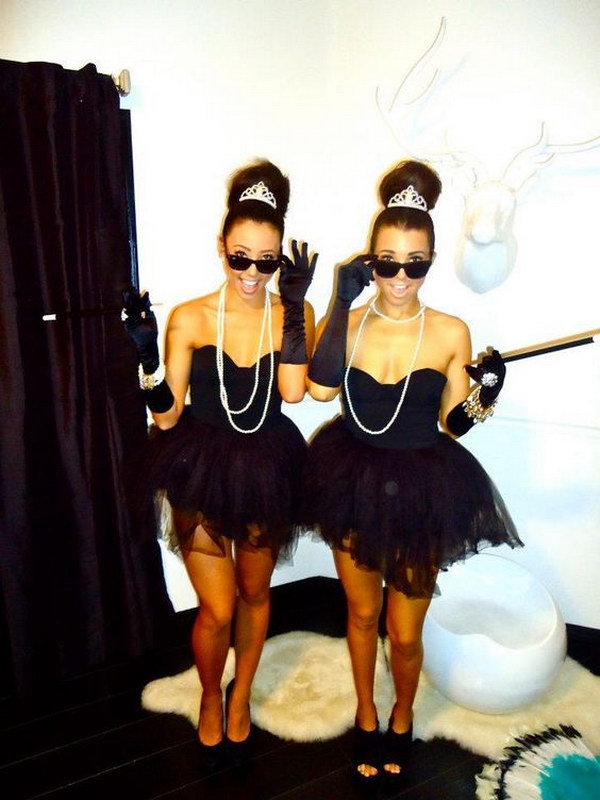 Every girl wants to be Audrey Hepburn at Breakfast at Tiffany's. Create your very own versions with tutu skirts and the pearls to match and be the darlings of the party.
Sugar Skulls Costumes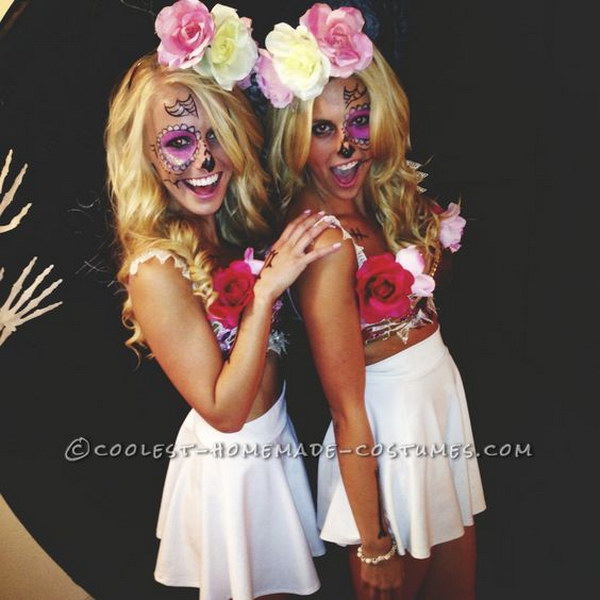 Another sugar skull idea, these outfits are as cute as a button. Just because your faces are donning the faces of the dead, doesn't mean you have to go all gloomy. You can wear a flower crown and cute outfits to go with it, too.
M And M Costume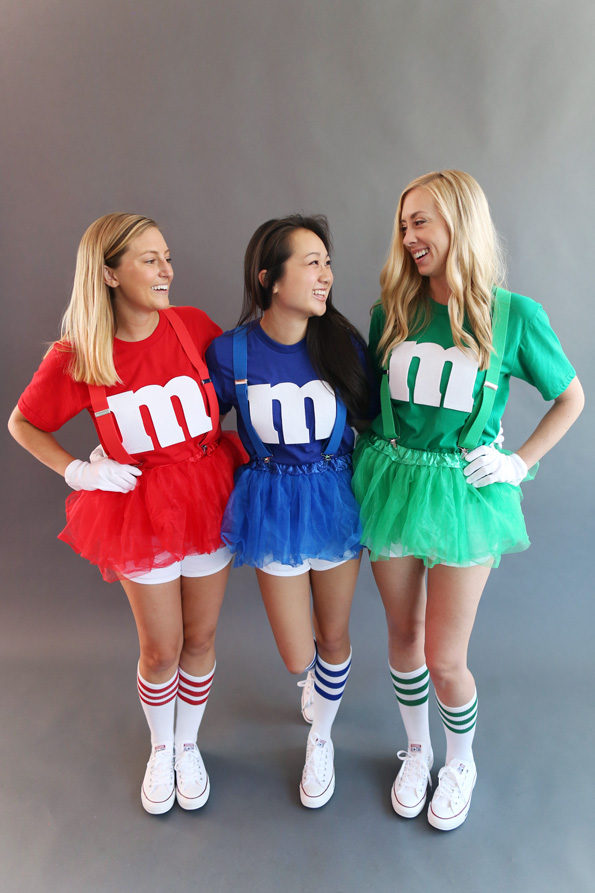 Harley Quinn Suicide Squad Costume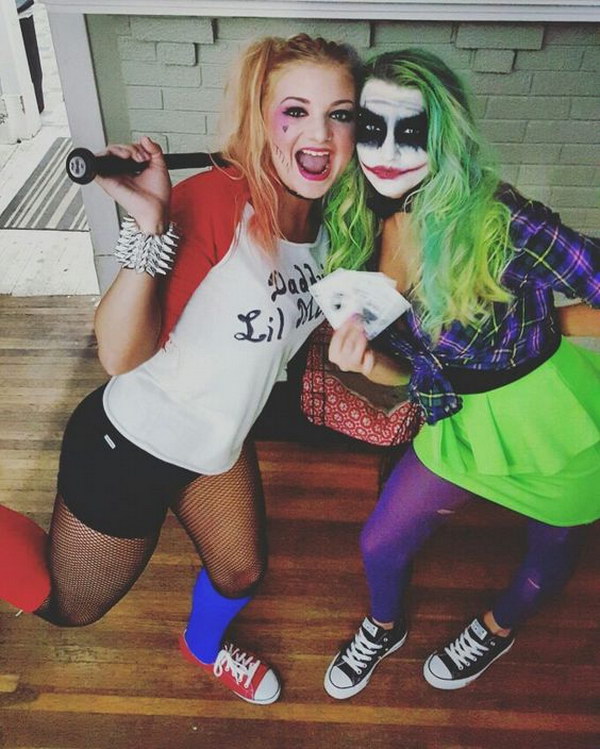 The Suicide Squad's naughty duo is the epitome of another person loving your own weirdness. Show your friends how crazy you two are with this epic Harley Quinn and Joker costume.