20+ Most Beautiful Outdoor Decoration Ideas for Christmas
Cool Christmas decorations can add fun and festive flair to the front of your home and make your home stand out in the neighborhood. When you decide that you are going to decorate your yard for Christmas, you may find yourself at a loss for creative ideas. Check out these most beautiful outdoor decoration ideas for Christmas. From wooden snowflakes with lights or wicker lanterns, to evergreen hanging basket or pinecone Christmas outdoor garland, these ideas would surely get your yard Christmas-ready and bring more cheer to your house this holiday season.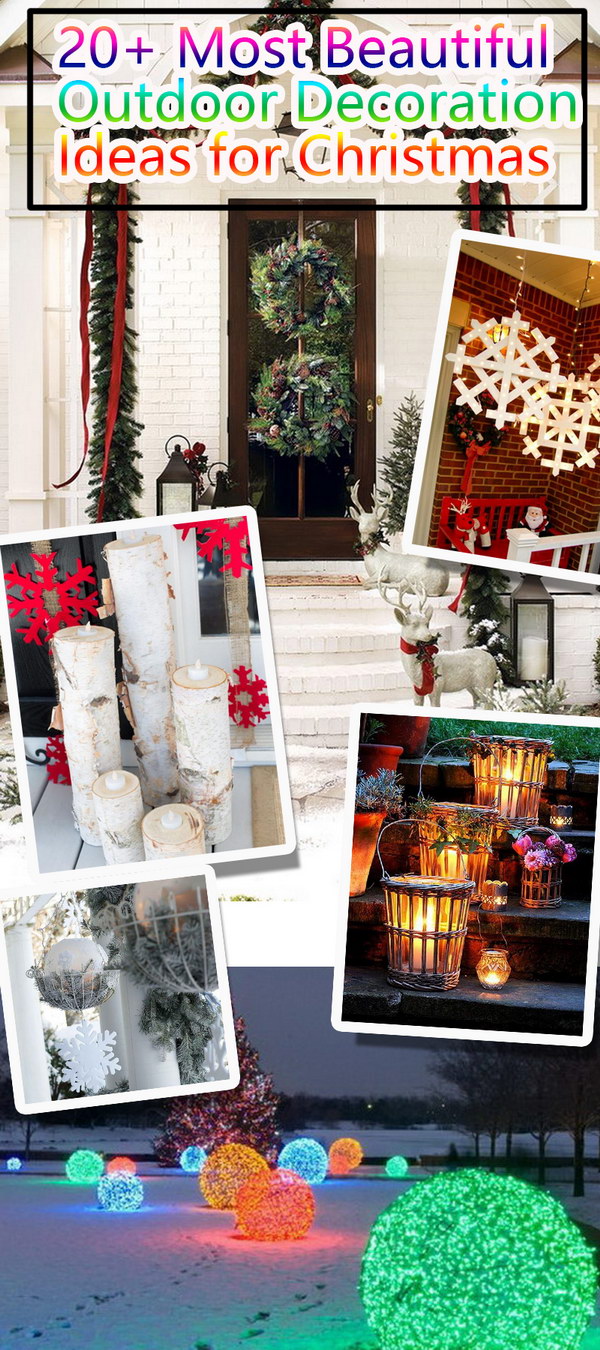 DIY Christmas Tree for Your Front Porch out of a Pallet

Christmas Greenery and Ribbon Entry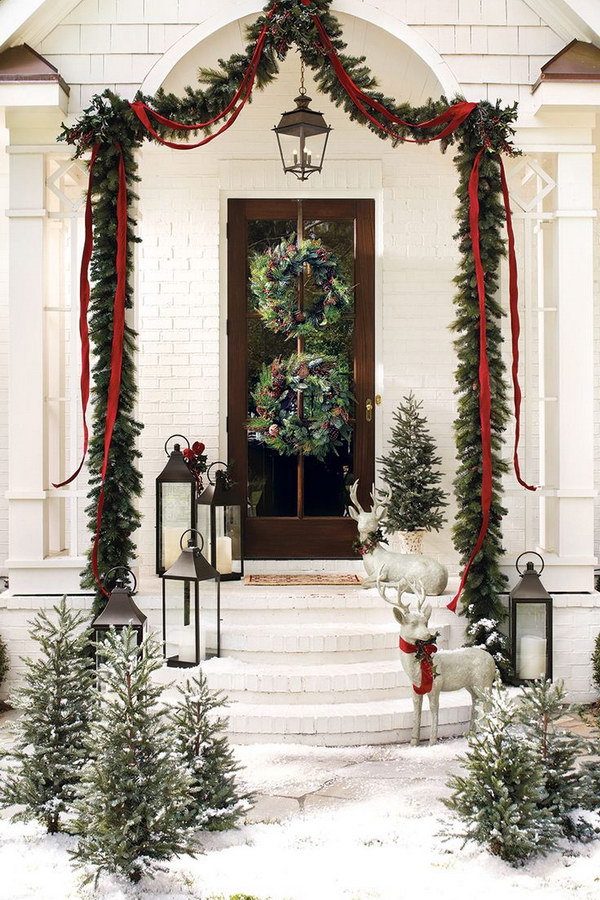 This gorgeous outdoor holiday display features rope garland, red ribbon, lanterns, and a few reindeer for an unexpected surprise! Via howtodecorate.
Wooden Christmas Candles with Red Snowflakes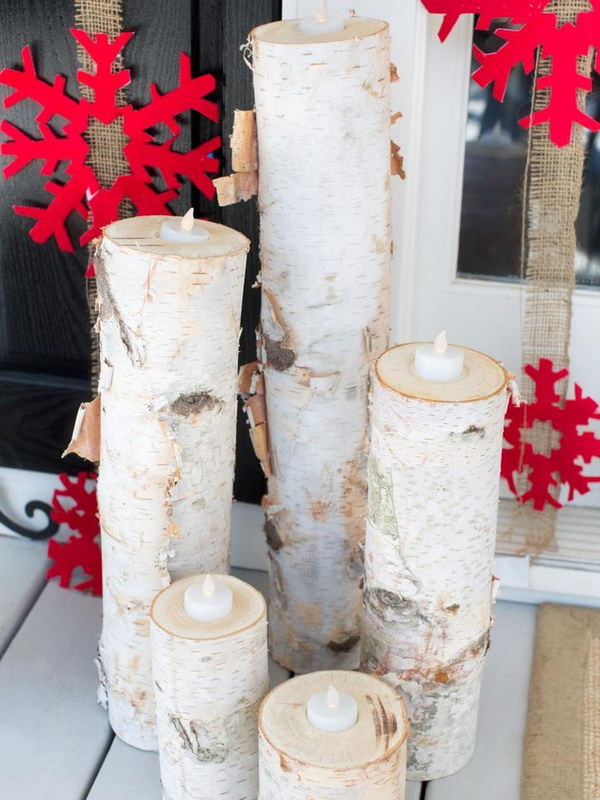 Drill holes in birch logs and add battery-operated votives inside. Then add some red snowflakes, you can create an all-natural holiday ambiance for your front porch. Get the tutorial via hgtv.
Red and White Ornaments Topiary Outdoor Decoration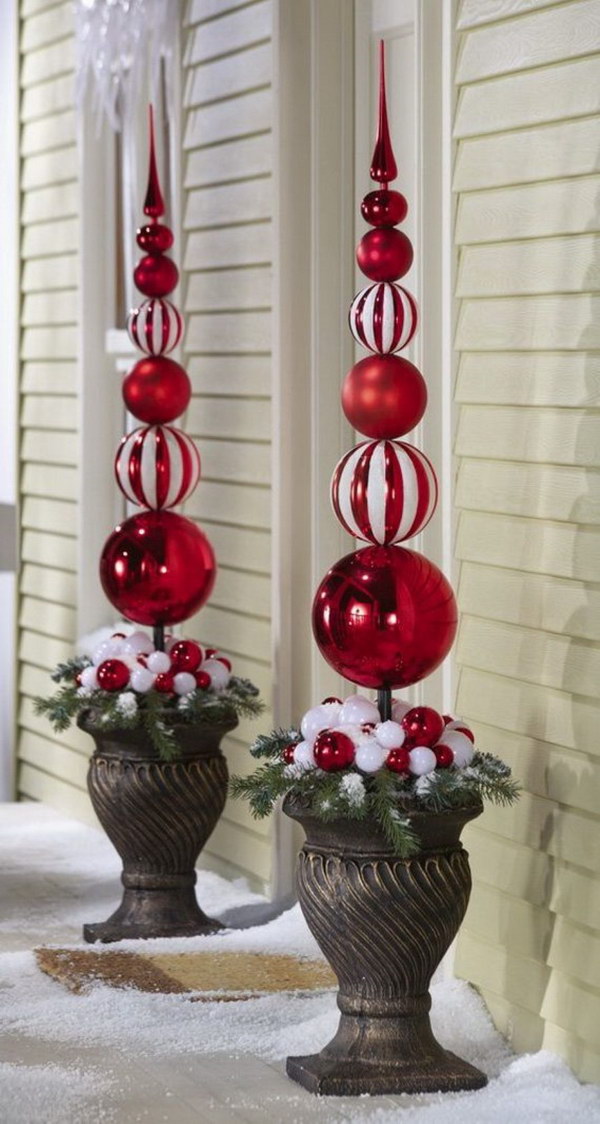 Bright up your front door with this elegant house Christmas decoration made out of amazing green leaf and red ball ornaments. Via garvey photo.
Shooting Star Light Displays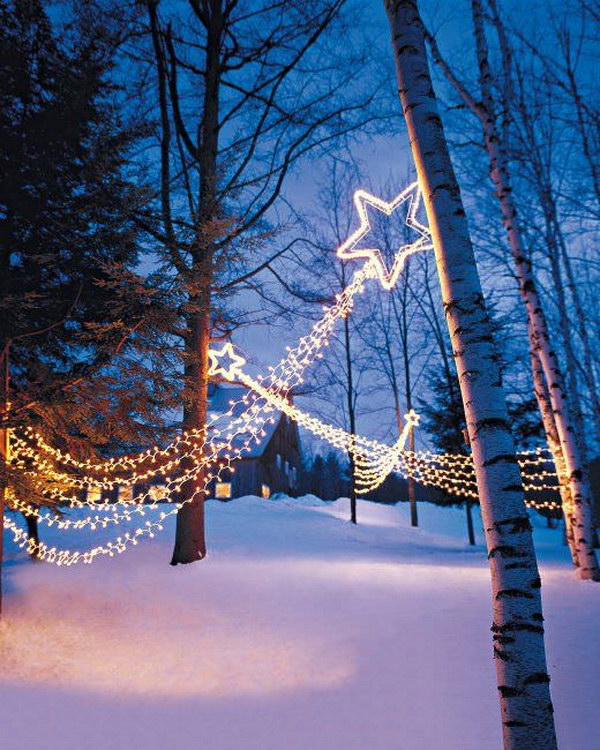 Make the outside of your home as ready for the holiday season as the inside with this breathtaking Christmas decoration. It's easy to do by stringing several of the shooting stars in your yard. via marthastewart.
Wooden Snowflakes with Lights Tutorial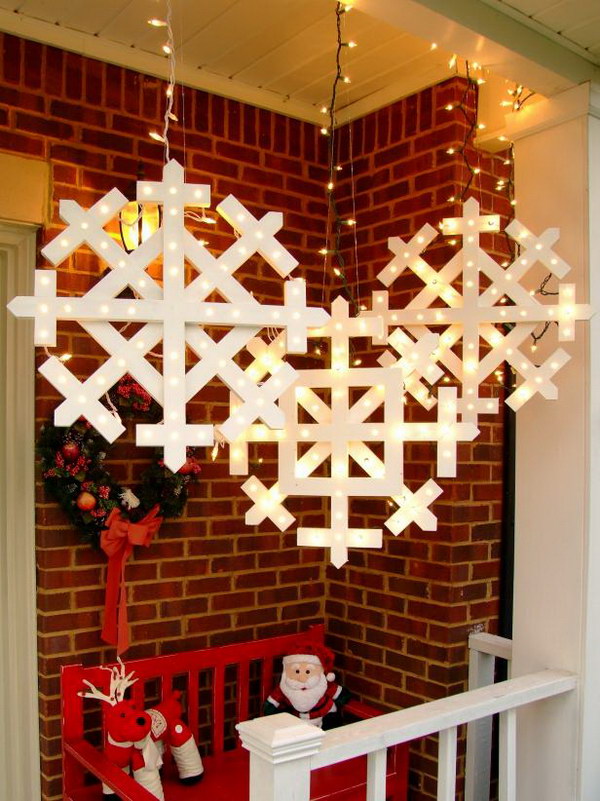 Follow the detailed instructions on how to make these beautiful wooden snowflakes with lights to hang from your front porch. They will surely add that extra holiday sparkle! Get the tutorial via diy net work.
DIY Wooden Christmas Snow Man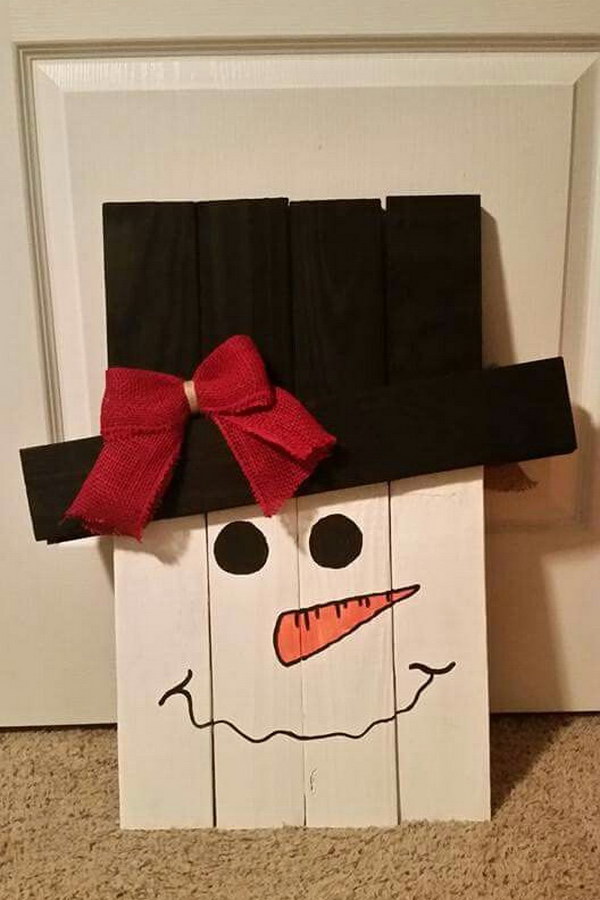 Make your porch celebrate the snow-y and festive essence of Christmas with DIY cute wooden Christmas snow man. Via etsy.
Chanel Christmas Tree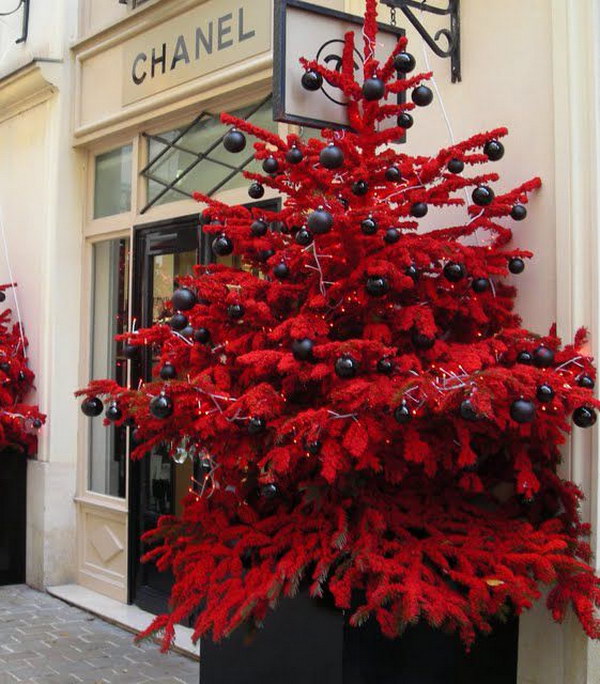 What a beautiful red flocked Christmas tree with black ornments! And a great example of playing with colors and textures to create a classy and fancy look! Via pinterest.
Wicker Lanterns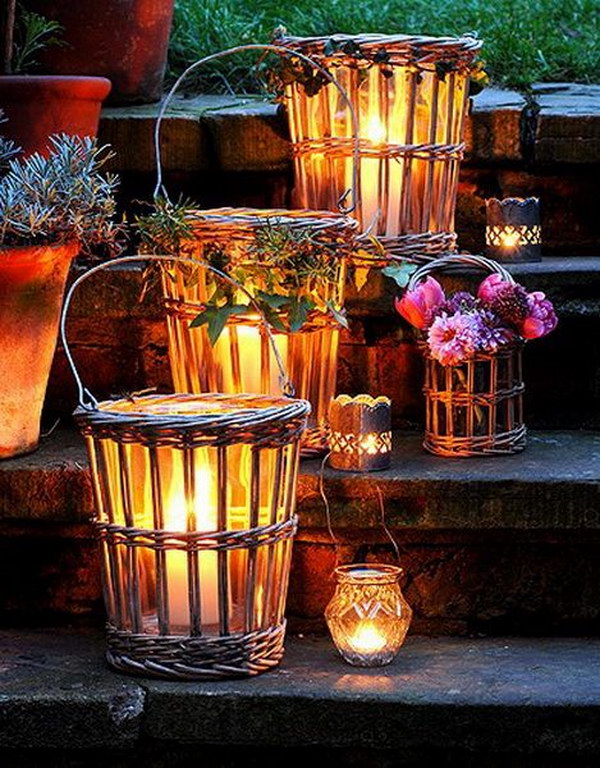 These rustic wicker lanterns would bring a natural element and a bit of romance to your yard or front porch. Get the tutorial via hdwallpapers.
Holiday Gift Box Concrete Block

Looking for a fun and festive way to spread holiday cheer with outdoor decor? How about creating some glittery cement brick holiday gift boxes to be placed outside door? This DIY project is not only quick to achieve, but also quite budget-friendly at the same time. Get the tutorial via chicacircle.
Joy Flower Pots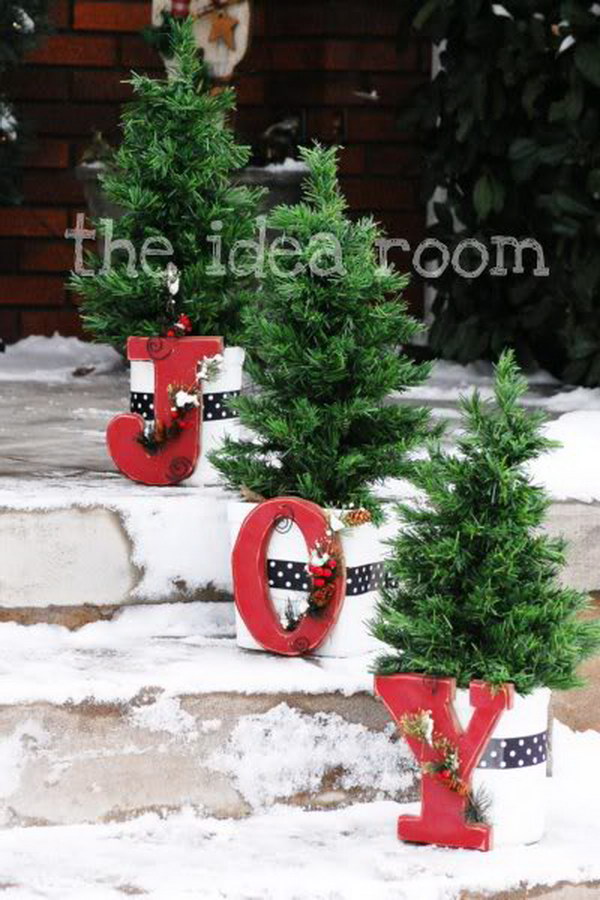 Love the front porch decoration idea with little trees and bright red "JOY" letters attached to flower pots. It relly adds to a touch of warmth in the cold. Get the tutorial via theidearoom.
Christmas Porch Light Decoration

Make and decorate with holiday greenery to hang over an outdoor light. Get the tutorial via inmyownstyle.
Adorable Spindle Snowmen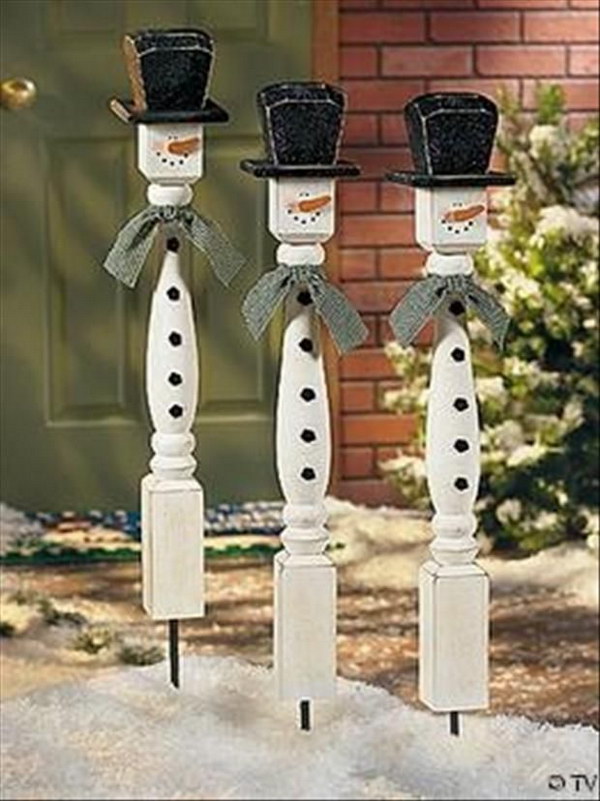 Use $3 spindles from Lowes to create outdoor snowman decoration. Stake a group of these for some added sparkle to the holidays! Via dump a day.
DIY Christmas Light Balls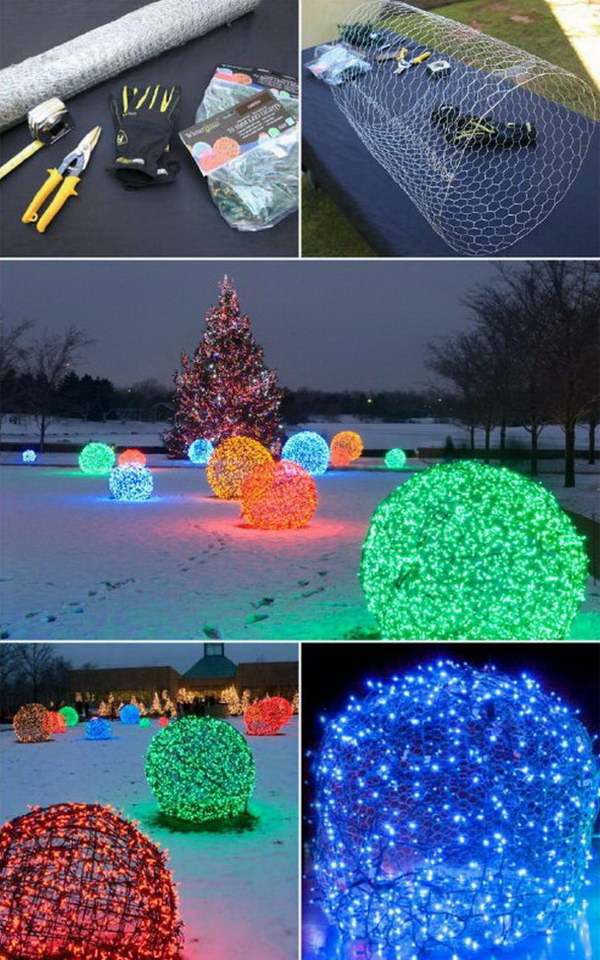 What you need for this stunning light balls are some chicken wire and those leftover lights. Look so great in your front yard and your yard will be filled with Christmas cheer with these beautiful and colorful light ball ornaments. Tutorials via christmas lights etc.
DIY Eye-catching Christmas Topiaries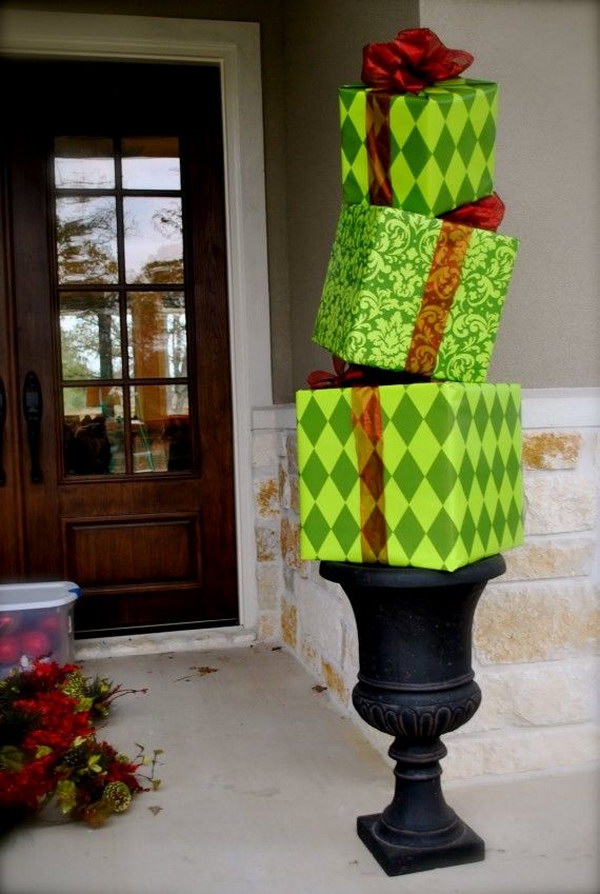 This easy-to-understand and quick-to-follow tutorial guides you through making your very own eye-catching Christmas topiaries using wrapped boxes. Brighten up your front porch and use any color you wish! Get the tutorial via that village house.
DIY Outdoor Christmas Chicken Wire Ornaments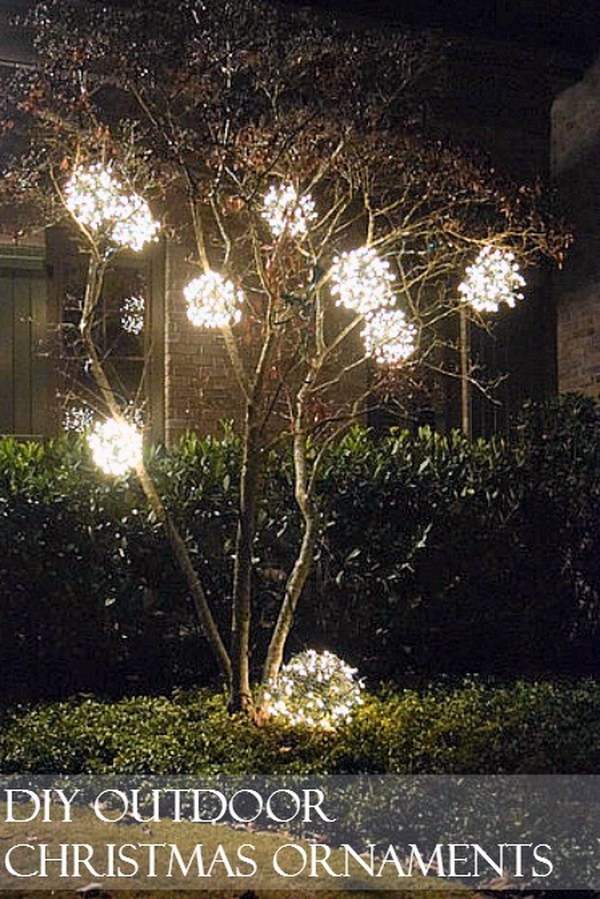 Made from chicken wire and a strand of lights! See the tutorial via miss in formation.
Evergreen Hanging Basket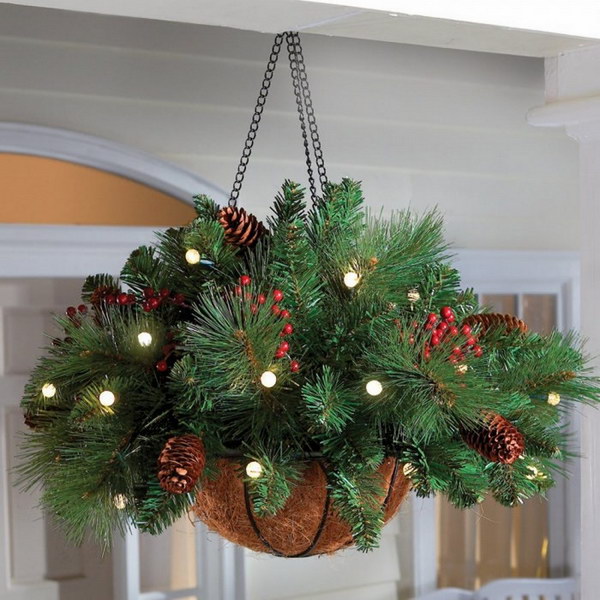 This is a holiday inspired outdoor decorating that lasts year round. Fill your baket with evergreen plants, pinecones, berry and LED lights, then hang it on your front porch to add color. Via amazon.
DIY Easy Garage Door Lighted Christmas Tree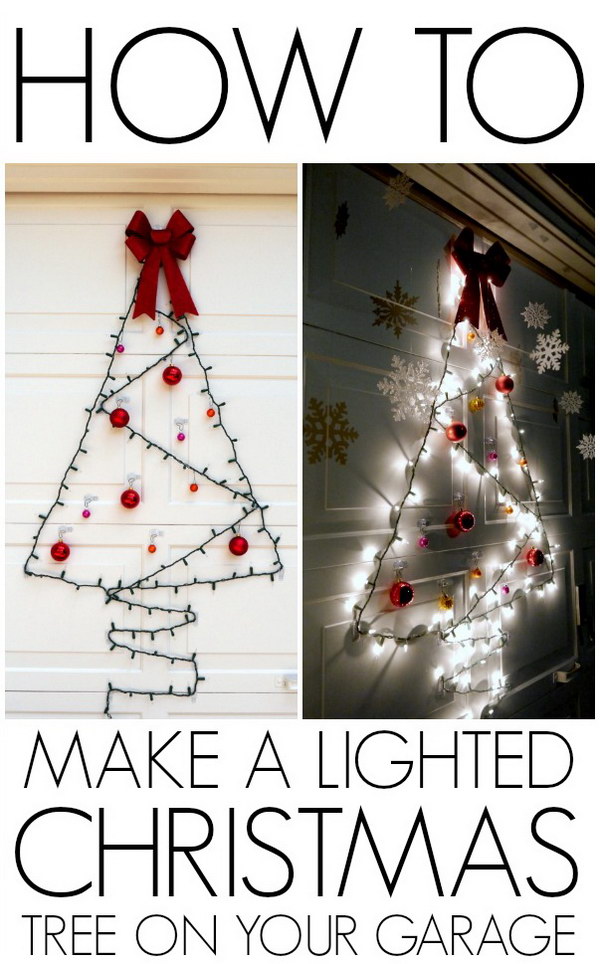 Take heart and embrace your garage space by giving a festive makeover to be proud of. This easy to make garage door decor is a colorful and eye catching way to show your holiday spirit. Get the tutorial via creating really awesome free things.
Pinecone Christmas Outdoor Garland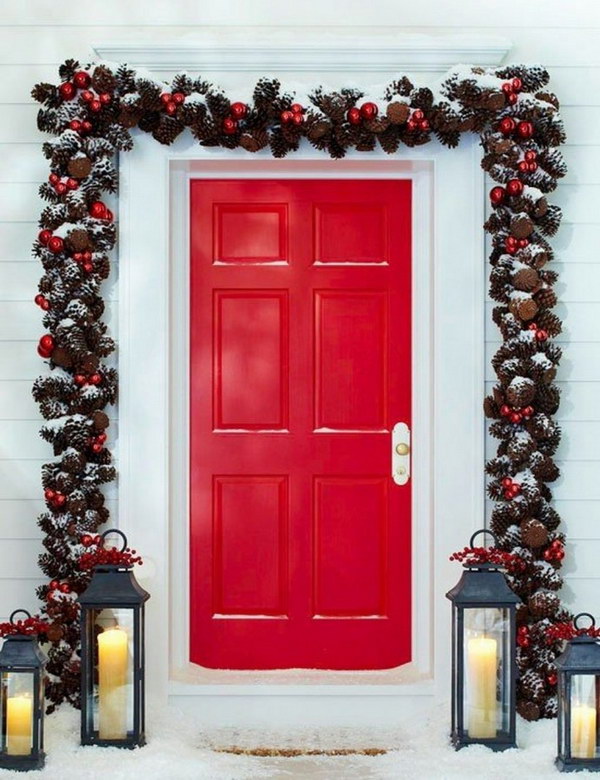 How beautiful! I'm in love with the rustic touch to the door! Gather pinecones in your yard and add some red ornaments to create this festive outdoor garland. Via project gad about.
DIY Greenery Boxes with Lights and Plaid Bows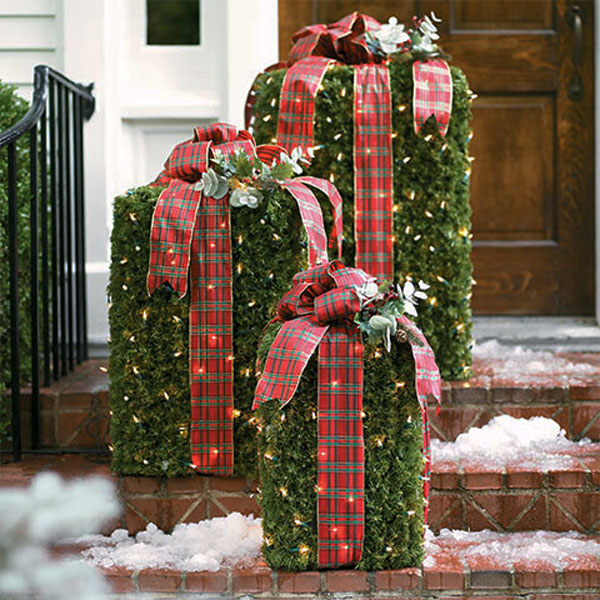 For Christmas decoration, you can't go wrong with evergreens. Fresh evergreen boxes embellished with lights and wrapped with plaid bows give your home a vintage, country Christmas look. via homeditorial.
Lighted Christmas Gifts for Outside Decor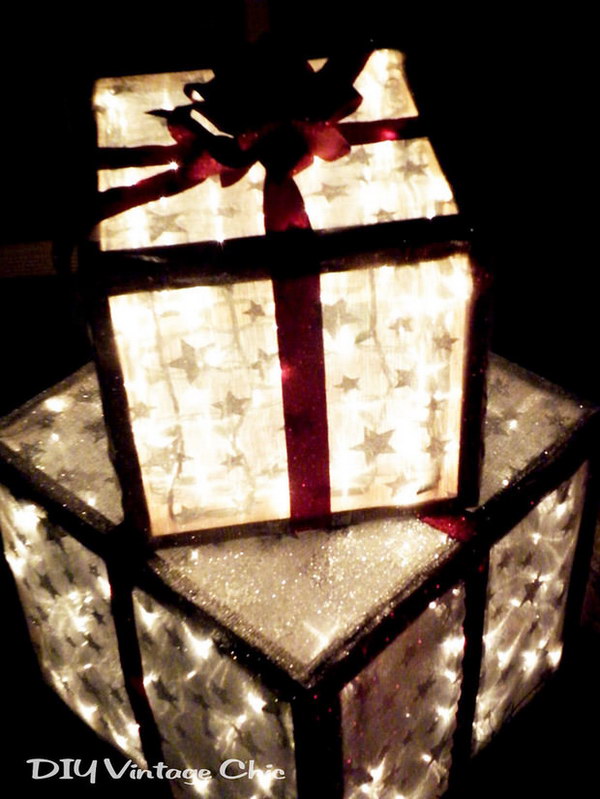 This is a simple way to make fantastic front door holiday decorations by wrapping up some empty cardboard boxes like gifts, and piing them by the front door. Get the tutorial via diy vintage chic.
Elegant Hanging Baskets with Frosted Evergreen Branches and Sparkling Accents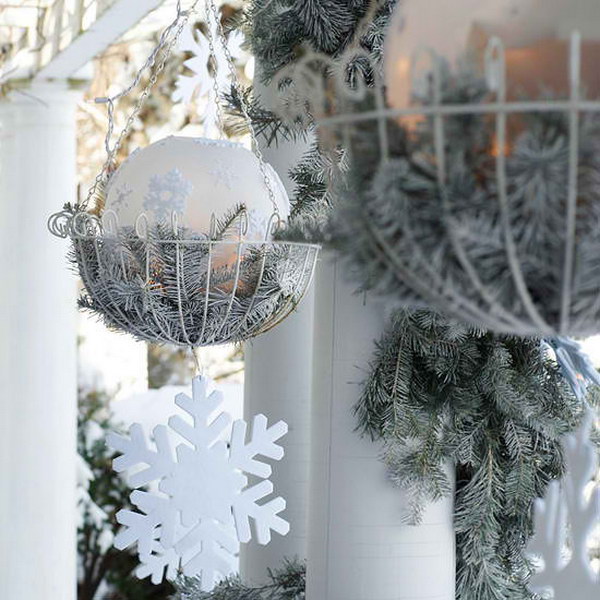 Decorate some of your hanging baskets for the Holidays with festive winter containers. Via xiamenby.
DIY Joy Sign Outdoor Wreath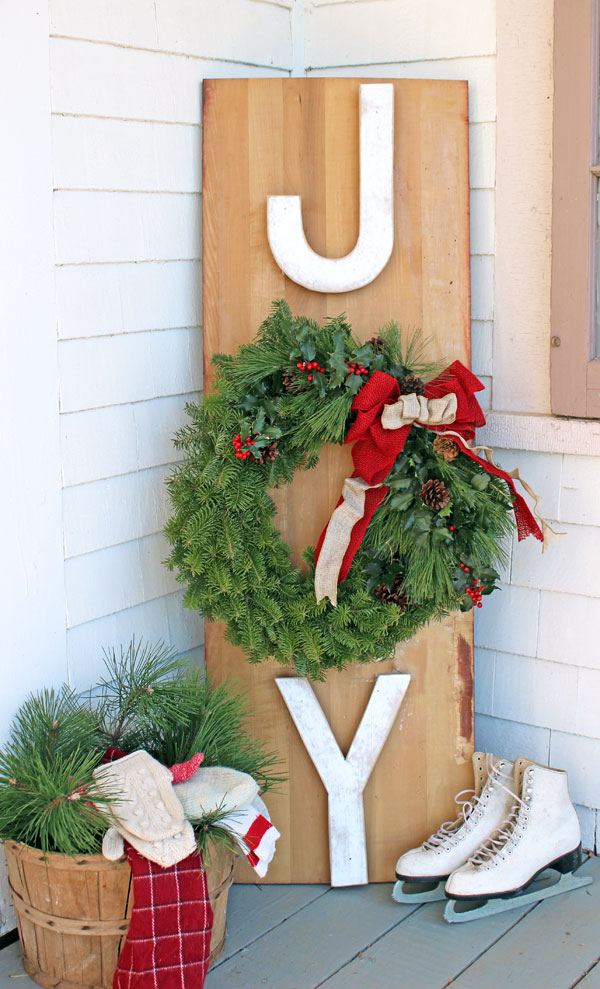 A fresh evergreen wreath is classic and festive at the same time. And attach it to a joy sign, you can make a removable wreath that is usable year after year. Get the tutorial via fynesdesigns.
Snowman Christmas Tree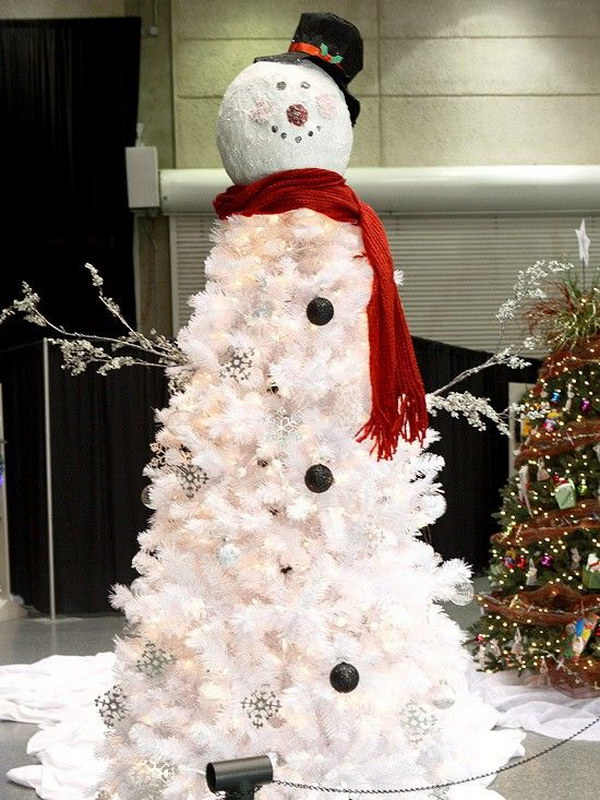 What a creative idea to mix decorating a Christmas tree with making a snowman and let it stand guard at your house! Especially for those who are tired of the same old Christmas tree every year, you can try this. It's very easy to make and the result turns out so cute! Via postris
Hanging Santa Claus Suit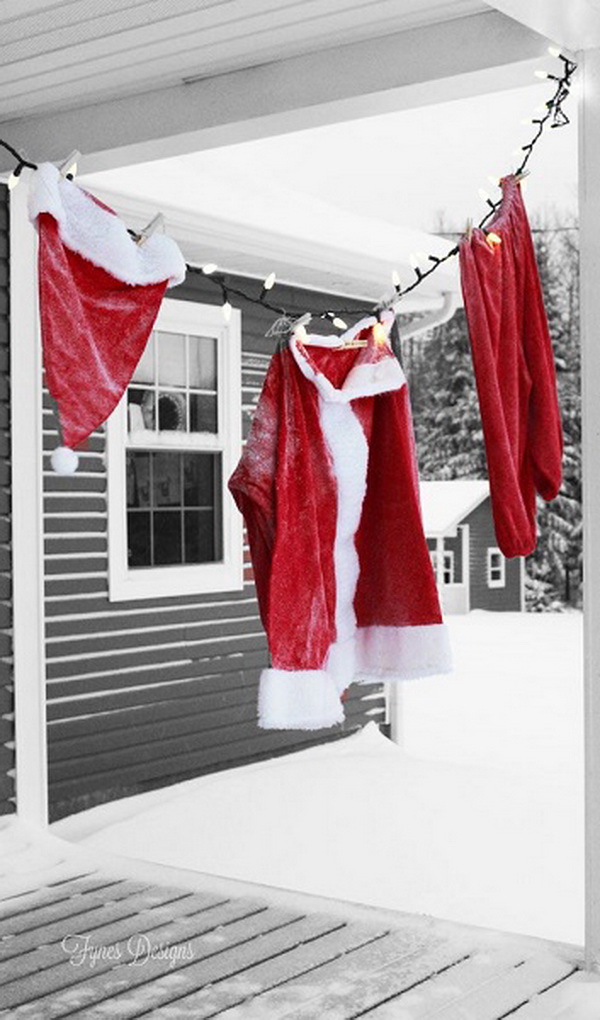 Hang on the porch a Christmas Santa suit and make the kids wonder during this Christmas. Via fynesdesigns
Hanging Christmas Ornaments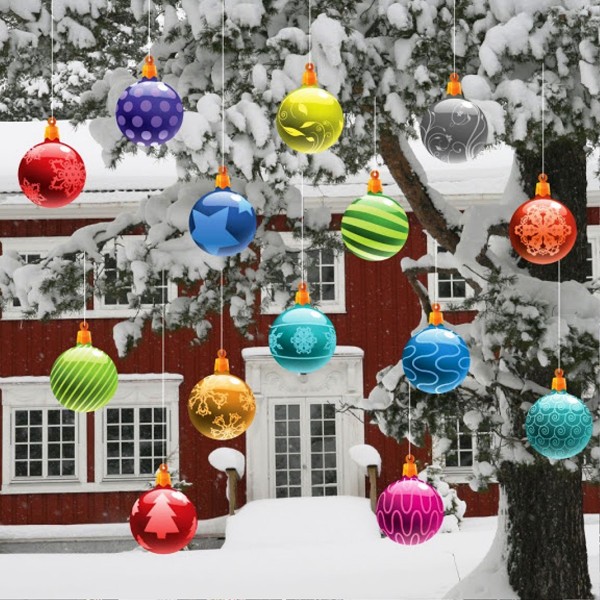 What a breathtaking Christmas yard decoration. Via amazon