25+ Romantic DIY Valentine's Day Crafts for Him
It can be very difficult sometimes to find the perfect Valentine's Day gift for your man. Sure, you could always get him chocolates, but you want to get him something really special, that he will actually cherish, not something generic that took you two minutes to pick up in the store. Or maybe you don't want to spend a lot of money this Valentine's Day on a gift. What better gift than somet crafts made by your own two hands? Even if you are short on time, or not very skilled at crafts, you can make your husband or boyfriend something he'll love on Valentine's Day.
Check out these DIY Valentine's Day Crafts for him. You're sure to find something that you'll love to make, and he'll just love. And don't worry if it's perfect. He'll love it just because you made it for him. Remember, nothing says "I love you" like a gift you did yourself.
Hooked on You Tackle Box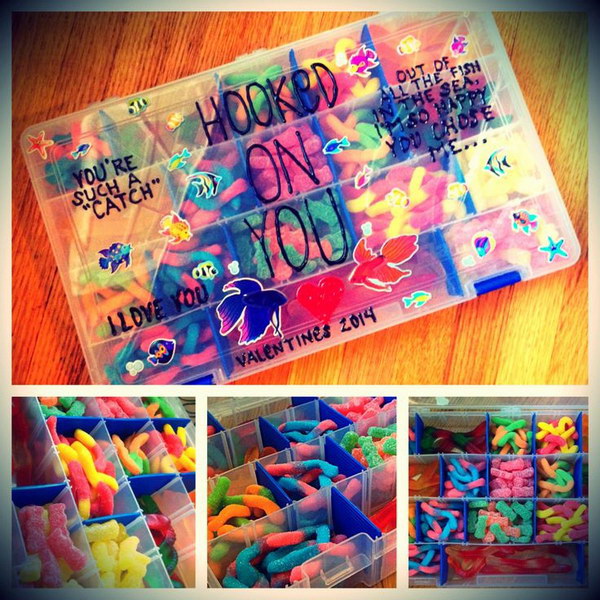 DIY Exploding Box

via Youtube
DIY Mason Jar Matchbox

Hearty Coasters

via Youtube
You're the Bomb

via Youtube
Movie Night Hamper

via Youtube
Scrabble Letters
via Youtube
Donut Go Breaking My Heart

via Youtube
Handmade Scrapbook

via Youtube
Valentine Crackers

via lovelyindeed
Heart String Nail Art

via Youtube
Mini Balloon Valentines

via damasklove
Heart Bowl

via Youtube
Care Package

via Youtube
Chocolate Heart Magnets

Chocolate Heart Arrow

via Youtube
Melted Crayon Art

via Youtube
Jar of Kisses
via Youtube
52 Reasons I love You

via Youtube
Box of Love

via Youtube
Customized Surprise Egg

via Youtube
5 Senses

via Youtube
Simple Chocolate Heart

via 1dogwoof
Blow Me Away

via Youtube
Bear Hug

via studiodiy
Open When Envelopes

via Youtube
Love Heart Favor Jars

via craftsbycourtney