30 Great DIY Ideas for Garage Storage and Organization
Garage is not just for parking. For most families, it is also a multipurpose storage center for houseware items, garden tools, outdoor sports equipment and workshop crafts. When you can't find your weed eater, hammer, painting supplies or golf clubs, then you will know how important it is to get your garage organized. But for many people, cleaning and organizing the garage is never an easy task. It is so dreaded and exhausted. Fortunately, with a few simple storage ideas and clever tips, you can keep your garage clean and organized at ease.

Here have found a great collection of different ways to easily and quickly get your garage in good order. Take a look at these clever storage and organization ideas and make the most use of your garage space and organize your tools, outdoor gear, and whatever else in its way into your garage with these smart garage storage ideas.
Ceiling Drawers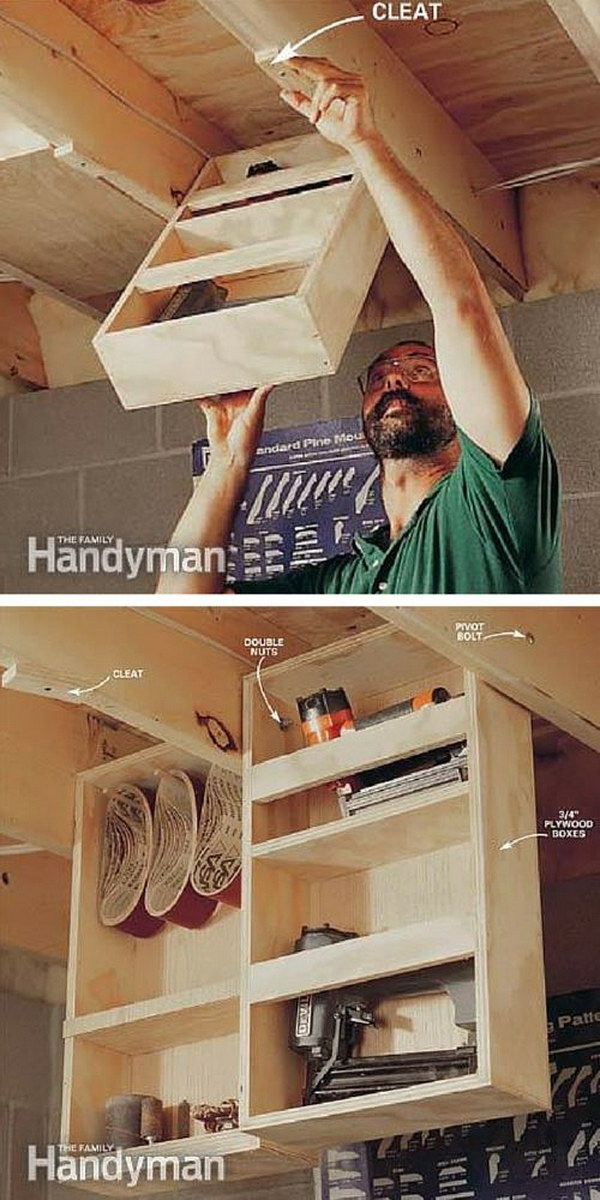 Suspend the drawers between the ceiling joists for extra storage out of space! Check out DIY instructions here.
Garage Ceiling Wire Shelves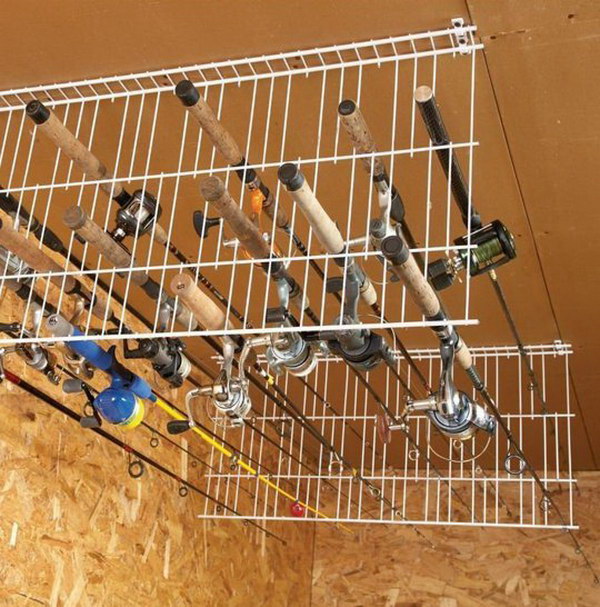 Use wire shelves to organize fishing poles overhead. Save the floor space and easy to access to them. Via community.familyhandyman.
DIY Bike Rack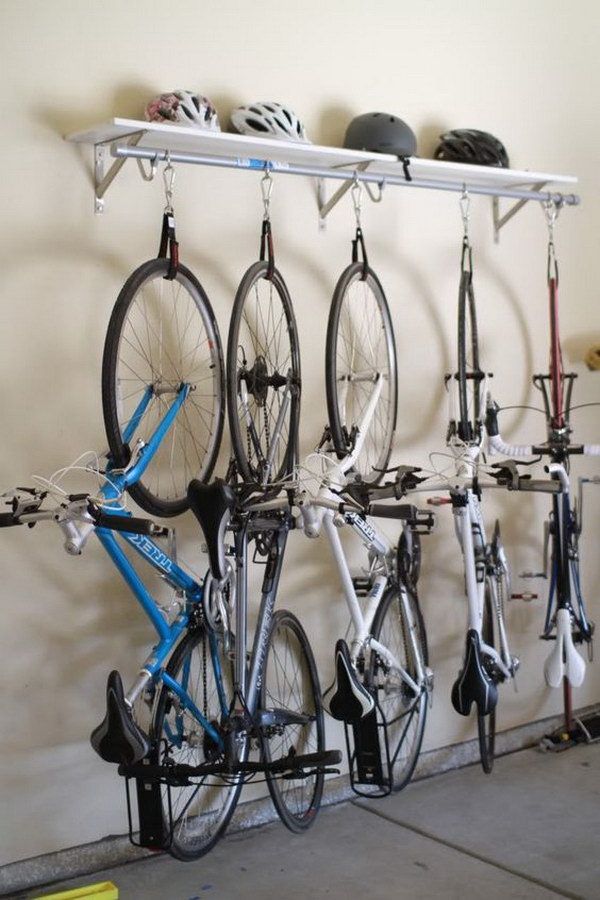 Build your own bike rack and keep the bike out of the way and easy to access. DIY instructions via bikeforums.
Tuck-up-and-away Shelving in the Garage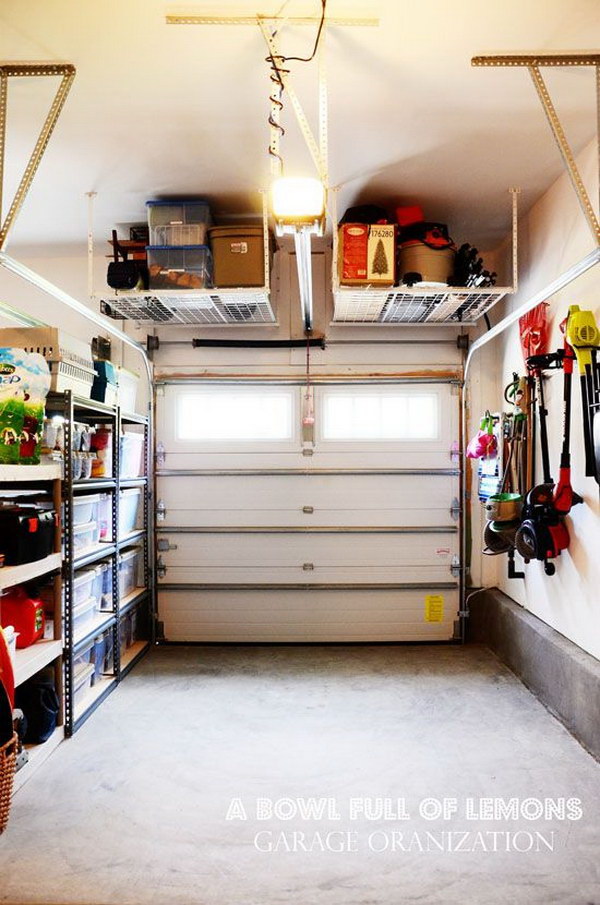 Love this tuck-up-and-away shelving in the garage to keep things off the floor. Perfect for seasonal storage or seldom used items in the garage. Details via abowlfulloflemons.
Magnetic Tool Holder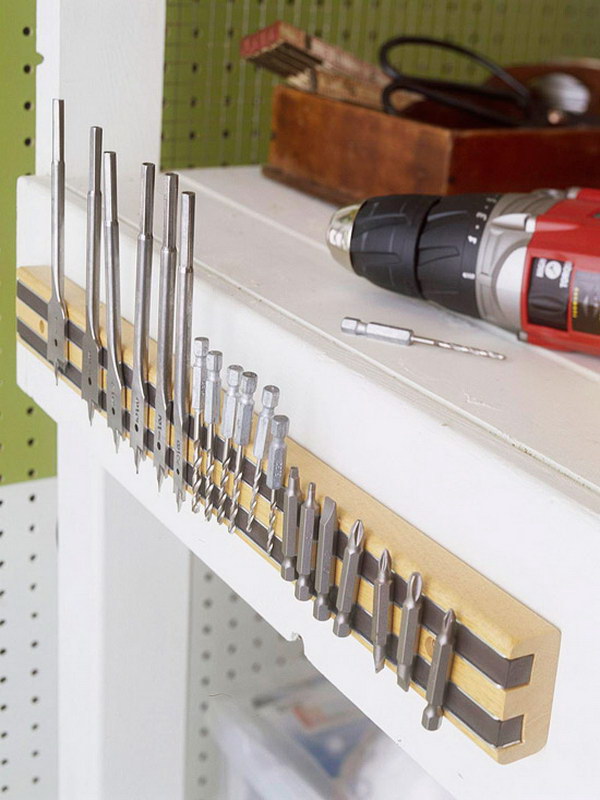 Use some inexpensive magnetic strip to organize drill bits, screws, or other metal objetcs you want within reach. Via bhg.
DIY Folding Bench Work Table

Easily folds down! A great way to add a workspace to a garage without a lot of floor space. DIY instructions via home-dzine.co.
Easy DIY Plastic Nail Holders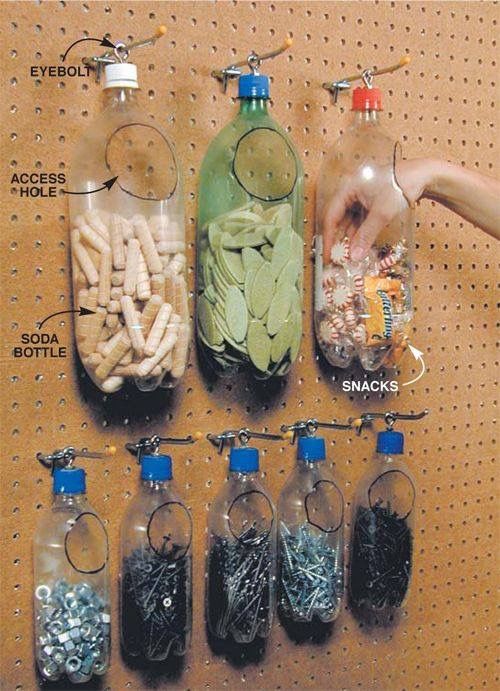 via pinterest
Cordless Drill Storage

via hertoolbelt
DIY 2×4 Garage Shelving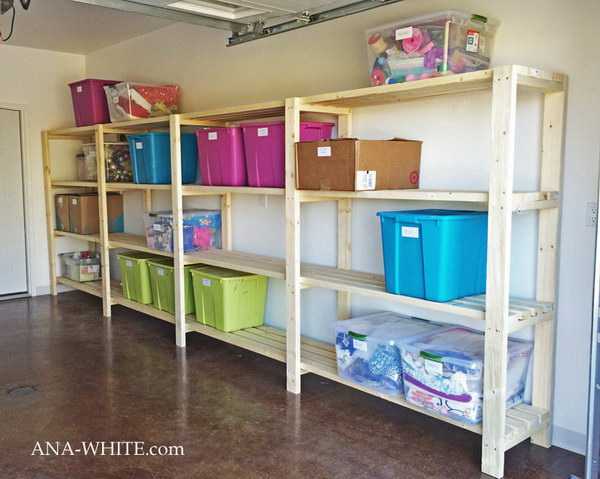 Here is a free plan to build garage shelving using only 2x4s. Easy and inexpensive, but sturdy and functional. Get the video tutorial via ana-white.
Recyclded Bin Hangers

Create these hangers on the wall and get those all important bins off the floor and out of the way! DIY instructions via familyhandyman.
DIY Duct Tape Dispenser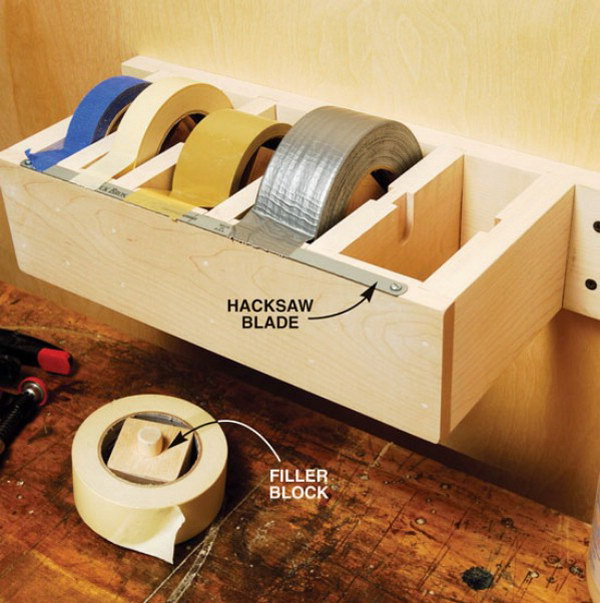 Easily create a wall-mounted dispenser and keeps your tapes perfectly organized. DIY instructions via americanwoodworker.
PVC Pipe Garden Tool Organizers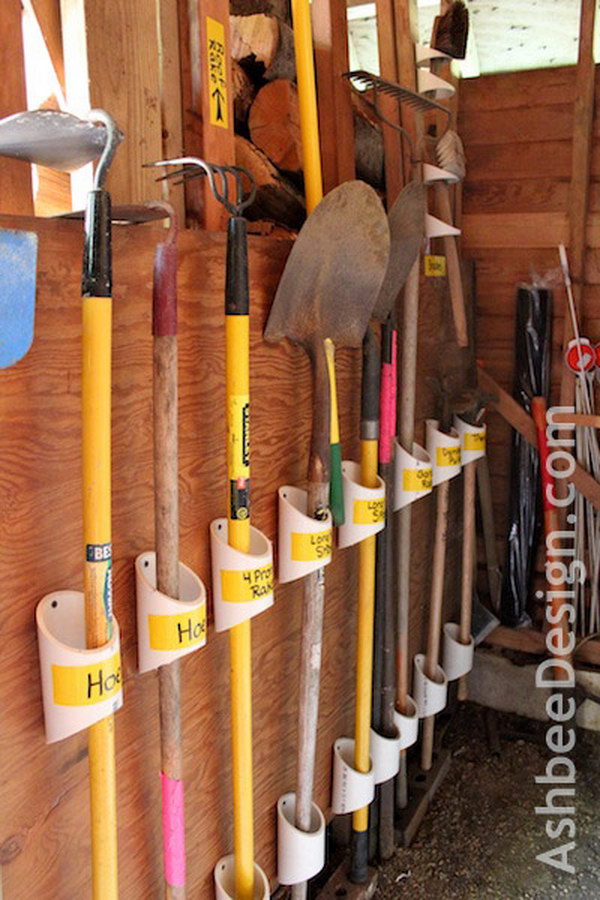 Use PVC pipes to organize your lawn and gardening tools and keep them out of the way in your garage. Via ashbeedesign.
Hold-Everything Tool Rack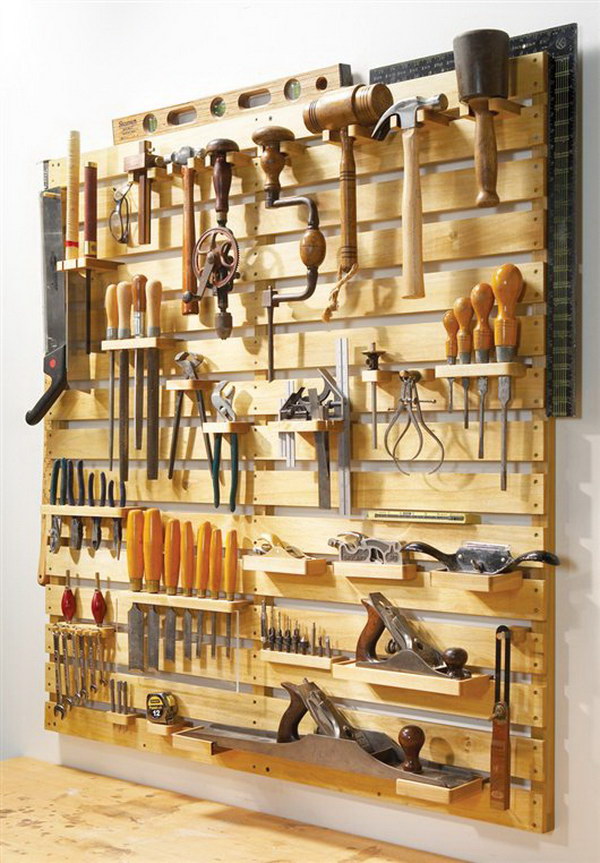 Get your garage organized fast with this easy versatile hangers. DIY instructions via popularwoodworking.
Sliding Lock Wheelbarrow Storage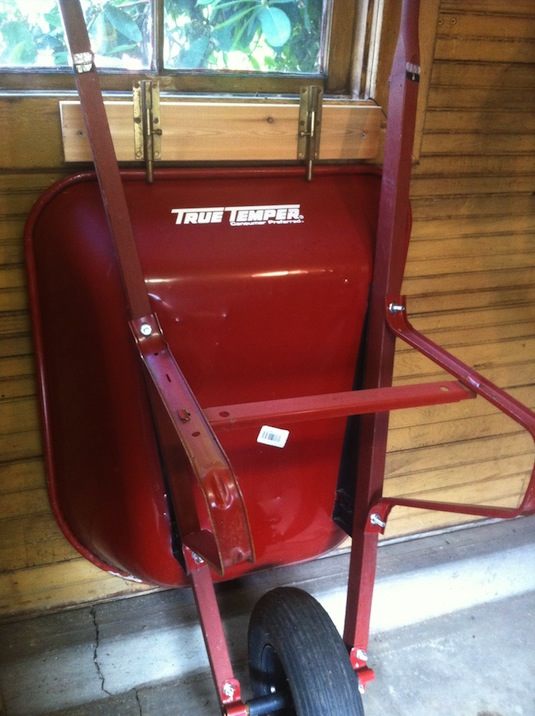 via brockdesigns
Hook and Chain Cord Hanger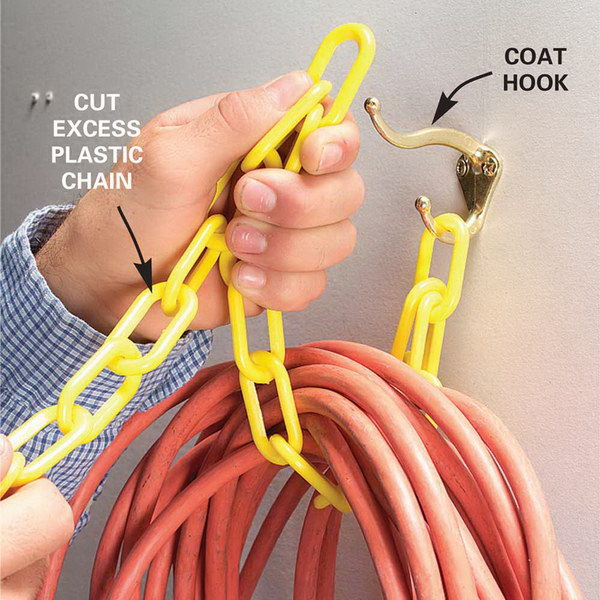 A great way to hang bulky electrical cords with a length of chain and a wall-mounted coat hook. via familyhandyman.
Hang Jars Under Shelves for Screws and Nails Storage

Don't throw away those plastic jars. You can screw them into the wooden shelf that sits above the work top for a great storage for nails, screws and other small items in the garage.
Ball Storage Spot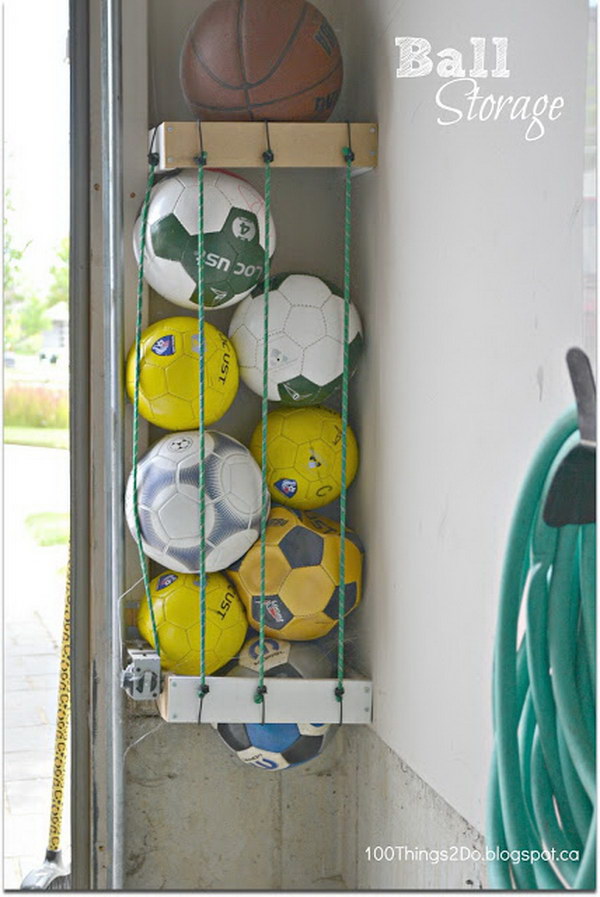 Make a quick and easy ball storage spot like this with some pieces of wood and some ropes.
Shove Rack for Organizing Garden Tools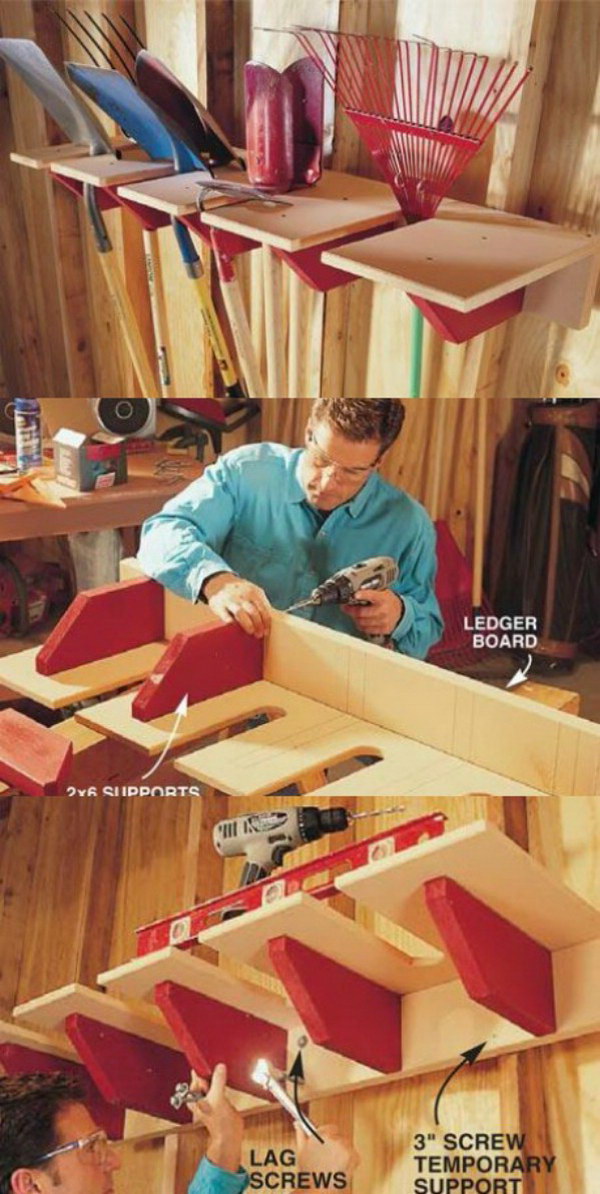 A simple yet functional garage storage idea for yard tools. Keep them up and off the floor with this DIY shove rack. via familyhandyman.
Power Tool Holders with PVC Pipes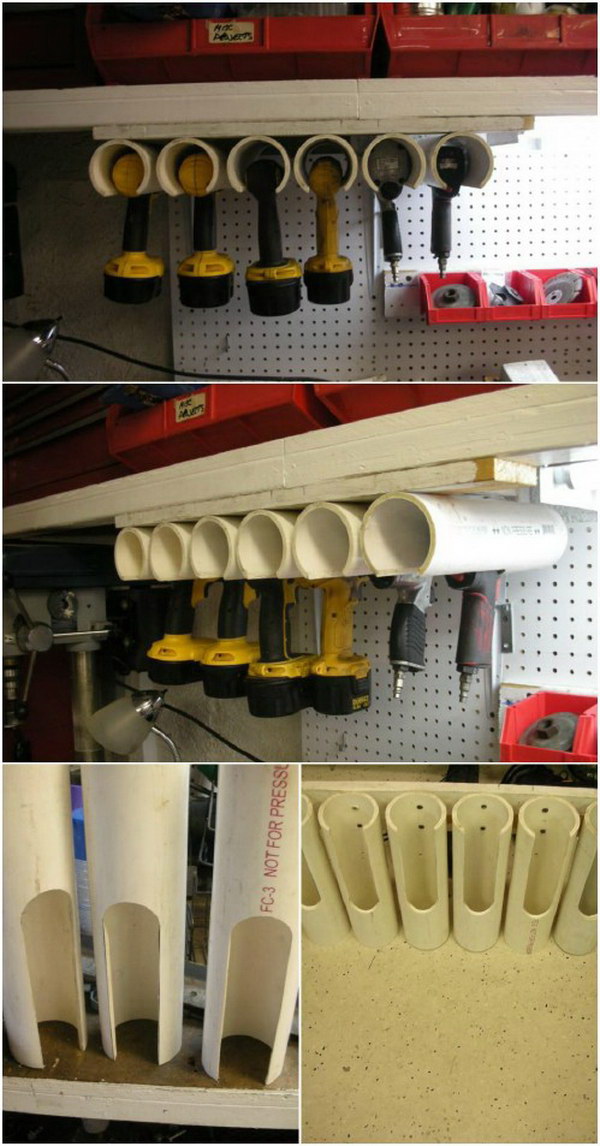 Keep your garage or workroom in order by making these clever holders with PVCpipes so that you can simply slide your tools back in when you're done with them. via diyncrafts.
Multipanel Pegboard System for Storage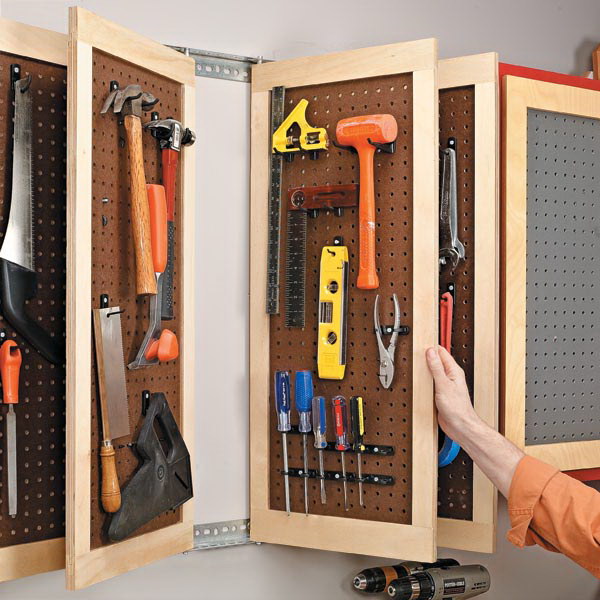 DIY Screwdriver Storage Shelf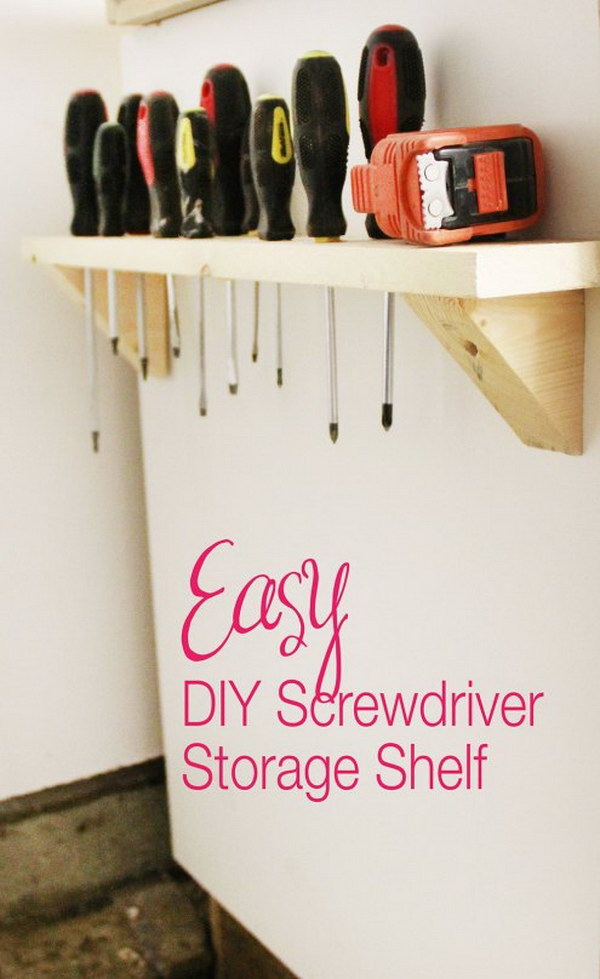 Get some pieces of scrap wood, drill a few holes and cut brackets for mounting. Then you have this creative shelf for tons of your screwdrivers. Get DIY instructions via freshcrush.
Super Easy DIY Garage Shelves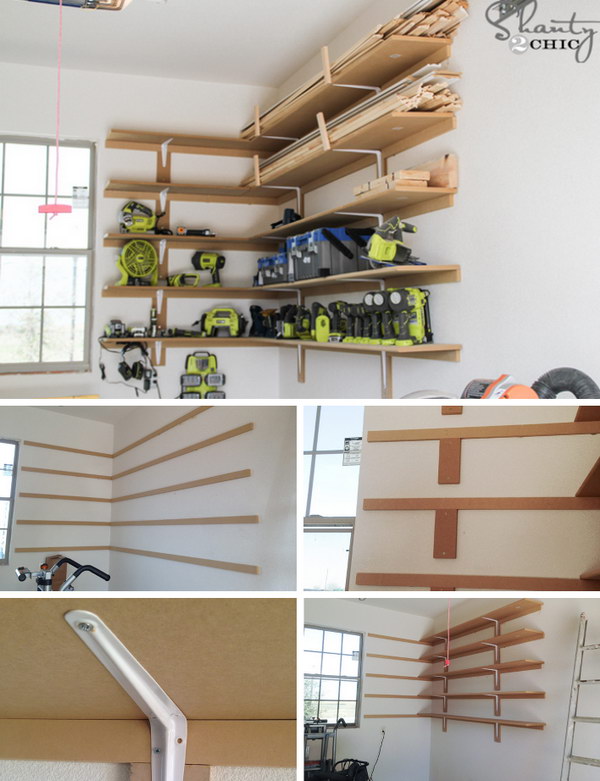 These garage shelves are super easy to make by yourself and create much more storage for your garage space. You just need some wood and brackets. Get DIY instructions via shanty-2-chic.
Rolling Cabinets for Tool Storage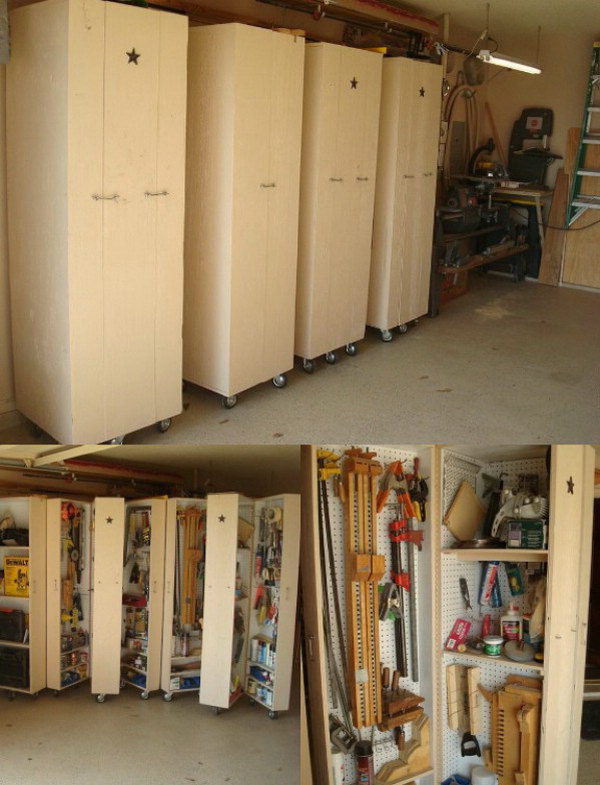 A great way to store those tools and keep things neat and tidy with these rolling cabinets. You just roll the cabinet out when you need something and keep it neatly closed when you don't. DIY instructions via hometalk.
Custom Garage Organizer with Pegboard and Inexpensive Shelving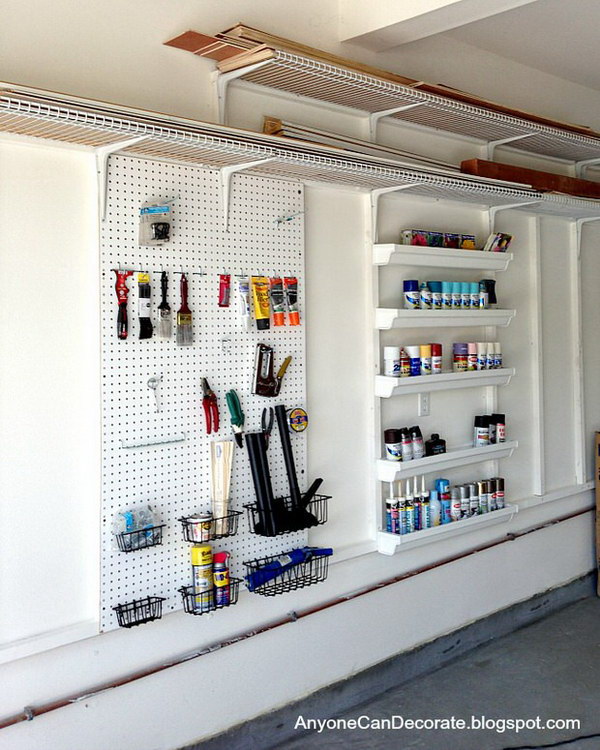 Make this custom garage organizer with pegboard and inexpensive shelving. Easy to do with the tutorial via anyonecandecorate.
DIY Potting Bench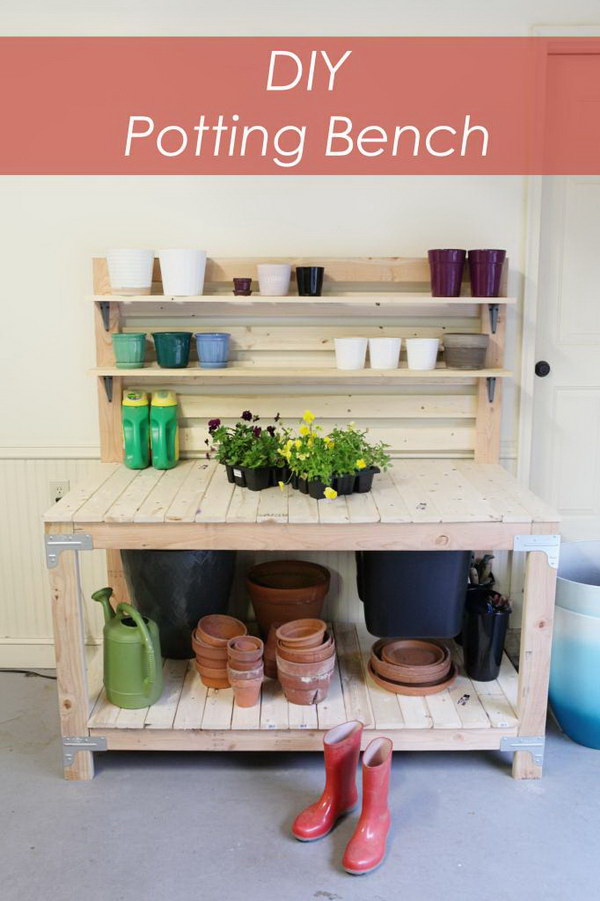 Keep your garden tools and plants organized and separated with a great potting table. Check out the DIY insttructions via bowerpowerblog.
Utilize the Space in between the Studs as Extra Storage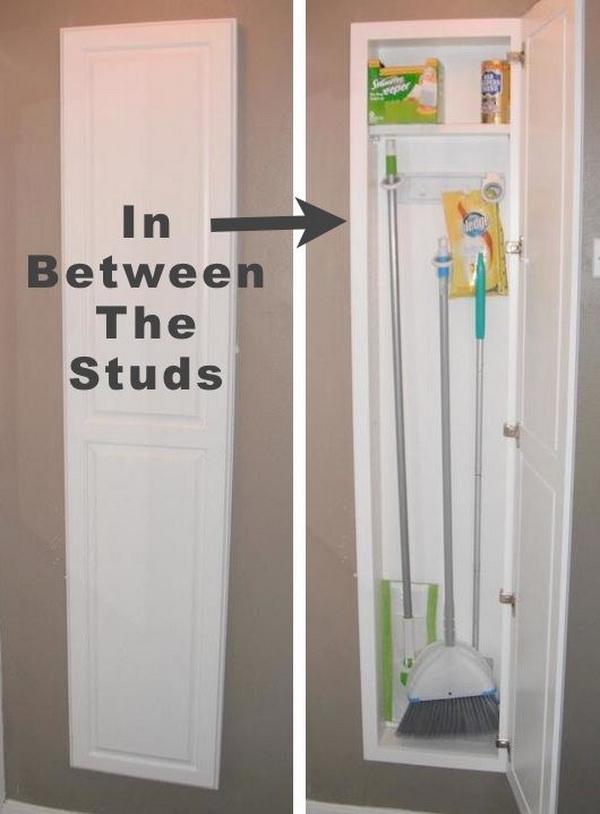 Use the the wall space in between the studs to make a cabinet for your cleaning tools. It also allows a look that is clutter-free. via source
Clever Attic Storage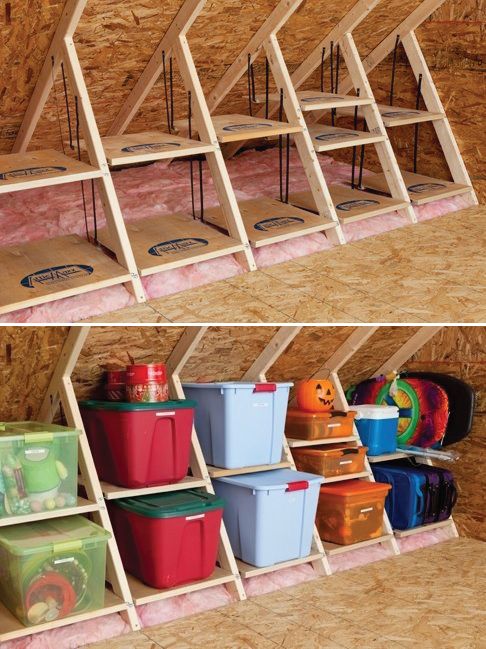 via iheartorganizing
Old File Cabinet into Garage Organizer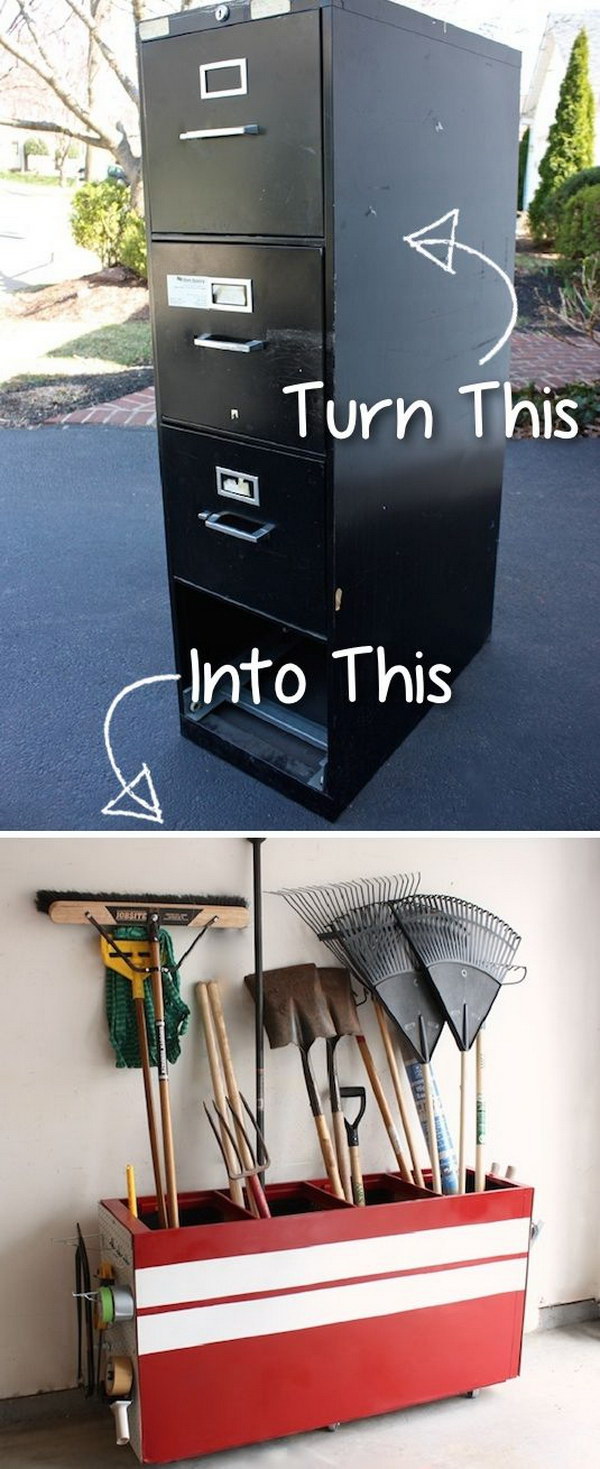 Recycle an old file cabinet to create garage storage space for your brooms, rakes, shovels, and much more! DIY instructions via tttreasure.
Wrenches Storage With Tie Rack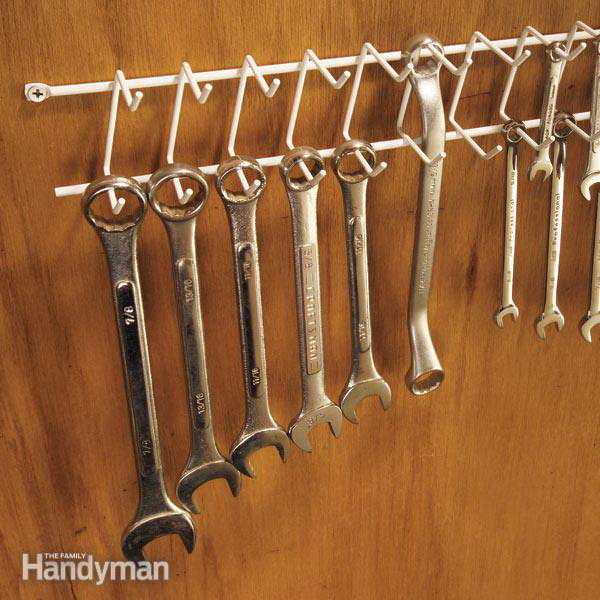 Keep your wrenches organized and easy to access with a tie rack from the discount!
Keep Everything Organized and Easy to Access with Labels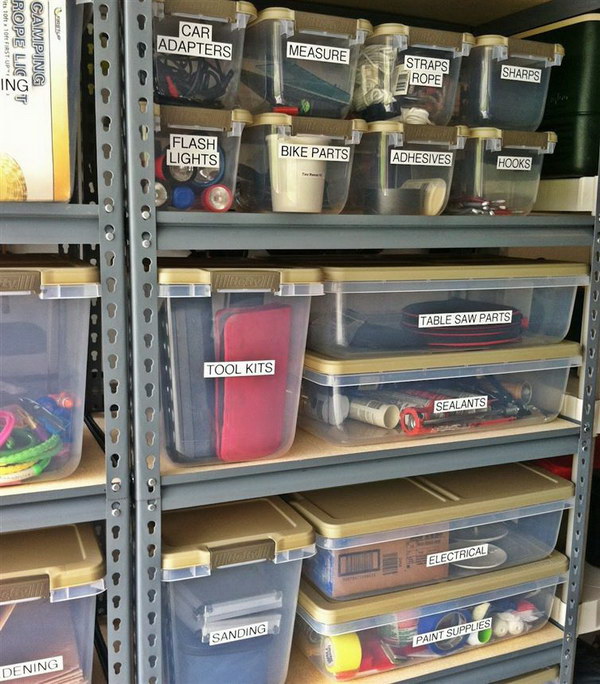 Details via abowlfulloflemons.
Large Hooks Wall Storage for Ladders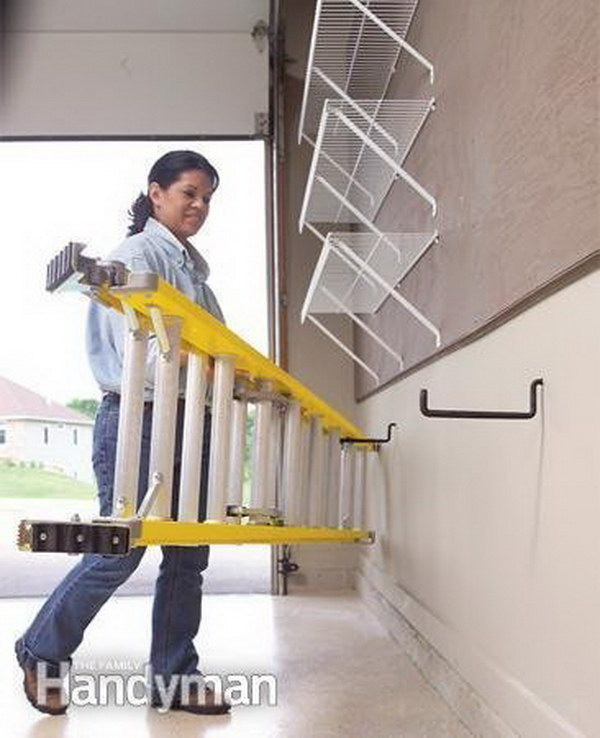 Use large hooks to hang a ladder on the wall in the garage. Instructions via familyhandyman.