DIY Ideas & Tutorials for Nautical Home Decoration
Can't make it to the coast this summer? Don't worry. Whether you are a surfer, a sailor or just a landlocked person craving for the peace and serenity of the deep; here is an impressive collection of nautical home decoration ideas that will give you the feel of being on holiday even when you are just sitting at your desk staring at a computer. From nautical baby shower decorations to beach inspired nautical centerpieces, this collection of nautical home decor ideas is bound to bring the ocean along with its fun, right to your doorstep.
Before you jump onto your yacht and sail into the sunset, there are a couple of factors to consider when establishing a nautical theme.
Needless to say, when it comes to nautical decorations, a little always goes a long way. Besides, nautical decor is much more apparent compared to the American classic or Minimalist style. Still, you can make a bold statement in any room by displaying large nautical decor pieces that convey a sense of nostalgia. For example, large antique anchors or diver helmets may lend a sense of wanderlust to your decor. On the same vein, you can also add color and history to your nautical decor with glass buoys. Best of all, these vibrant glass spheres are available in all shapes and sizes.
But where exactly do you find high-quality antiques to keep your house from looking like a museum? No, you don't have to raid a ship; you just have to search online, check out some garage sales or shop through some flea markets. Just think about it, ship wheels with the inner part removed can make an excellent frame for a picture.

Of course, bringing the seaside to your home goes far beyond just scouring your local antique stores for ship helms and using reclaimed wood, you also need to infuse your home with subtle scents which mimic the ocean and bring the sea closer to you. Hints of lime, coconut, salt or other ocean scents will encourage you to take deeper breaths, instantly creating a relaxing atmosphere. To start you off here is a collection of DIY ideas and tutorials for nautical home decorations. Get inspired.
DIY Beach Lanterns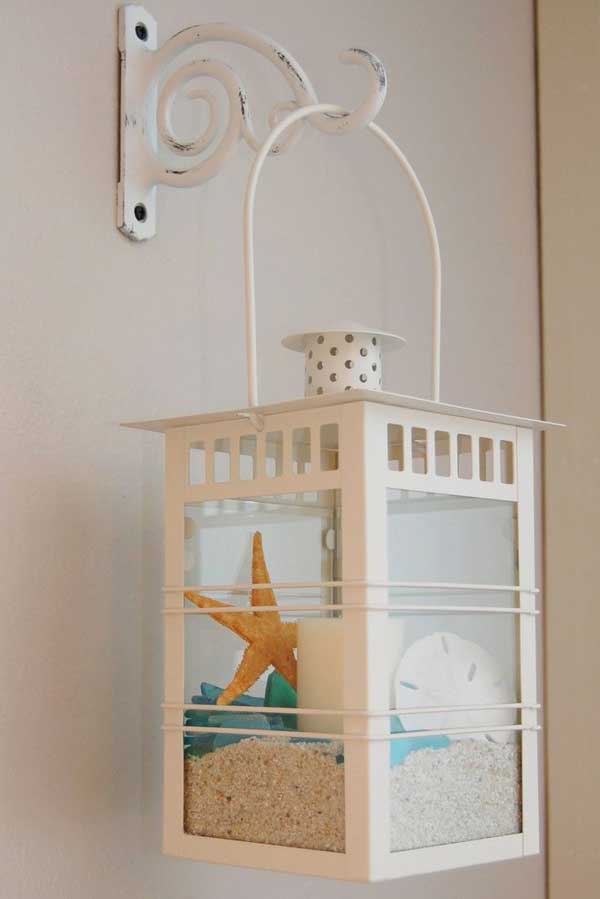 Love this idea with regular lanterns used (and made over) to display beach finds. Via boxerscleatsandme.
DIY Seashell Planter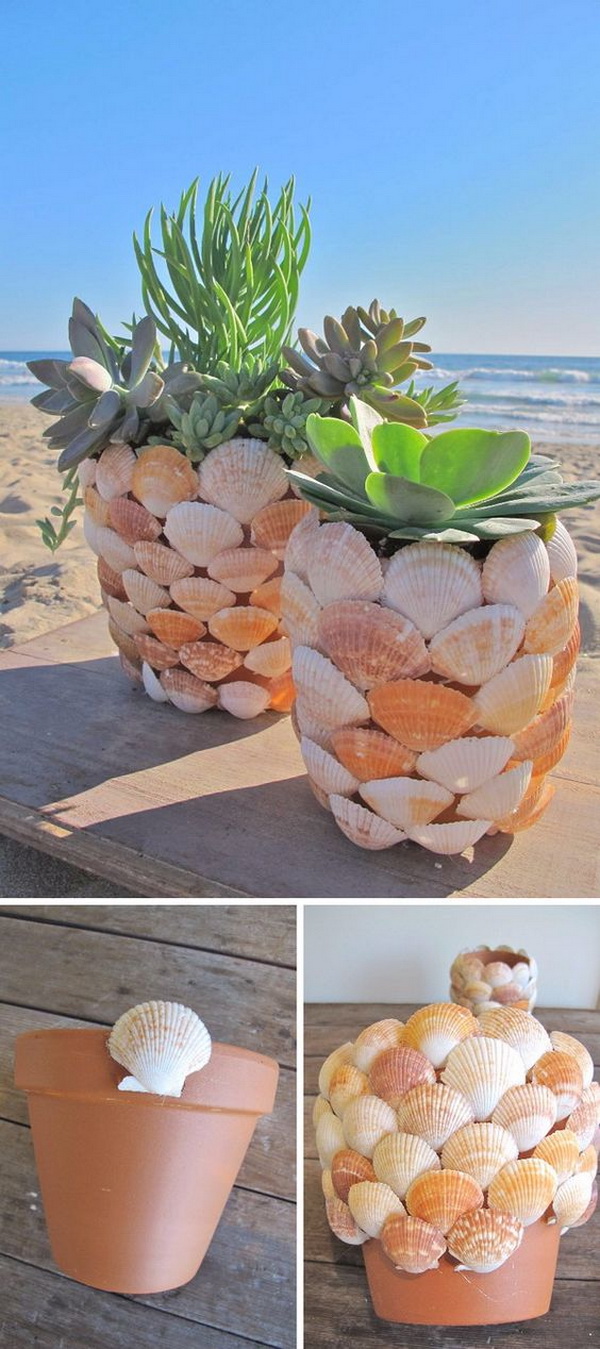 Learn how to make a seashell planter in a few easy steps and get a coastal or nautical look for your home. Get the tutorial via billabong.
Driftwood Coastal Candle Holder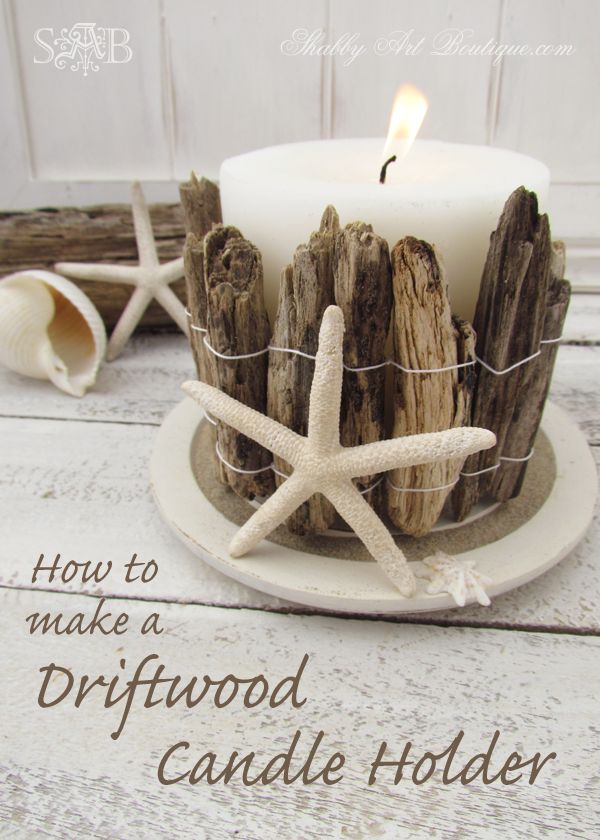 Add a nautical touch to your home with this simple driftwood candle holder. Get the tutorial via livecreativelyinspired.
DIY Beachy Decoration Above The Bed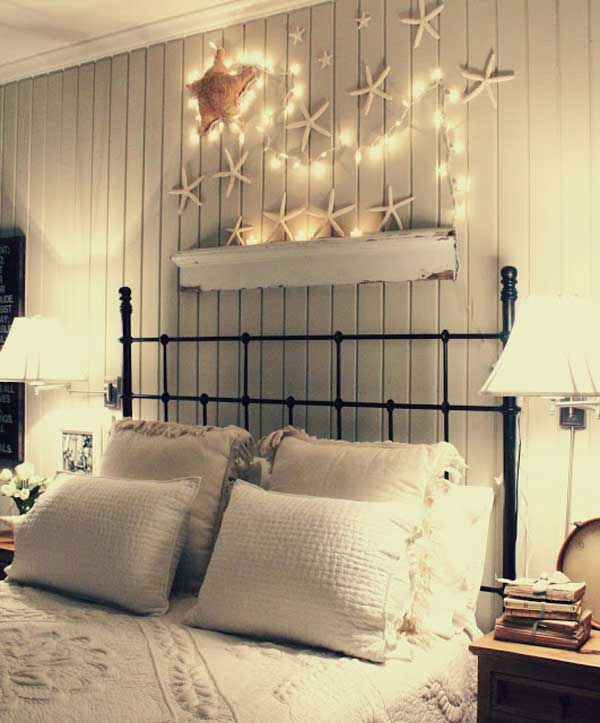 Hang beautiful shelf, starfish and string lights for beach theme decoration. Via beachblissliving.
Starfish Anchor Wall Art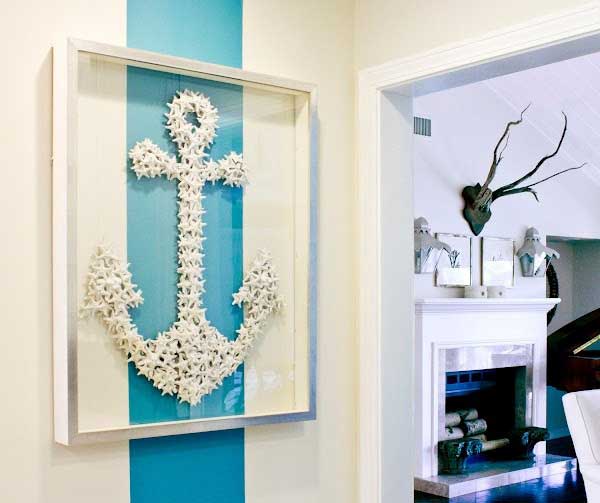 Via obxtradingroup.
DIY Coastal Bathroom Shelve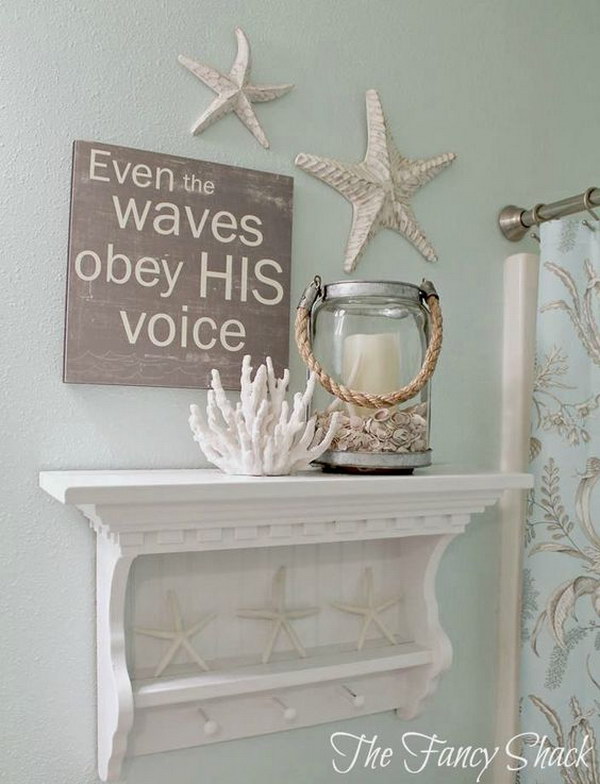 Via thefancyshack.
Shell And Burlap Filled Lamp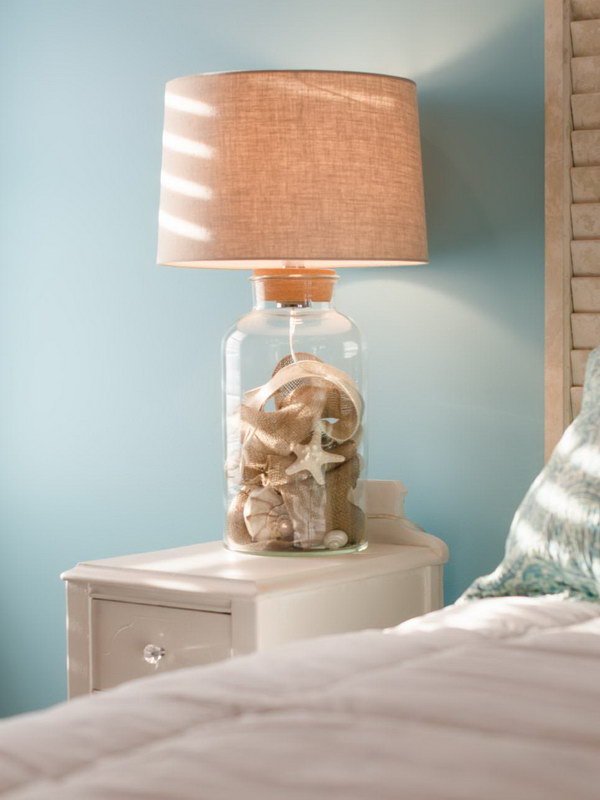 Keepsake lamps that flank the bed are filled with site-sourced sand and shells, plus four-inch-wide burlap ribbon that echoes the design of bathroom walls. Via diynetwork.
DIY Rope Wrapped Candle Holder

Get the tutorial via stonegableblog.
DIY Round Driftwood Mirror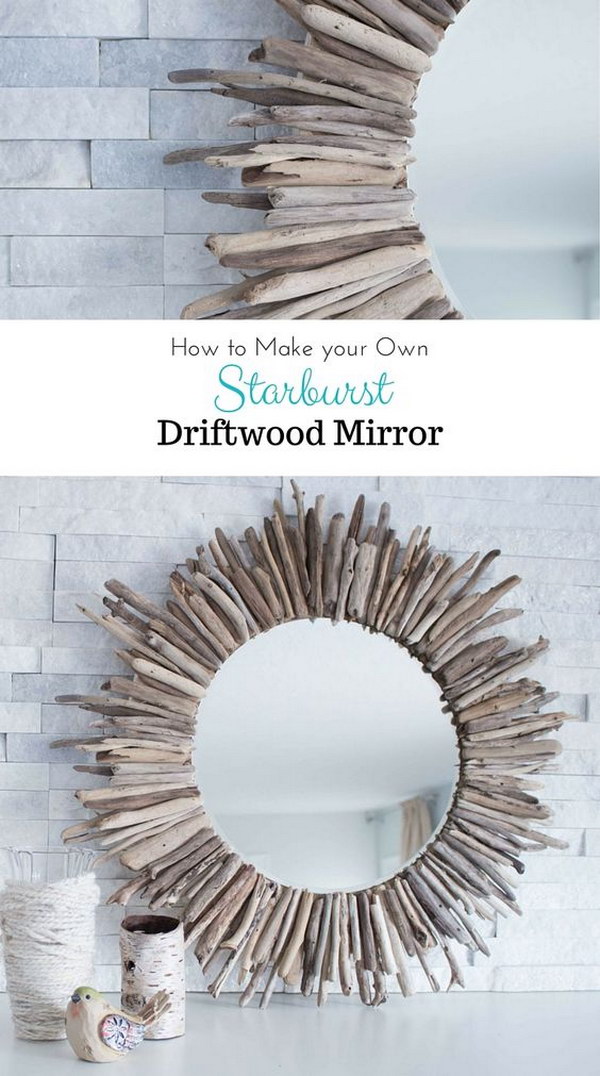 Get the tutorial via sustainmycrafthabit.
DIY Nautical Rope Towel Holder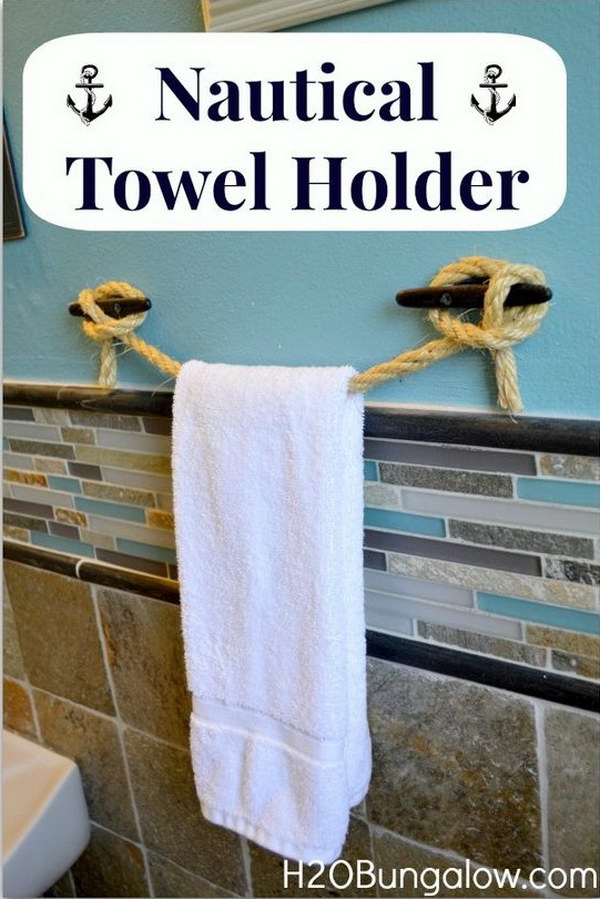 What a great idea for a beach house or beach themed design! Inexpensive and durable, too! Get the tutorial via h2obungalow.
Nautical Nightstand With Thick Rope Handles In White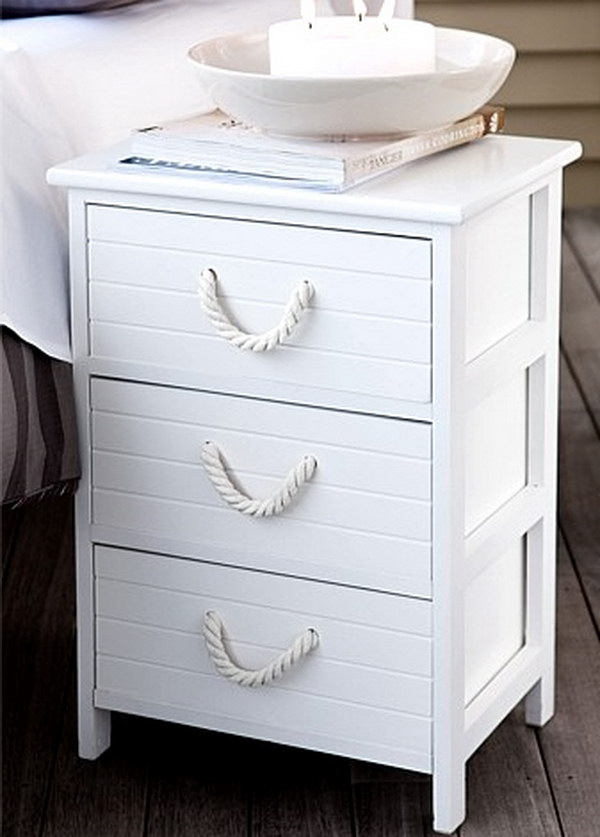 Attach Thick Rope Handles in white for a sophisticated cottage look.
DIY Old Shutter Nightstand For A Beach Bedroom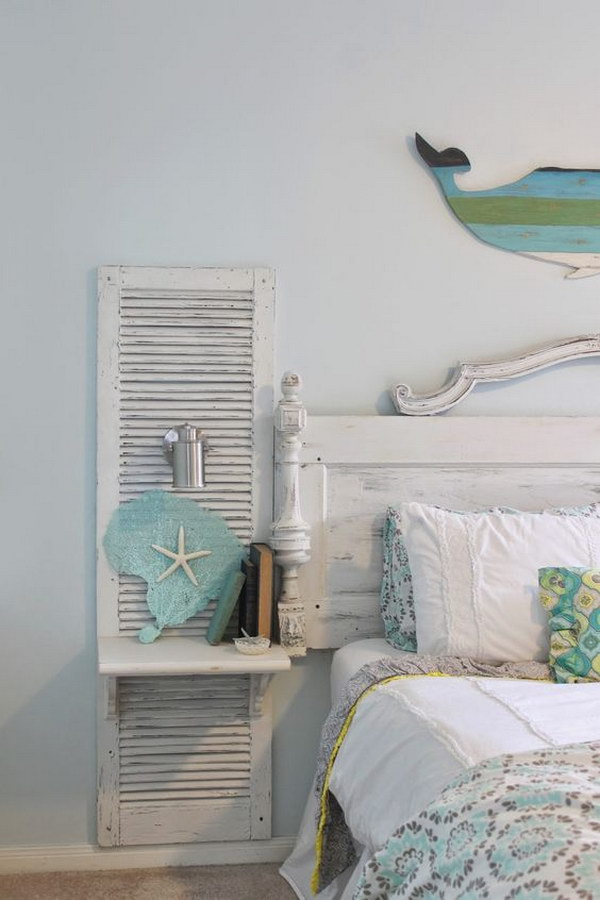 Get the tutorial via theraggedwren.
Over-Sized Starfish Decorated Mirror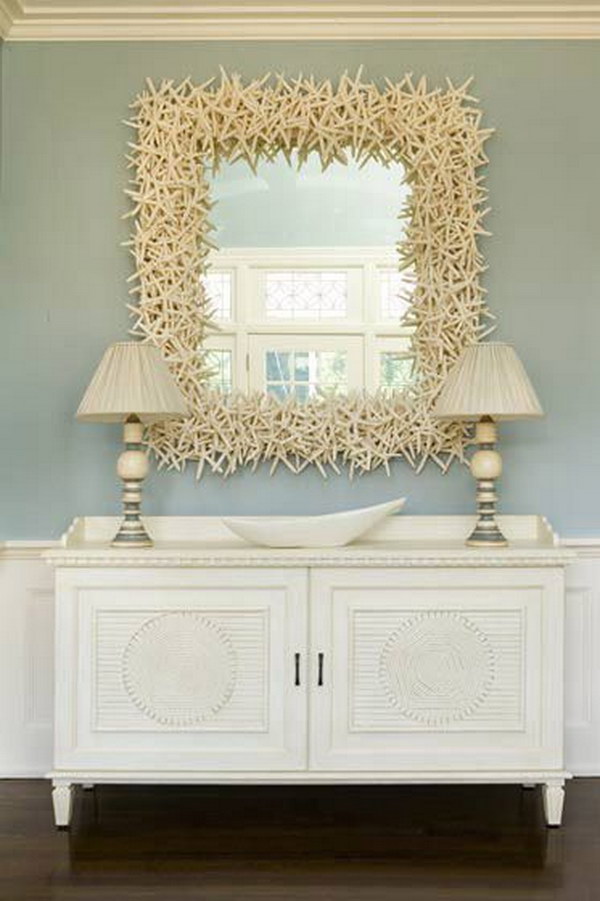 Via decorpad.
DIY Driftwood Candle Holder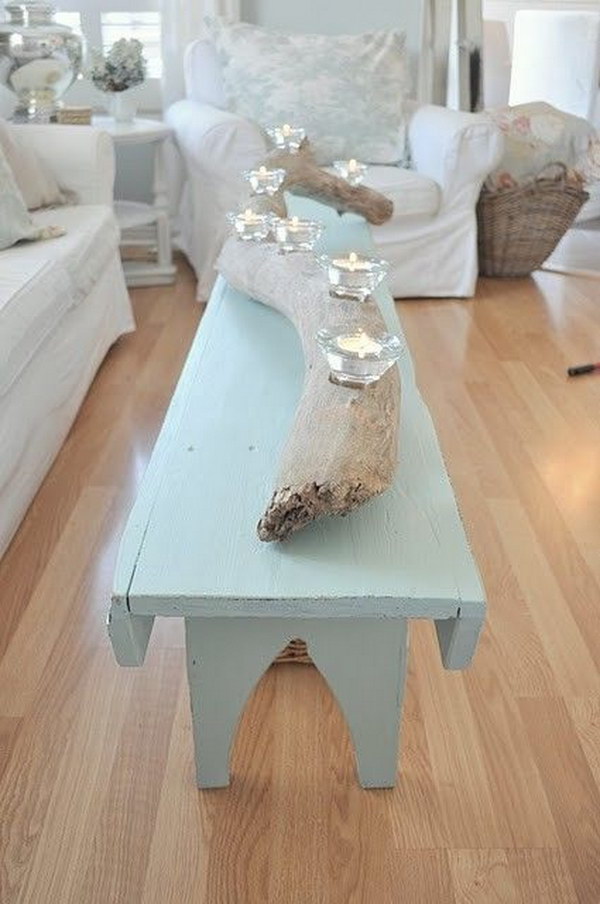 Get the tutorial via restorationhouseblog.
DIY Nautical Wood Sign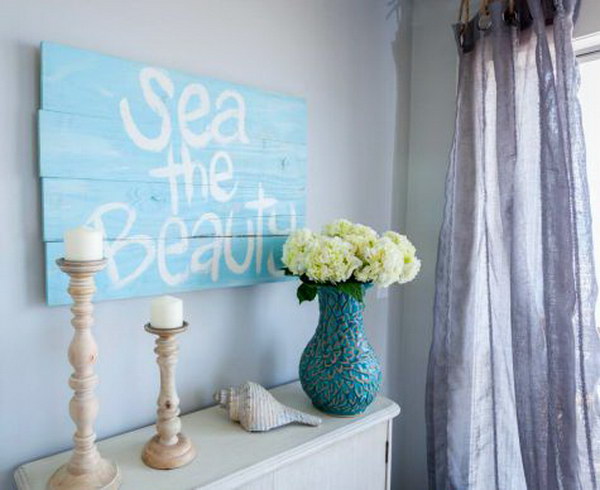 Via hgtv.
DIY Rope Octopus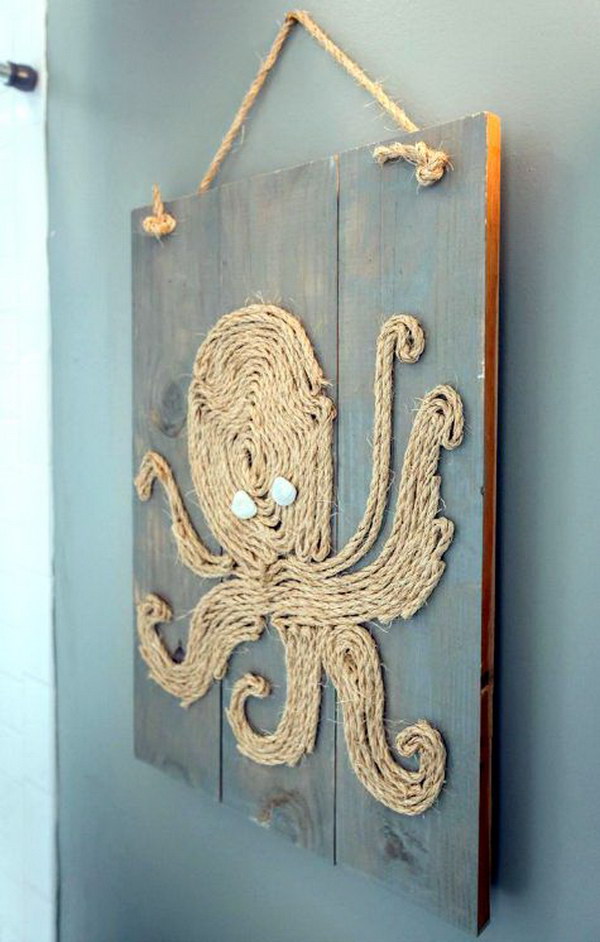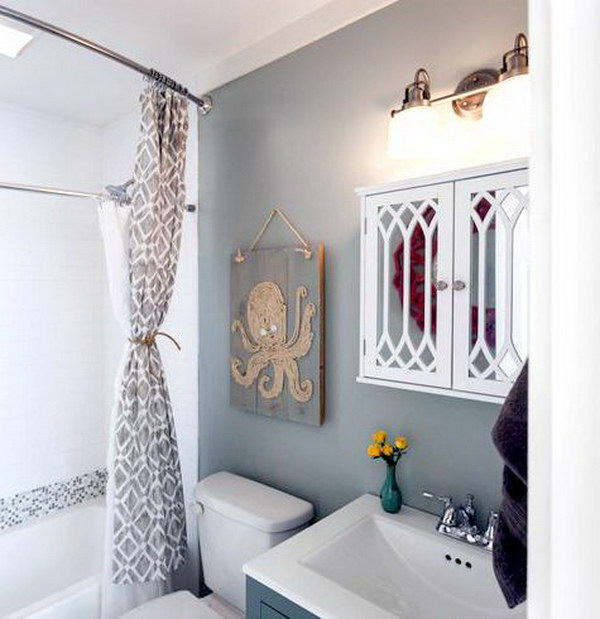 Via completely-coastal.
DIY Seashell Windchimes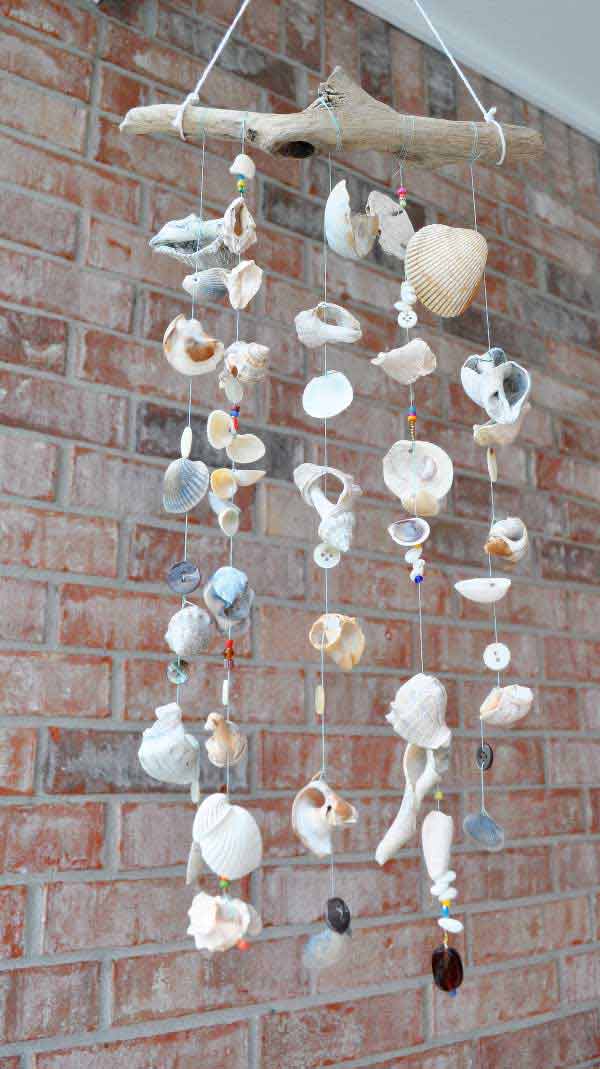 Get the tutorial via poindextr.
DIY Ombre Wood Shim Sign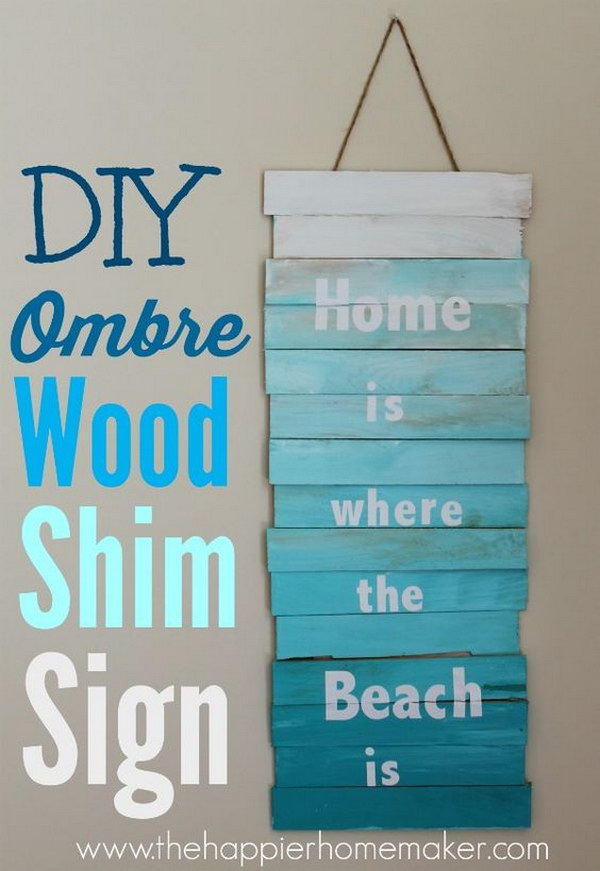 Get the tutorial via thehappierhomemaker.
High Gloss Gold Spray Paint Seashell
Seashell paint makeover; spray paint inside of shells high gloss baby blue and paint outside with gold or silver paint! Stunning!
DIY Beach Wreath Made From Spray Painted Branch And Seashell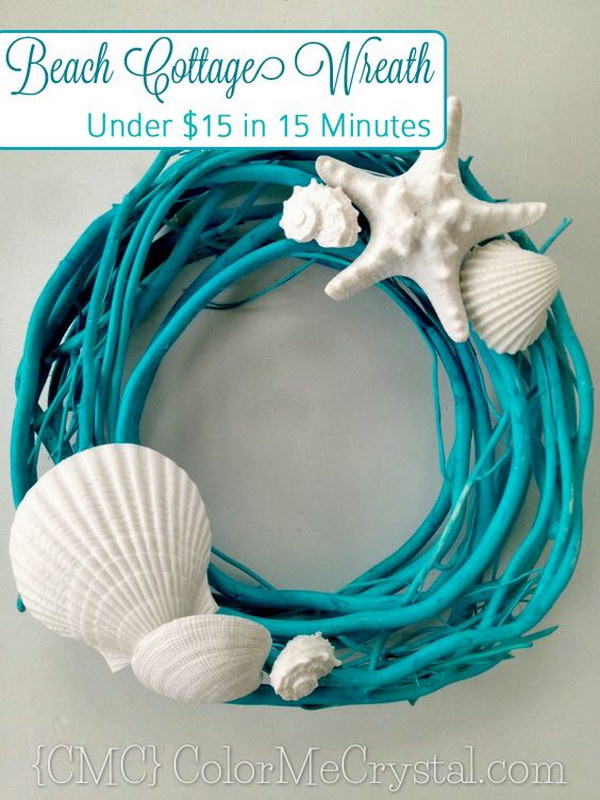 Get the tutorial via colormecrystal.
A Collection Of Framed Starfish, Sand Dollars, Seashells And Sea Fans For Nautical Wall Art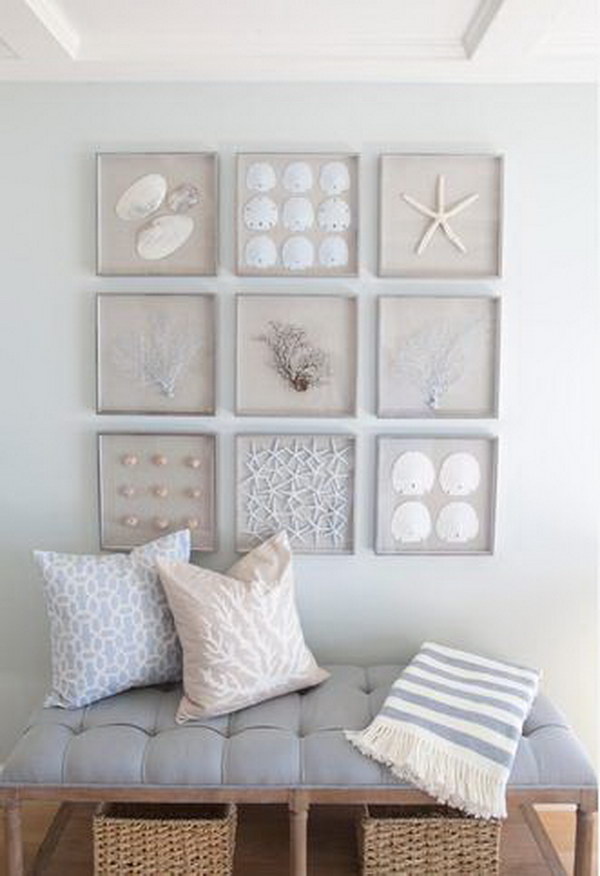 Via vickys-home.
DIY Rustic Look Beach House Decor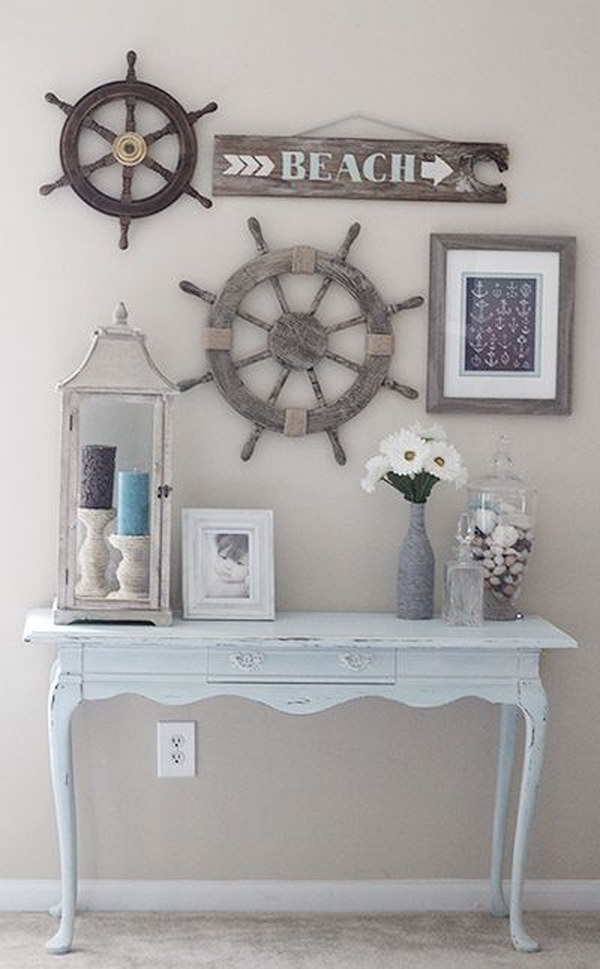 Via facebook.
DIY Summer Mantel Decor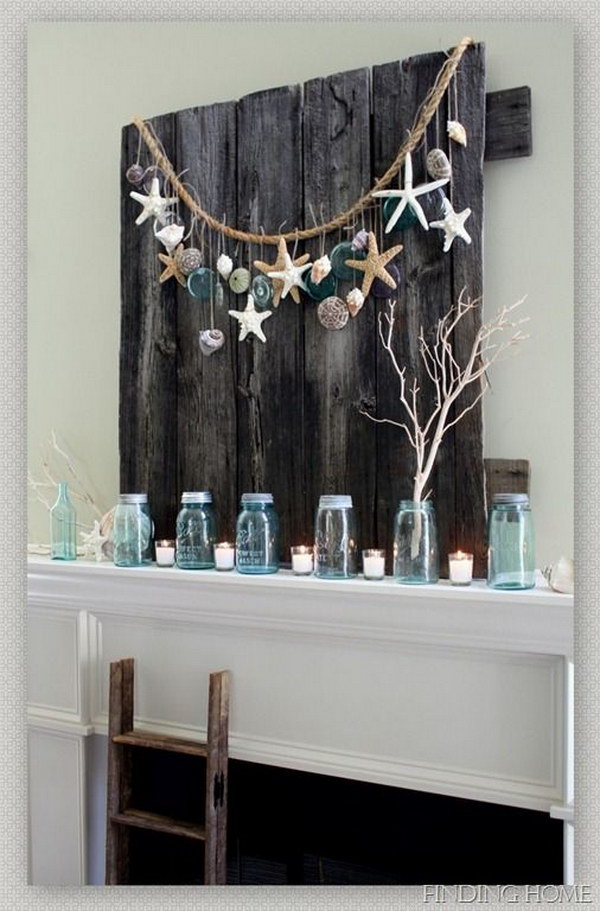 Get the tutorial via findinghomefarms.
DIY Starfish Chandelier

Get the tutorial via diyshowoff.
DIY Rope Rug

Get the tutorial via coolcreativity.
DIY Large Glass Buoys

Get the tutorial via craftberrybush.
DIY Rope Basket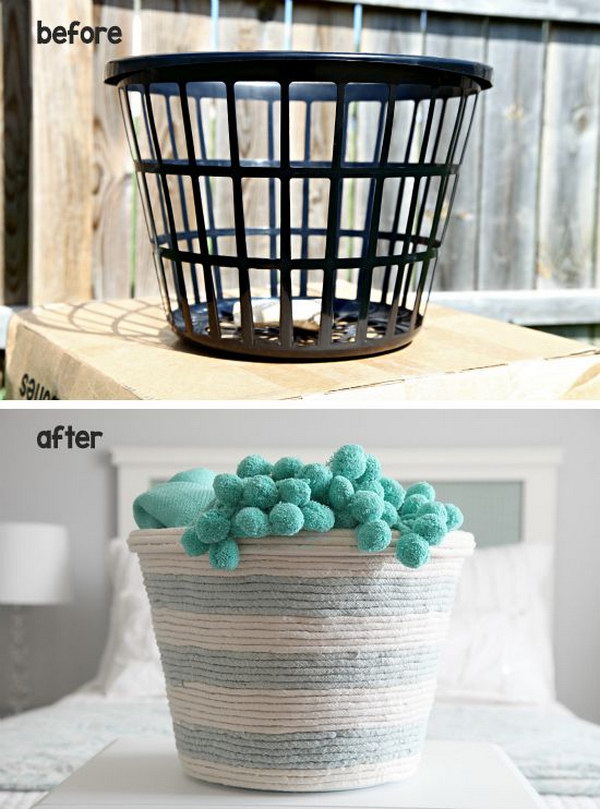 Follow this easy tutorial on how to take some cotton rope and a dollar store basket and makes it into stylish storage for your nautical home. Get the tutorial via iheartorganizing.
DIY Dollar Store Trash Can Makeover Using Rope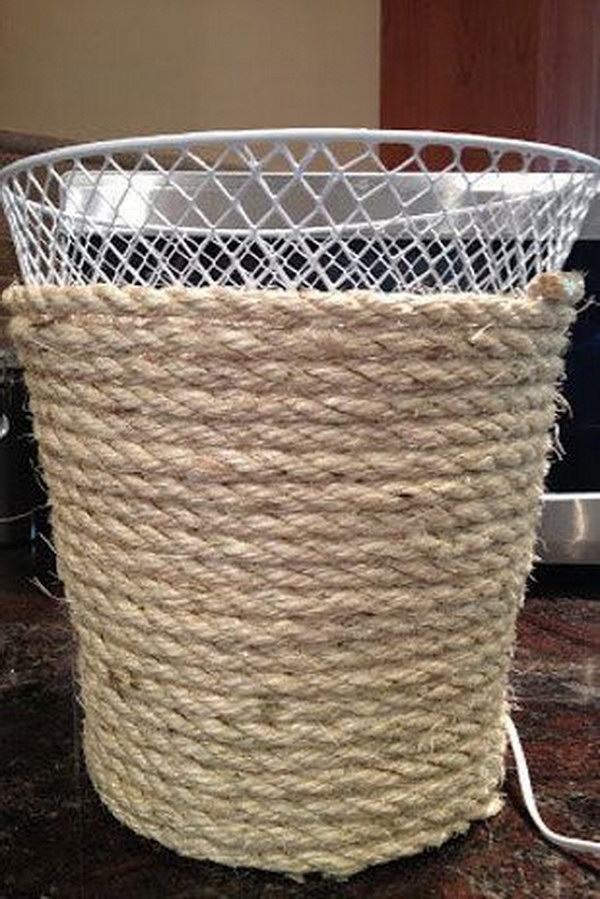 Get the tutorial via twoityourself.
DIY Nautical Spool Side Table for under $12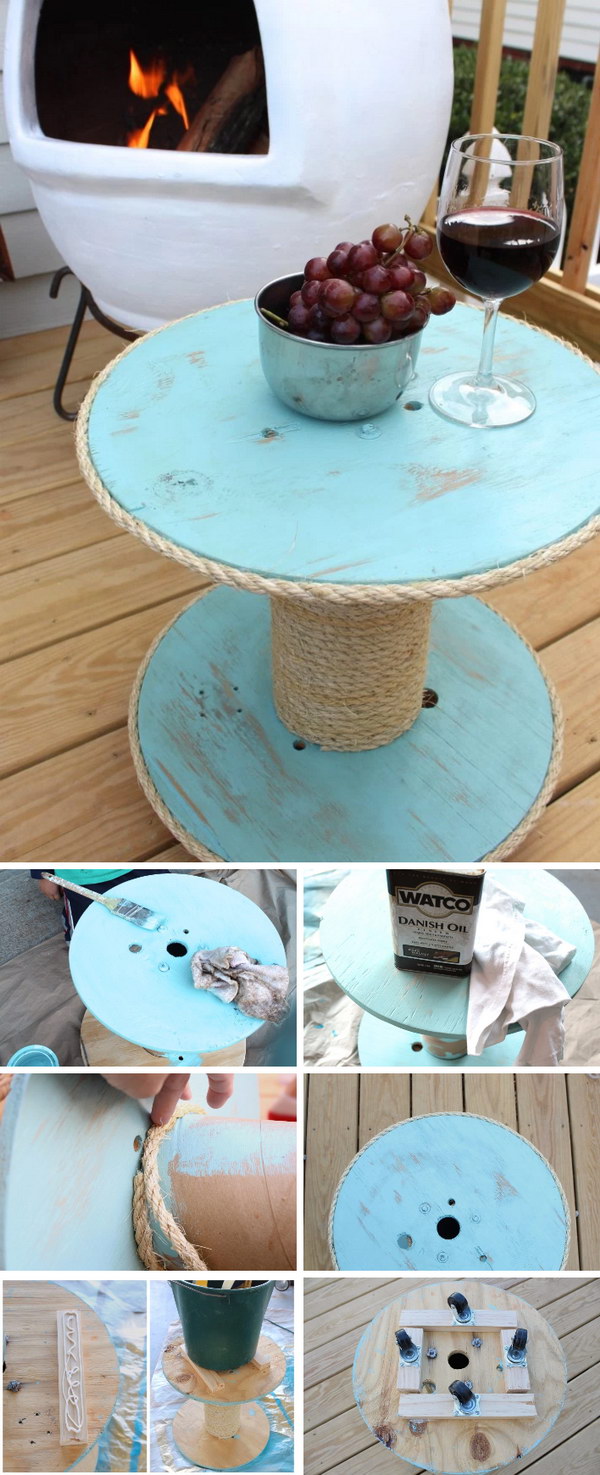 How beautiful is this wooden spool makeover using paint and rope – to be used as a nautical home table. Get the tutorial via simplestylings.
Nautical Knot Curtain Tieback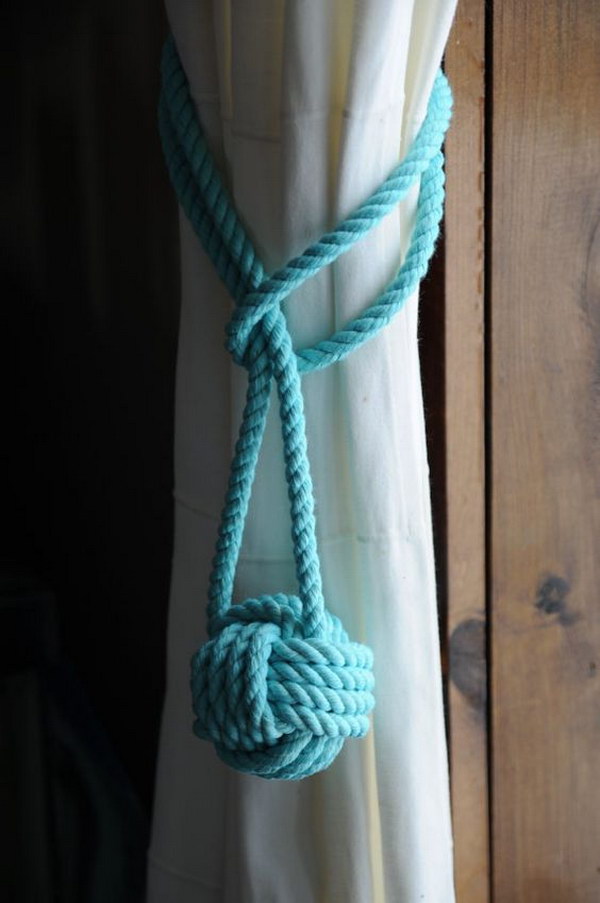 Via etsy. See how to make a monkey knot via monsterscircus.
DIY Jaded Rope Lamp Tutorial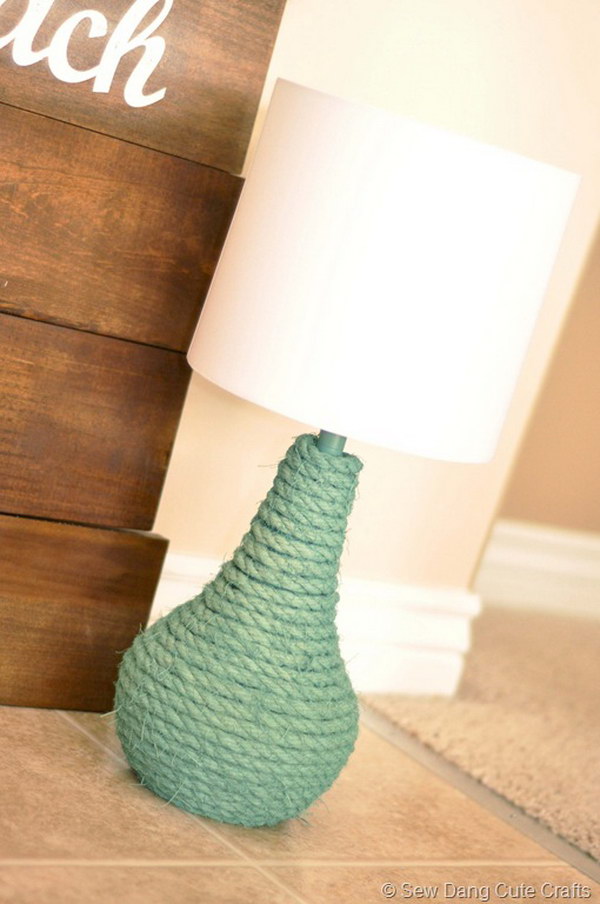 Get the tutorial via sewdangcutecrafts.
Wooden Oars Headboard
Get the tutorial via beeskneesbungalow.
DIY Driftwood Sailboats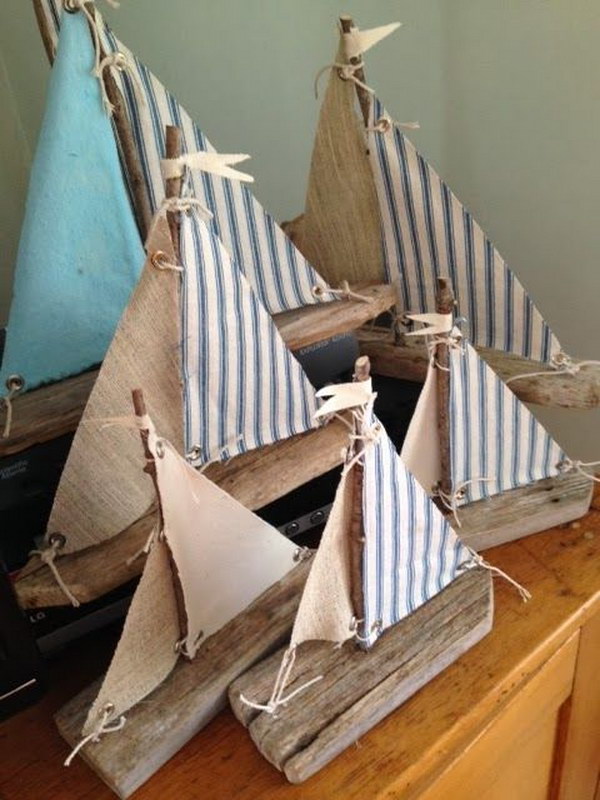 Via bloglovin.
Upcycled Rowing Oars Coat Hangers

Old rowing oars can be painted and hooks added for whimsical beach coat hangers for your entryway or man cave. Via cynthiaweber.
Recycled Frosted Sea Glass Beachy Jars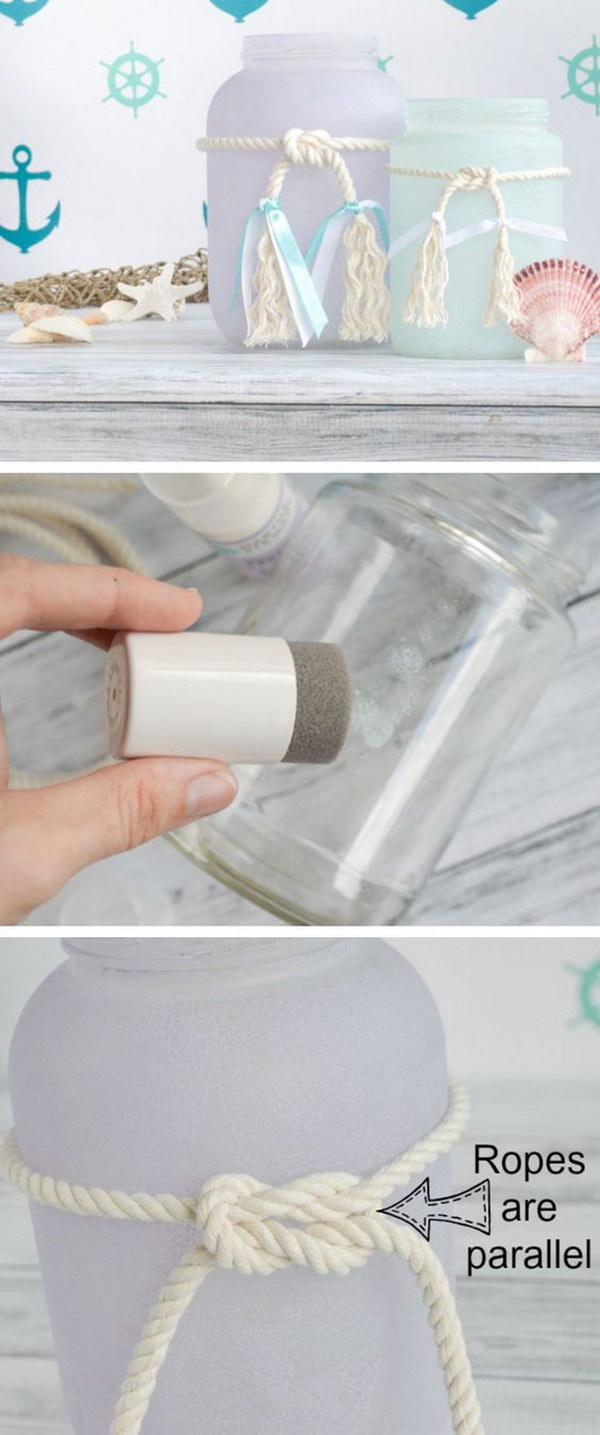 Get the tutorial via natashalh.
Pottery Barn Knockoff Rope Knot Lamp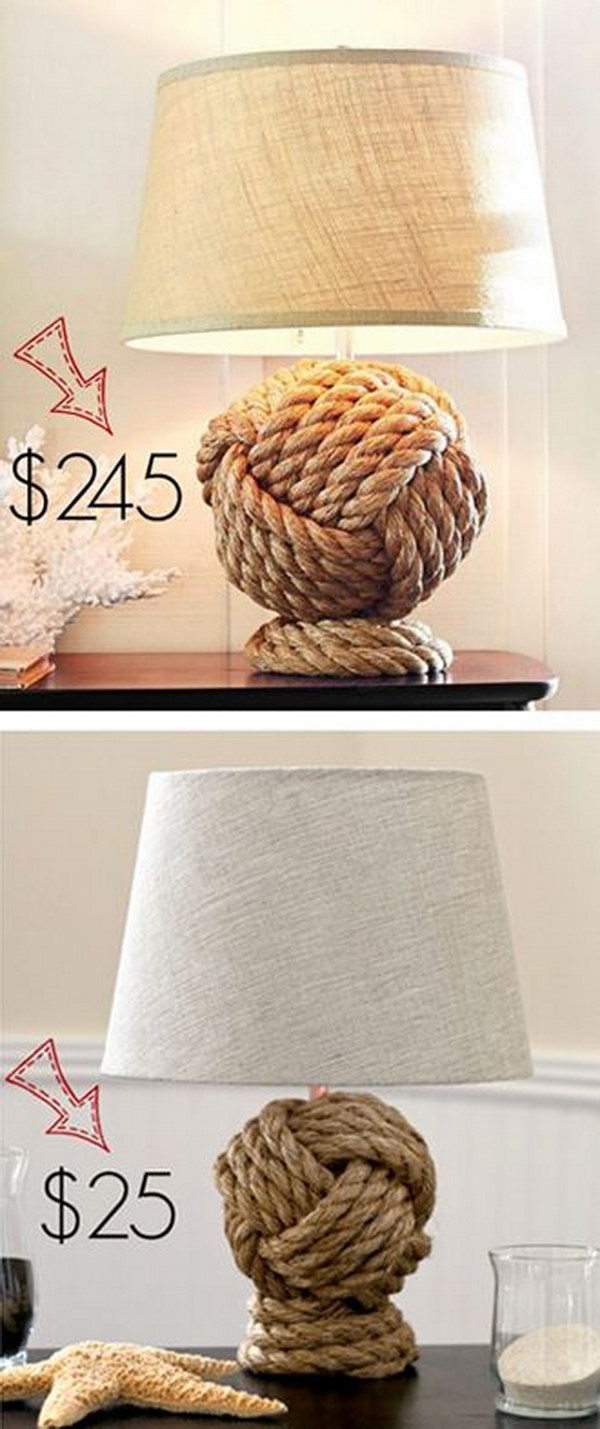 Get the tutorial via downhomeinspiration.
DIY Nautical Rope Shelf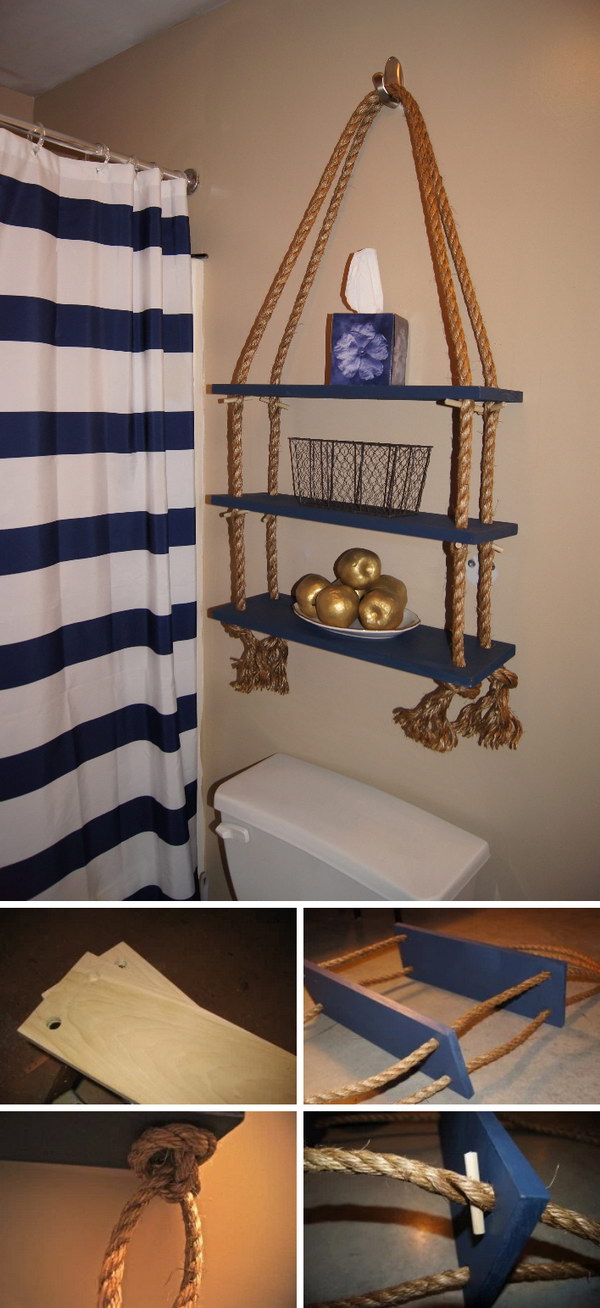 Get the tutorial via myfirstapartment.
DIY Distressed Nautical Crate Tutorial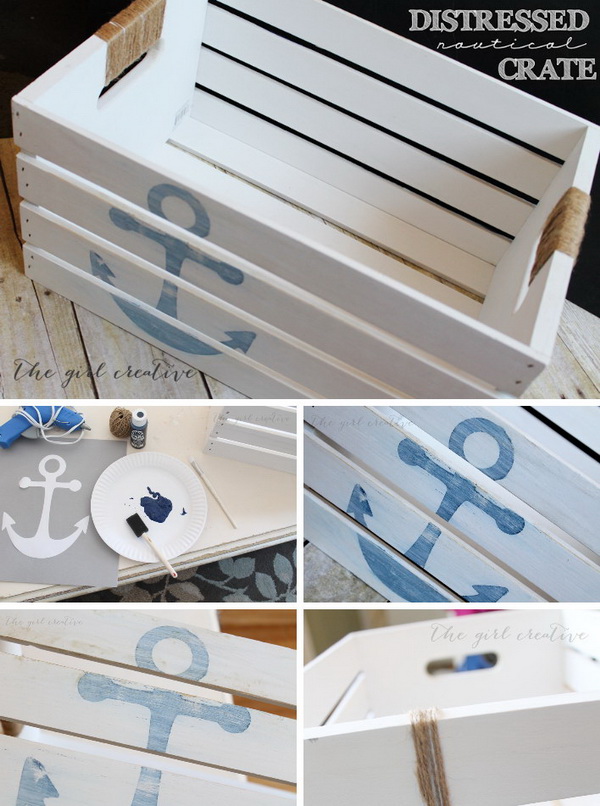 Make this cute nautical crate with a few supplies and little bit of time! Get the tutorial via thegirlcreative.
DIY Starfish Shadow Box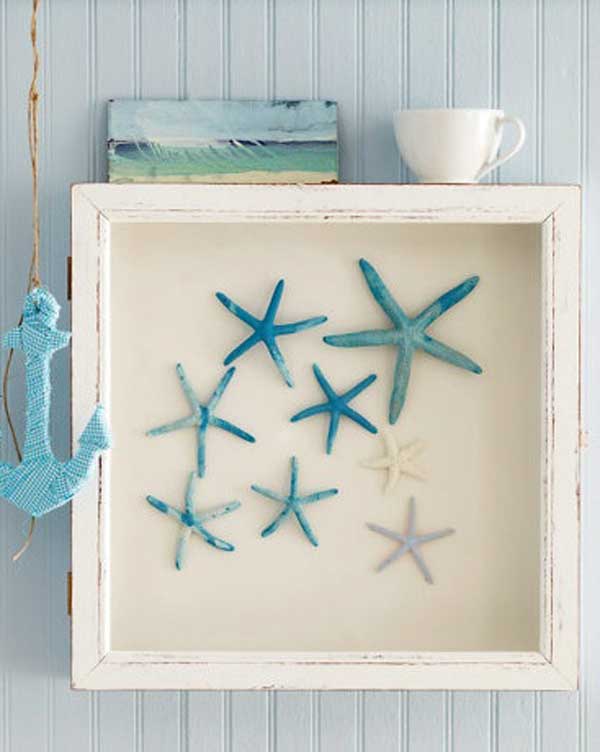 Via catalogliving.
Saddle Seat Bar Stool Makeover

Get the tutorial via refreshrestyle.
DIY Beach Glass Bottles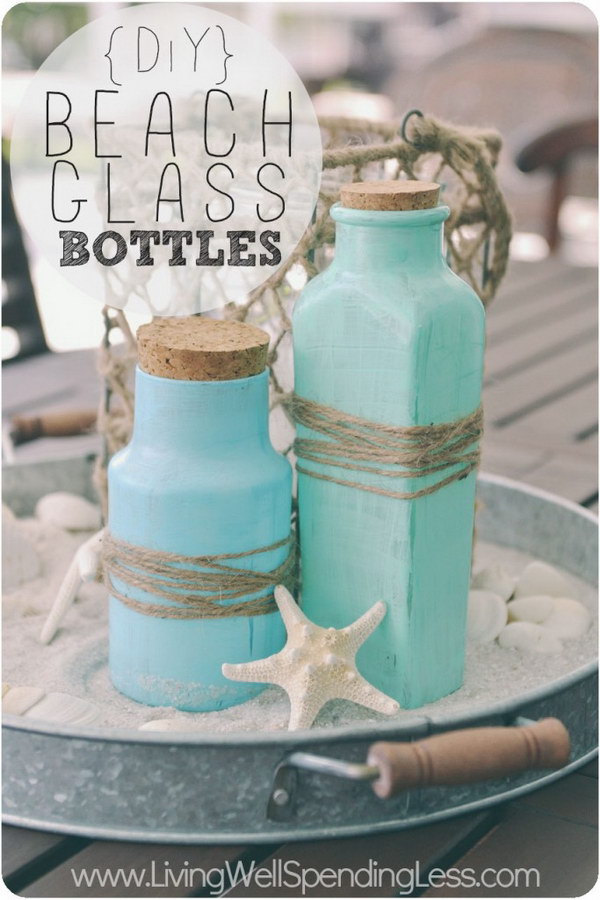 Get the tutorial via livingwellspendingless.
DIY Knotted Jute Net Bottles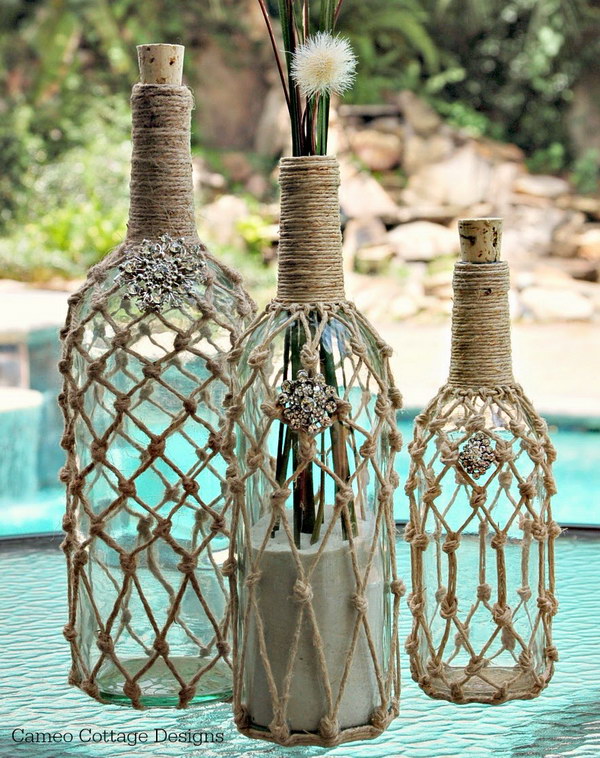 Get the tutorial via cameocottagedesigns.
DIY Craft Stick Wall Art

Get the tutorial via craftsbyamanda.
DIY Shell Topped Bottles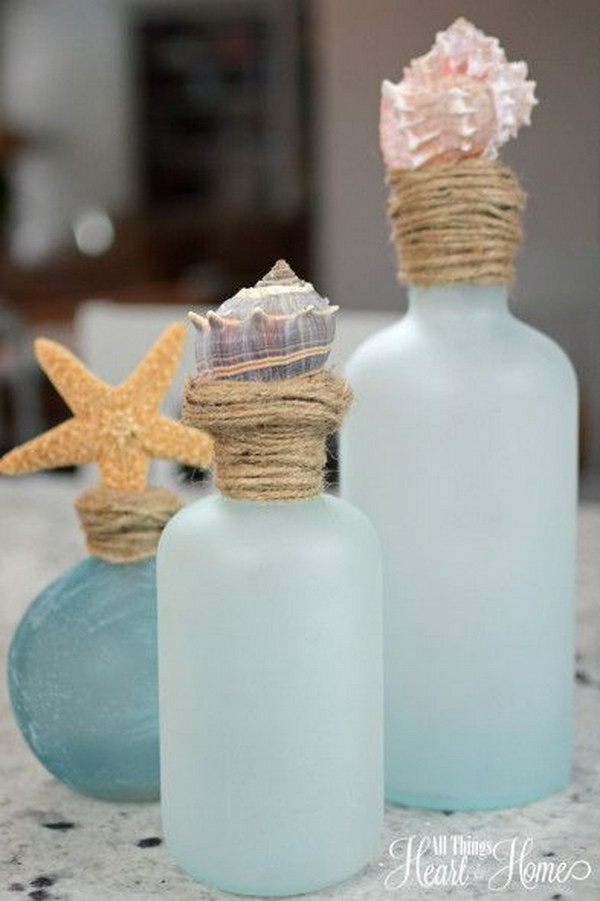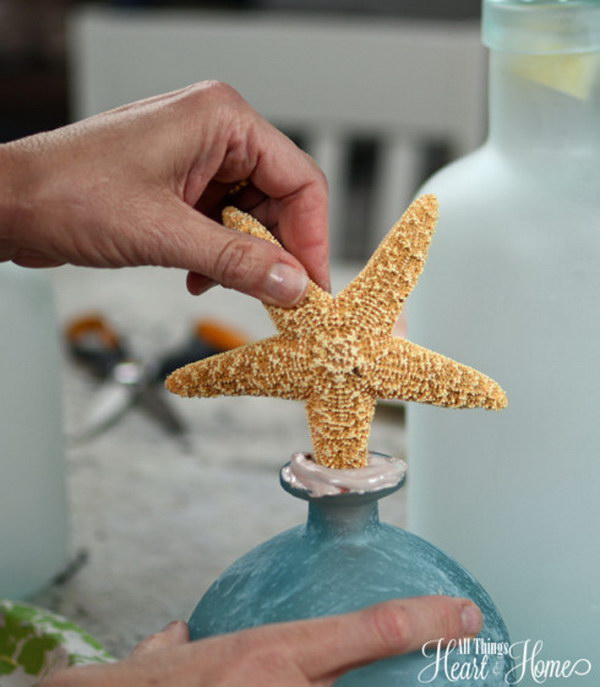 Get the tutorial via sandandsisal.
DIY Beachy Themed Pillows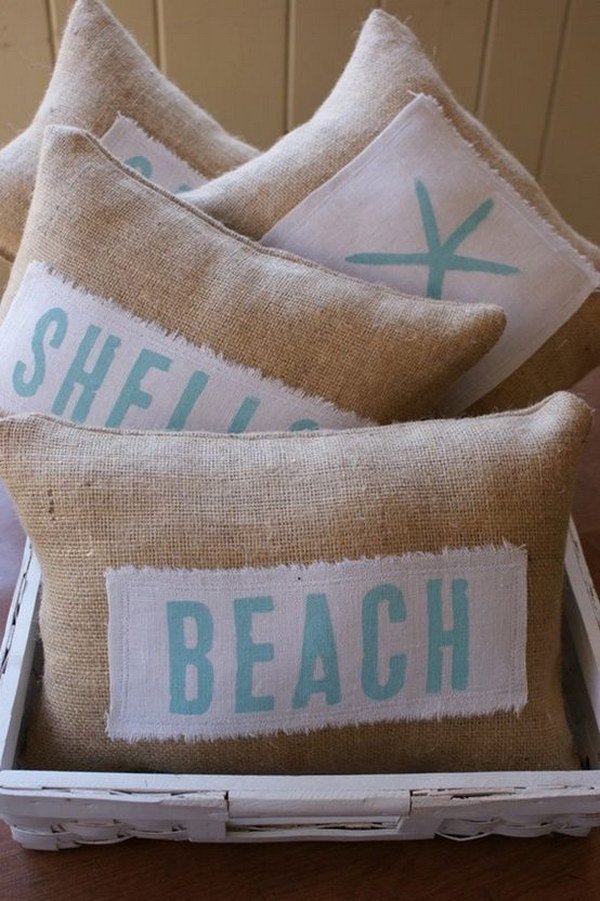 Cover your pillows in burlap, and add a little color pop with a center piece. Tutorial via domestically-speaking.
DIY Faux Ceramic Coral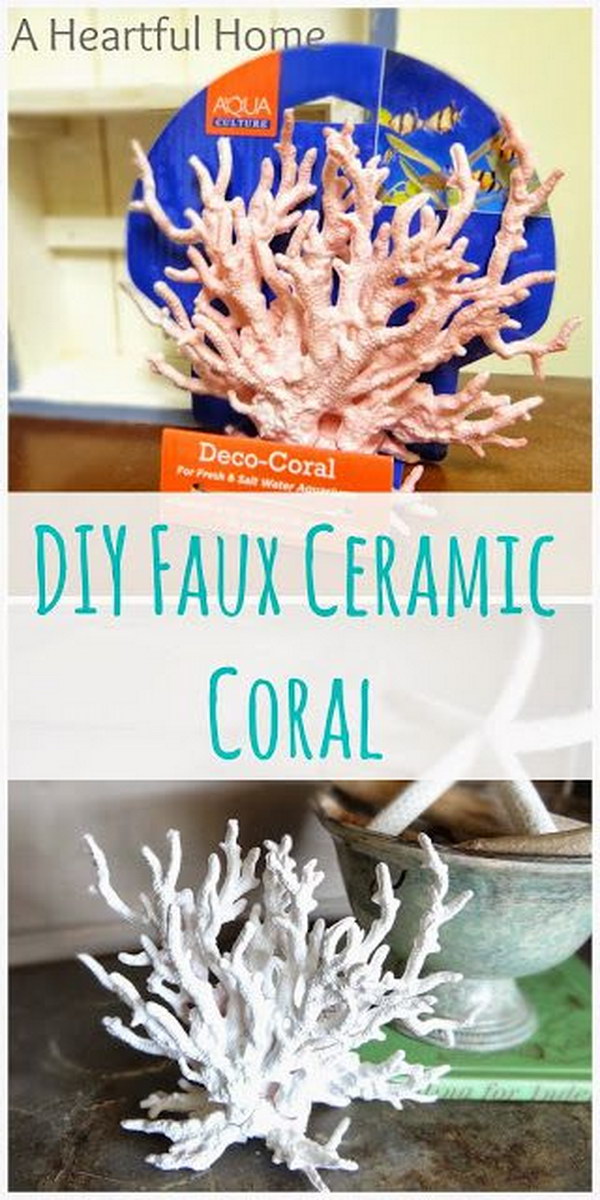 Via aheartfulhome.
DIY Large Scale Wall Art with Wood Frame

Get the tutorial via remodelaholic.
DIY Oyster Shell Candle Holder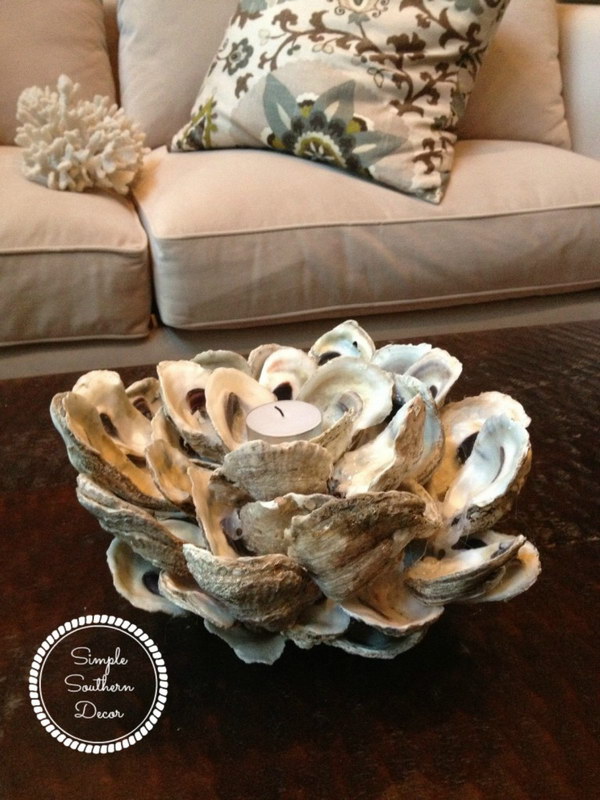 Get the tutorial via simplenaturedecorblog.
Aqua Seashell Letter Monogram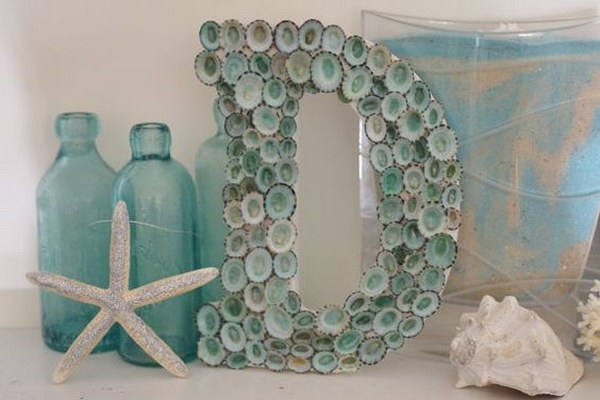 Via etsy.
DIY Shabby Beach Cottage Framed Seashells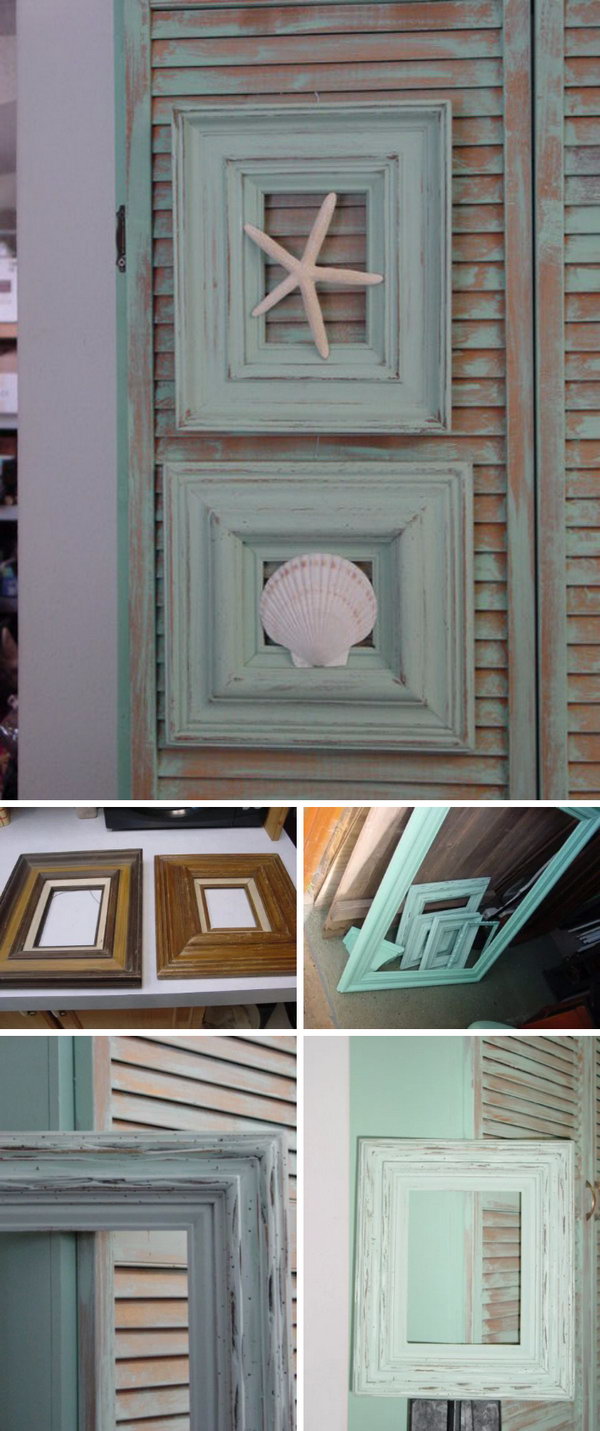 Get the tutorial via trash2treasure.
DIY Tile Table With Glass Gems
Turn a boring old side table into something beautiful and seemingly expensive with a package of glass gems or stones at the Dollar Store. It's also perfect for the beach home decor. source.
DIY Driftwood Anchor Tutorial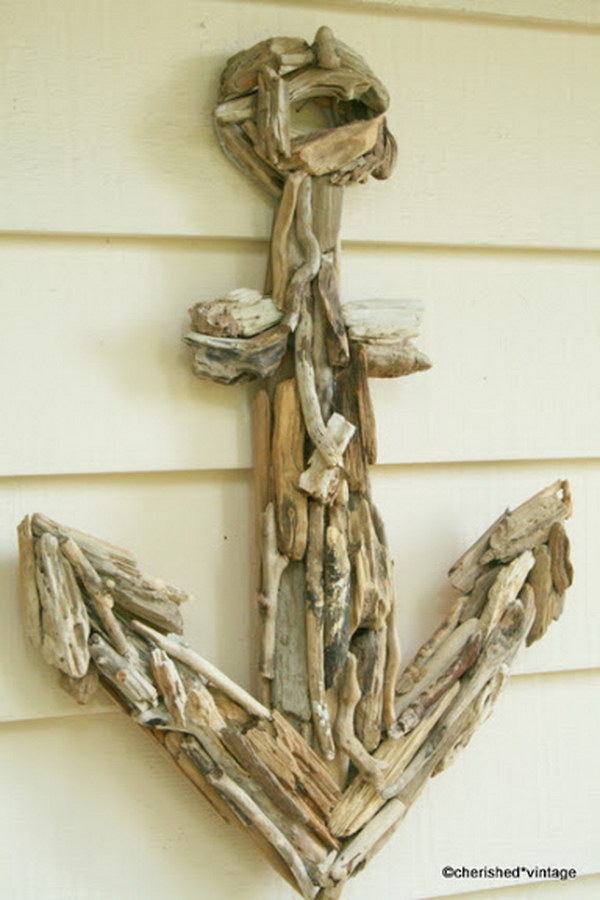 Get the tutorial via cherishedvintage.