20+ Cool Plastic Bottle Recycling Projects For Kids
As we said before, when you are living wildly in the crafts world, you know that nothing should be thrown away because they're going to be perfect materials for your next project. Plastic bottle is such a versatile material can be upcycled to make artsy, fun and gorgeous projects like DIY rainbow mobile, cute animals, flower pots, decorative wind chimes and more. Just with a little creative inspiration and a do-it-yourself attitude, you can turn those empty wine bottles into a variety of decorations. In today's list, we have rounded up some easy DIY plastic bottle crafts ideas that your kids can will love. Making something out of plastic bottles is not just for fun, it's also a great way to teach your kids about recycling and helping the environment. Browse these photos of plastic bottle projects to find more ideas and how to make them with your kids. They are all very fun and creative, and you won't believe how easy it is to make!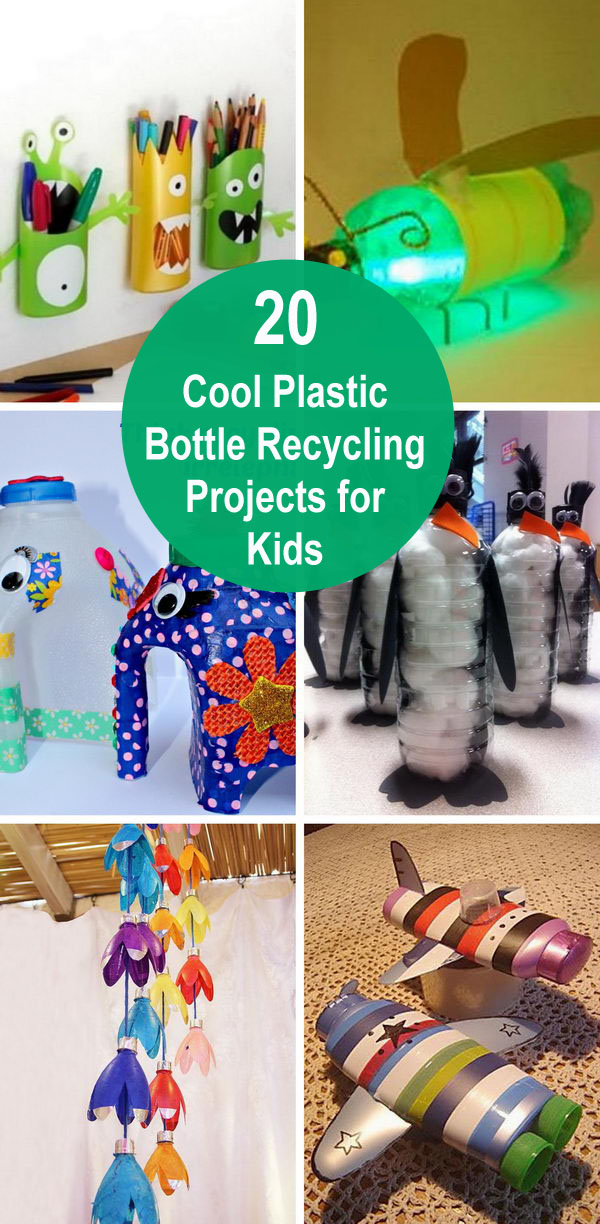 We've been working on this list for a long time, but I'm sure there are many more awesome DIY ideas that we've missed. So if you know one or have done a cool DIY project for your kids, feel free to share it in the comments! Thank you!
Plastic Water Bottle Flowers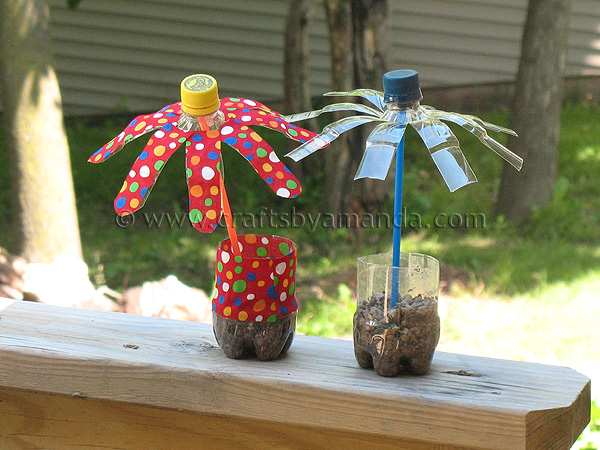 This is simple to do even for preschool kids. Tutorial via craftsbyamanda
Recycled Bottle Flower Rainbow Mobile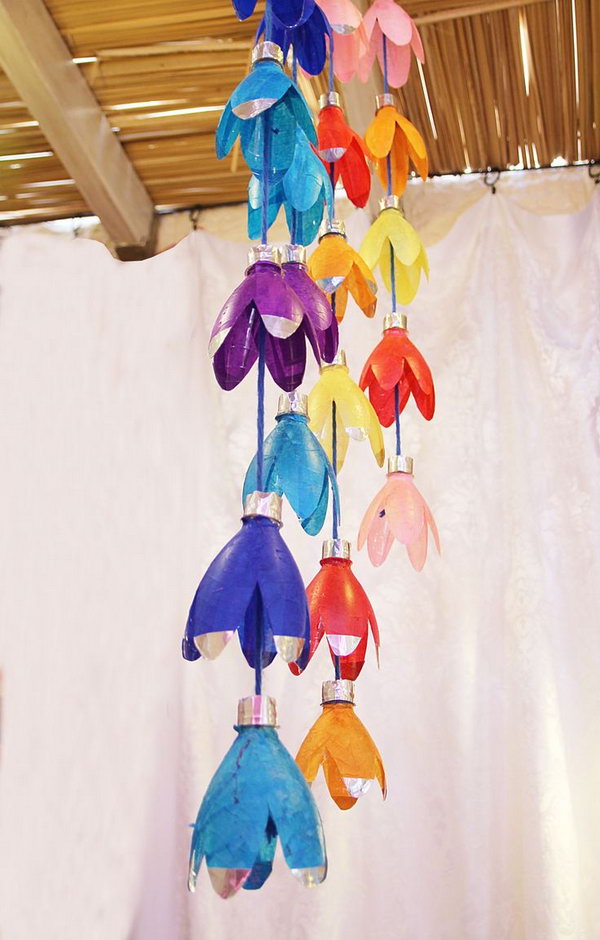 Add a personalized touch to your baby's playroom with this DIY bottle flower rainbow mobile tutorial. creativejewishmom
Cute Milk Bottle Elephants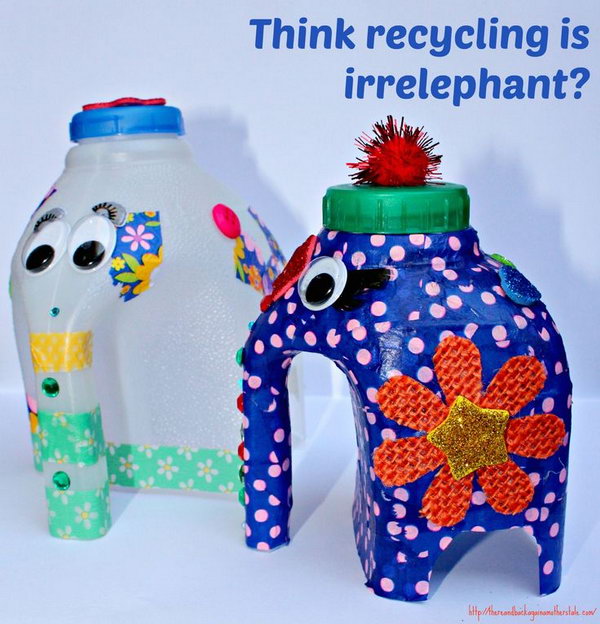 Let your kids know the fun of recycling with these cute DIY milk bottle elephants. Tutorial via thereandbackagainamotherstale
Plastic Bottle Turtle Shell Craft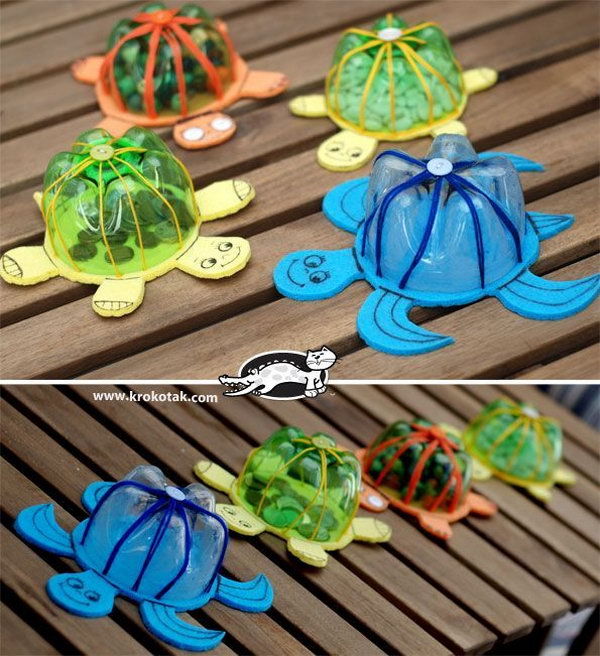 With only a few easy-to-find materials, the kids can transform an old plastic bottle into fun turtle banks that's great for pool parties and bath time! Video tutorial via Youtube
DIY Plastic Bottle Bird House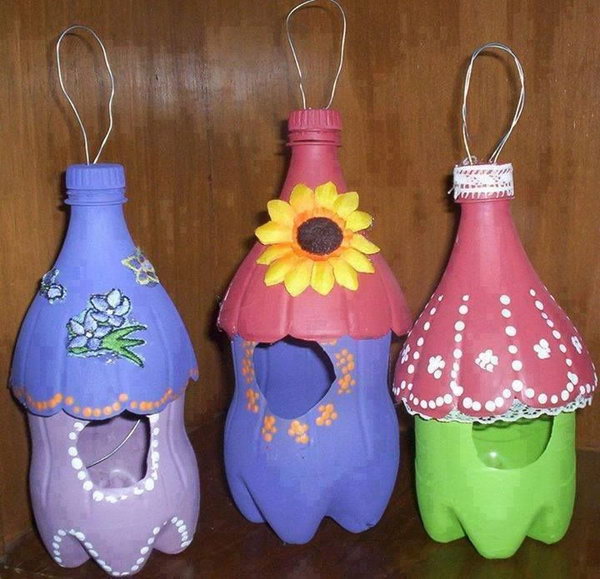 Homemade bird feeders not only spruce up the backyard, they also invite your feathered friends to come and play. A fun eco-friendly craft for kids. Tutorial via thriftysue
Plastic Bottle Apple Containers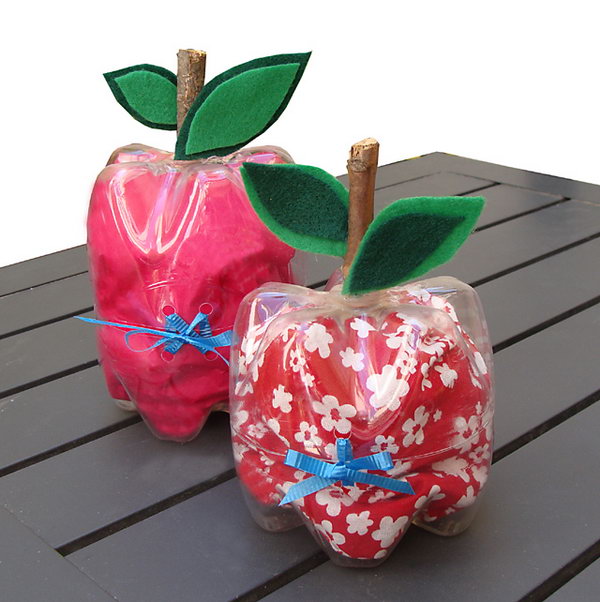 These would make lovely containers for a teacher appreciation day gift! Tutorial via creativejewishmom
Unique Rocket Bank Made out of Plastic Bottle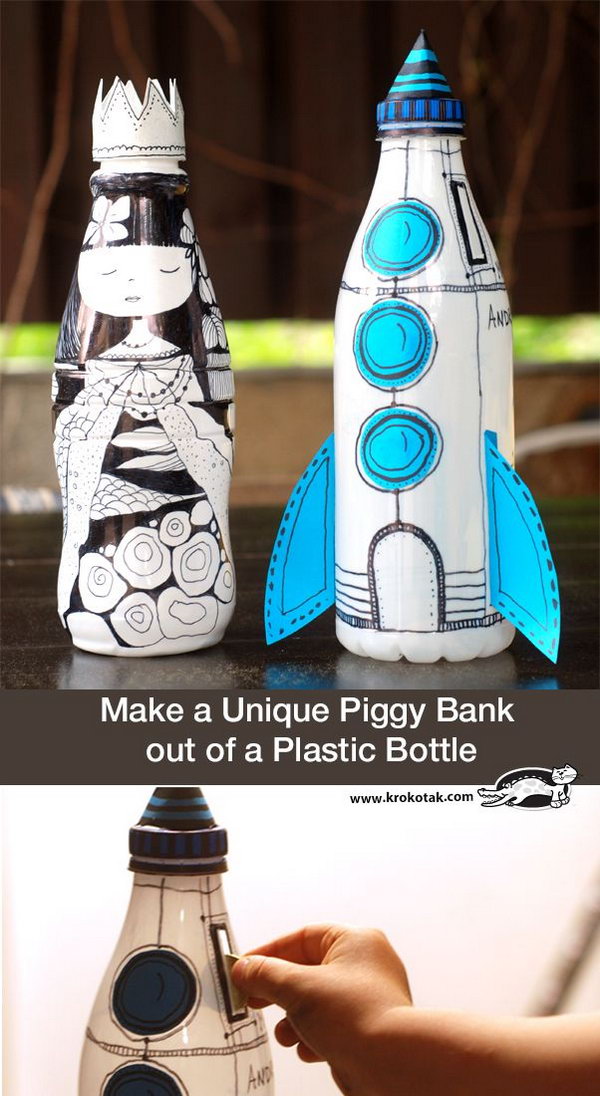 Easy, cute craft idea that's great for kids. Tutorial via krokotak
Treat Your Baby with a Bottle Bug with a Glow Stick in It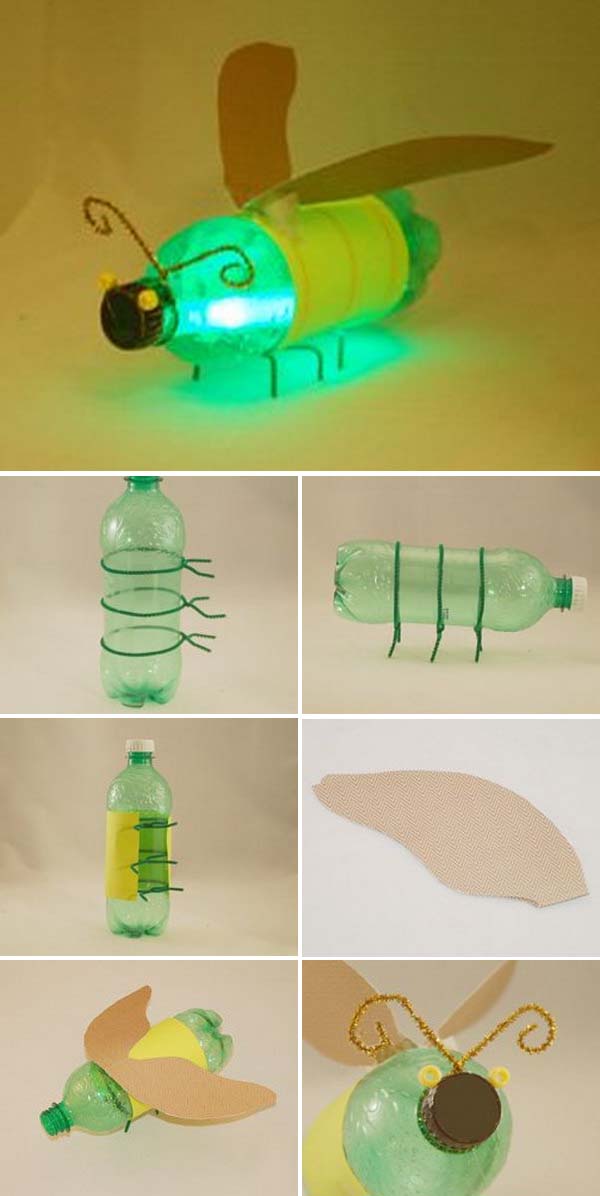 Make this fantastic bottle bug using recycled materials. It will keep the kids entertained for hours. Tutorial via crafts-for-all-seasons
Sculpture Elephant Made from Recycled Plastic Bottle and Bottle Tops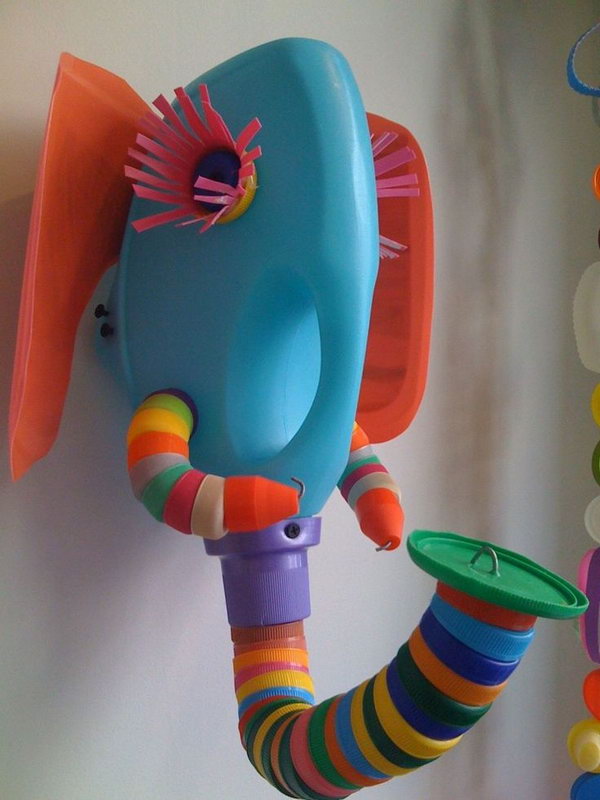 This is a really clever idea for getting your kids interested in crafting and to start a conversation about recycling too! See more pictures from ecomaniablog
DIY Cozy Coupe Gas Can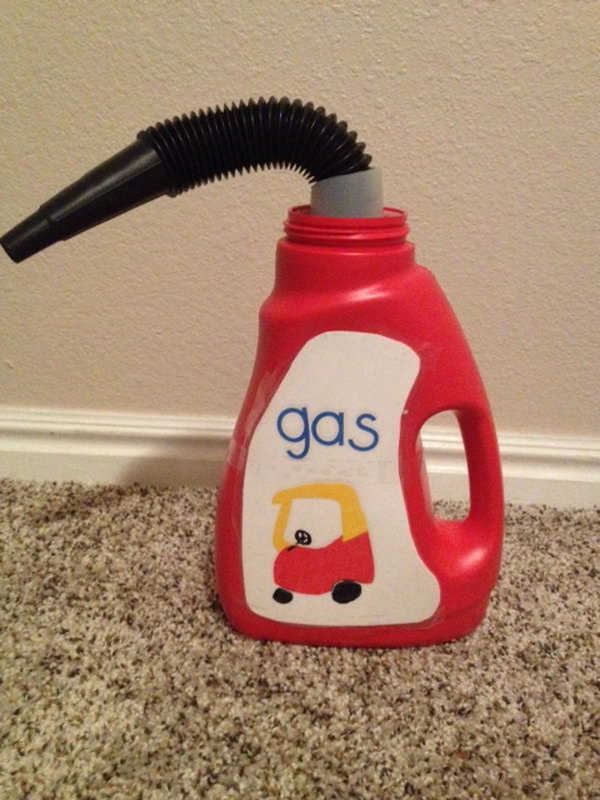 Use an empty Wisk bottle to make this cute accessory for your kid's bike, car, or cozy coupe. Tutorial via mothersniche
Cute Monster Pencil Holders Made from Plastic Bottles

How cute! Re-purpose, reuse, recycle shampoo bottles to pencil case, tall-accessories holder. This can help keep your kids organized. Tutorial via justimagine-ddoc
Halloween Milk Jug Ghosts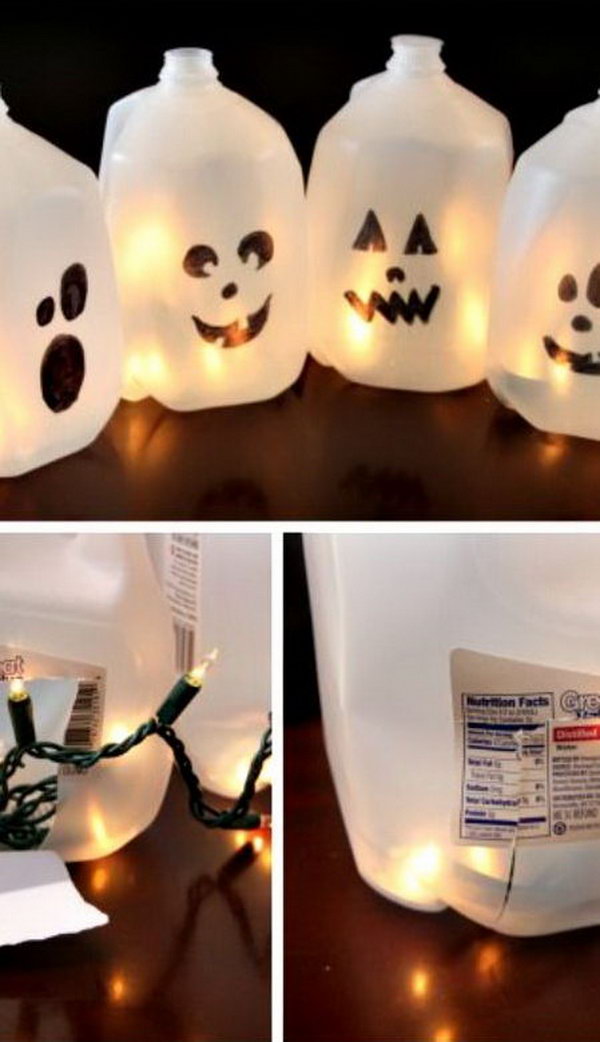 Make Halloween luminaria by filling milk jugs with lights. Easy Halloween craft idea for the kids! Tutorial via isavea2z
DIY Bottle Penguins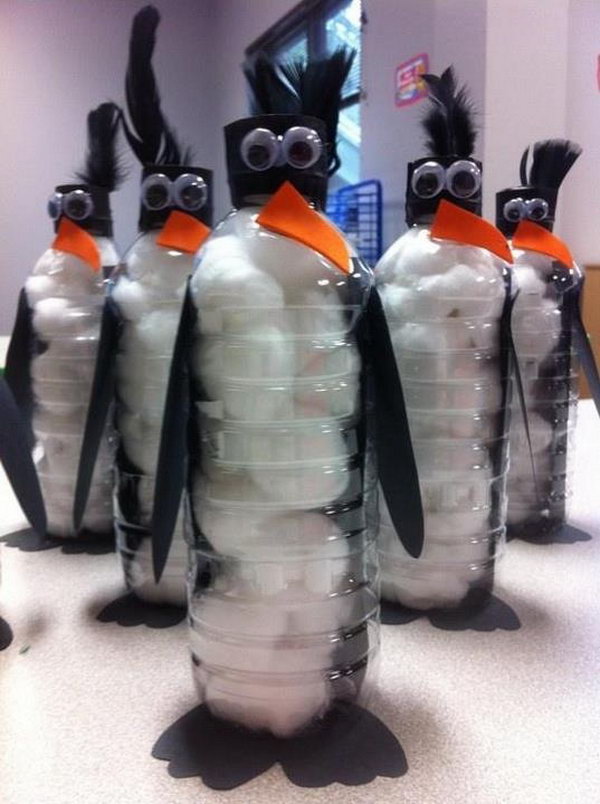 Have the kids make their own penguin crafts out of water bottles and cotton balls. See more from mymommystyle
Empty Plastic Bottles Game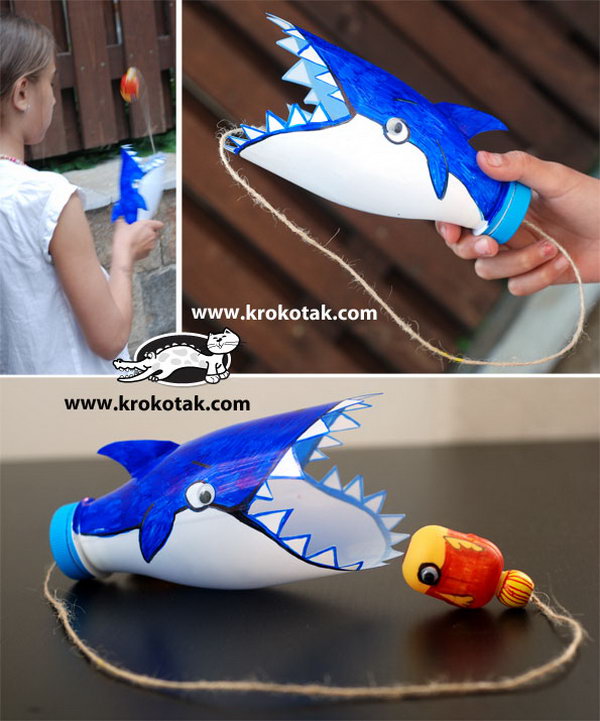 A clever and fun use of empty old plastic bottles. Tutorial via krokotak
DIY Melted Bottle Jewelery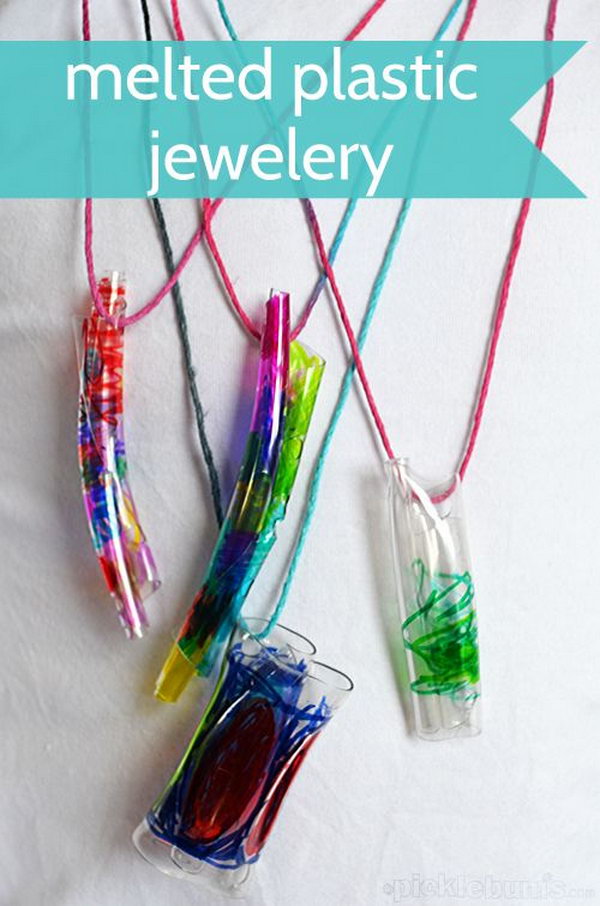 Make beautiful melted bottle jewelry and discover how heat affects plastic. Experimenting is a lot of fun for kids. Tutorial via picklebums
DIY Jet Pack with Soda Bottles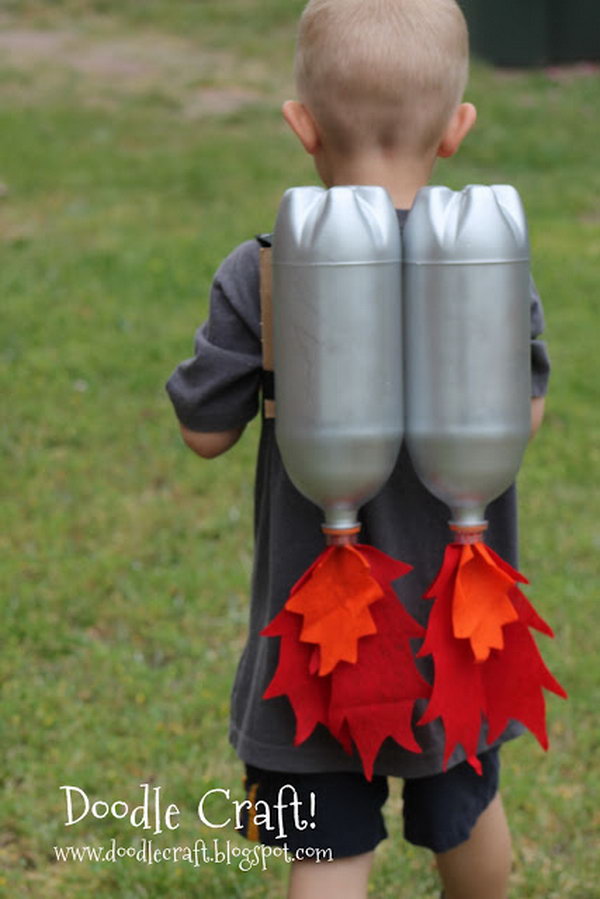 Make a jet pack out of spray-painted bottles and red and orange fabric. Great for outerspace play! Tutorial via doodlecraftblog
DIY Bubble Snakes Maker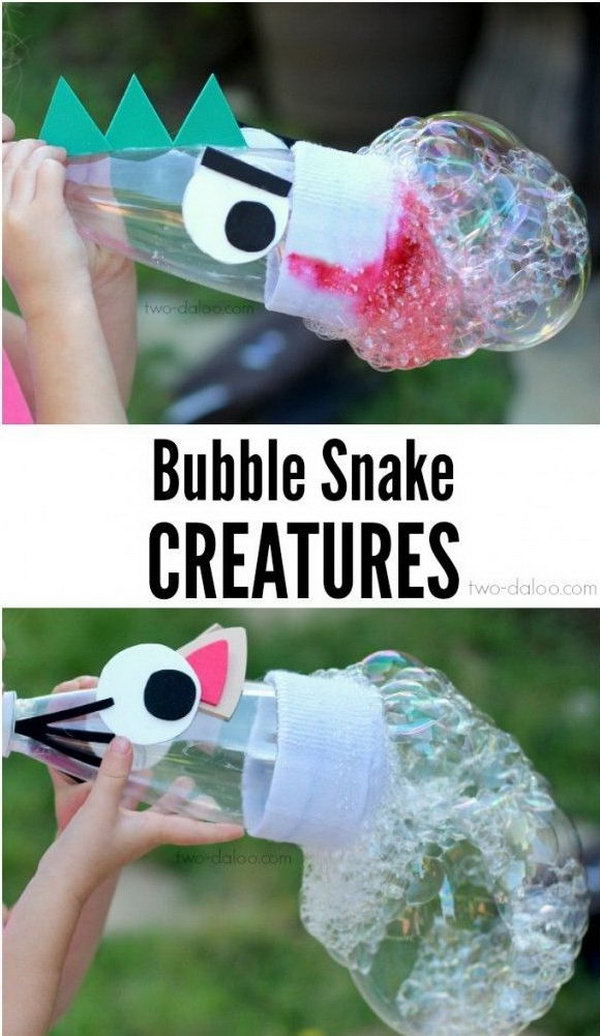 This activity was so cheap and easy to do, but the results were awesome and the kids loved it. Tutorial via two-daloo
Kids DIY Airplane Pencil Case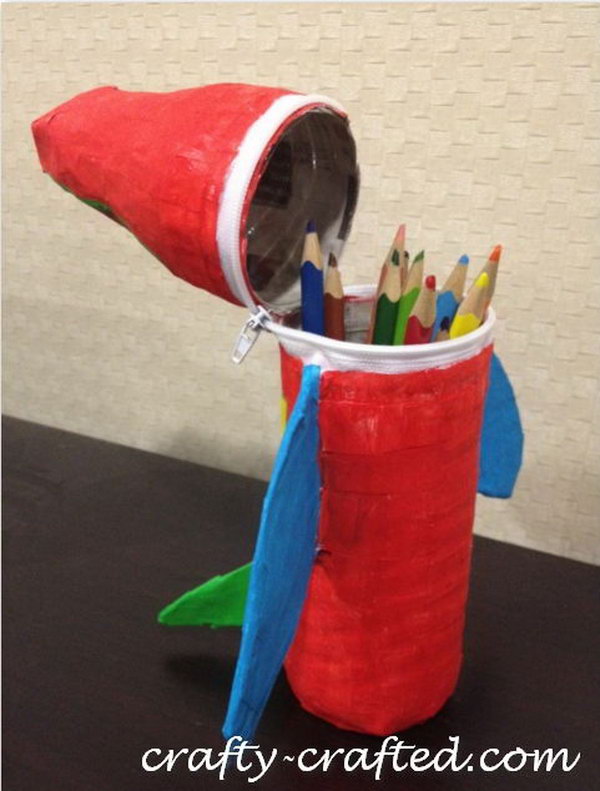 This is a great and unique back to school project for the kids. Tutorial via crafty-crafted
DIY Plastic Bottle Fairy Houses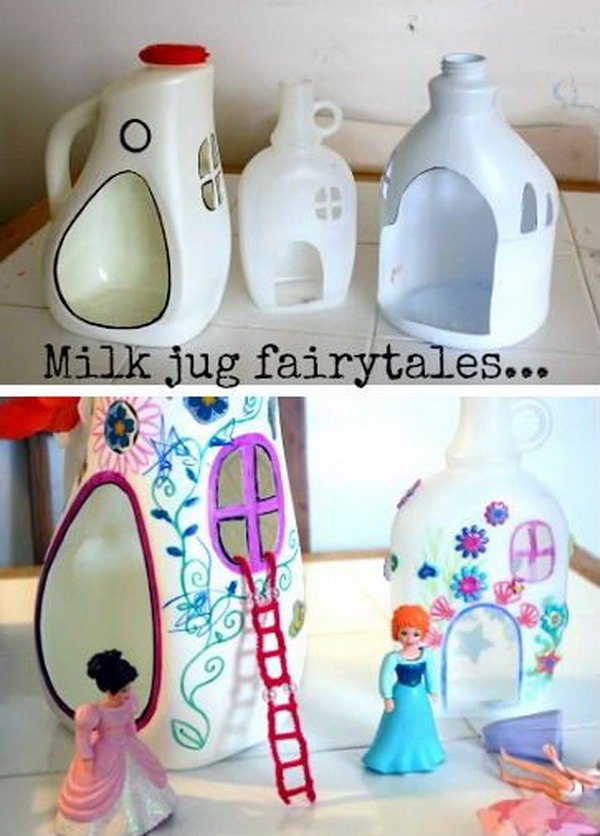 Adorable idea for recycling. It's hard to imagine a girl not in fond of fairy. Tutorial via filthwizardry
Toy Airplanes Made from Empty Lotion or Shampoo Bottles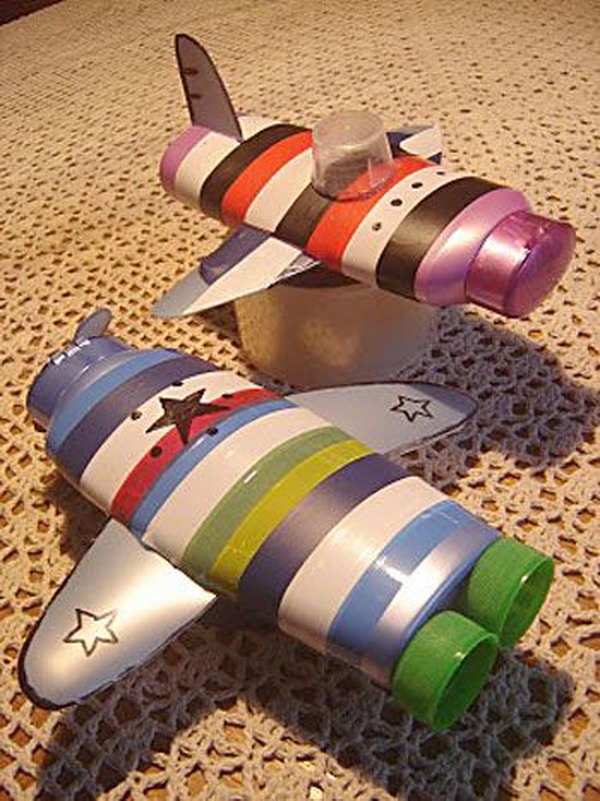 If your baby boy has his heart set on airplanes, then make some out of empty lotion or shampoo bottles with his little hands. See more from pureandnoble
DIY Hanging Jellyfish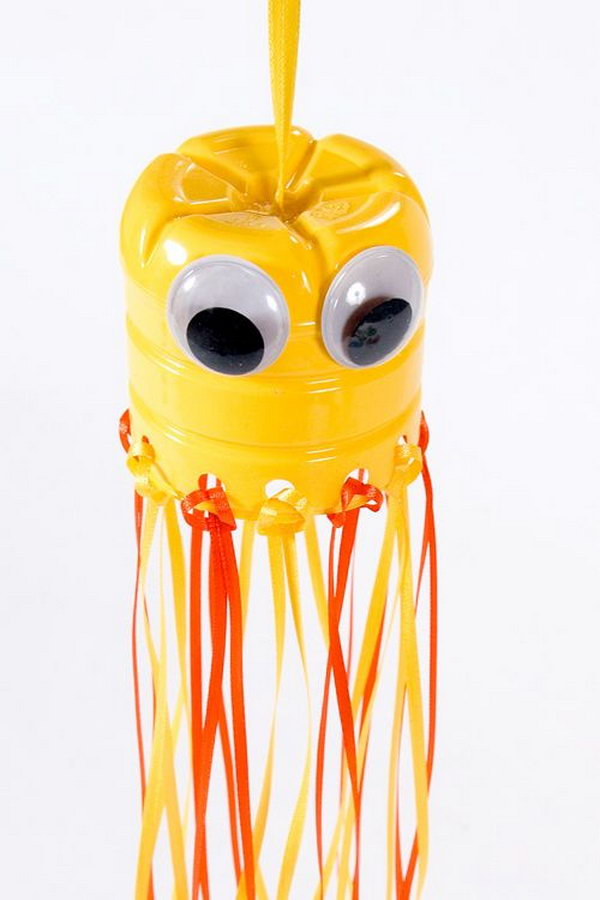 This would be a great activity to do for an under the ocean themed party, animal activity, an exciting decoration for kids' room, or just for fun. Tutorial via plaidonline
DIY Milk Jug Turkey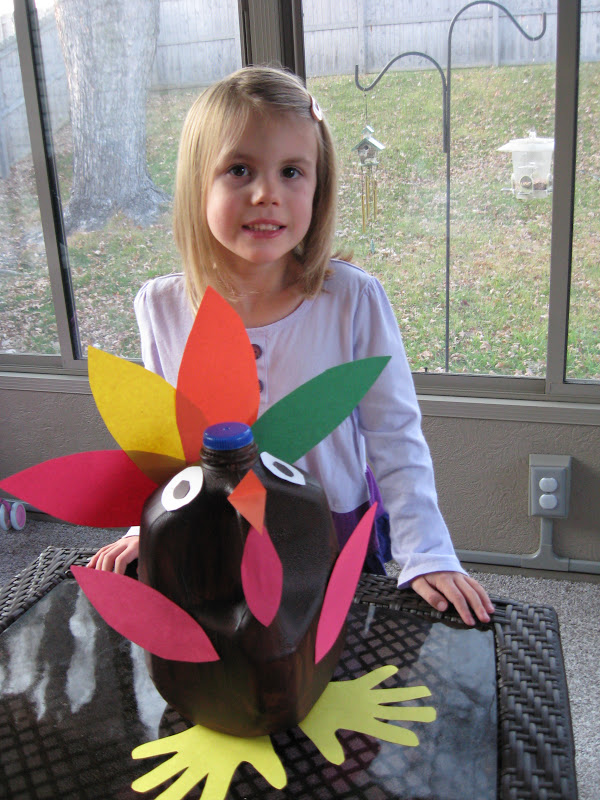 This is a fun and easy turkey activitiy you can do with your little ones to celebrate Thanksgiving! Tutorial via mumblingmommy
DIY Plastic Water Bottle Fish Craft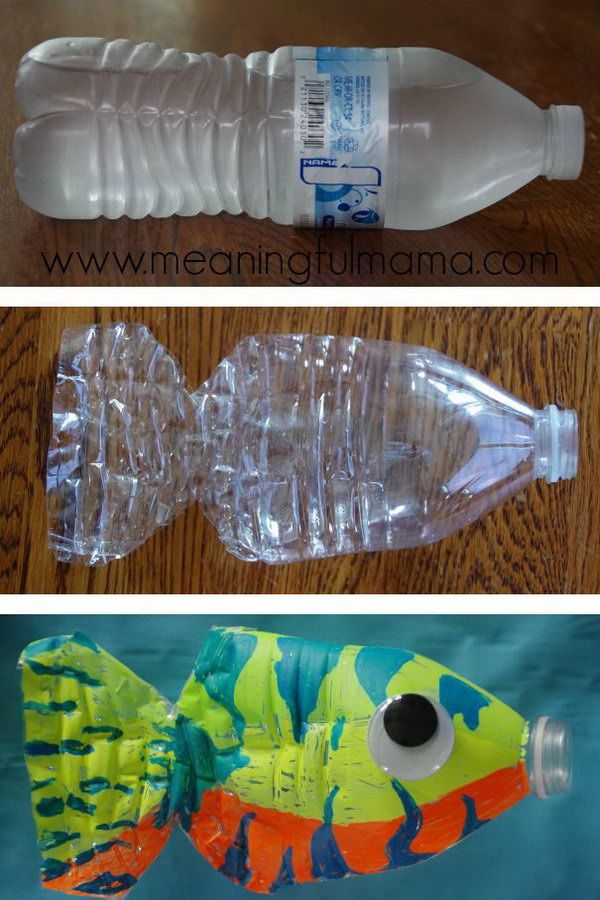 Kids will have fun recycling an empty soda bottle into a beautiful fish! Tutorial via meaningfulmama
DIY Plastic Bottle Aeroplane Piggy Bank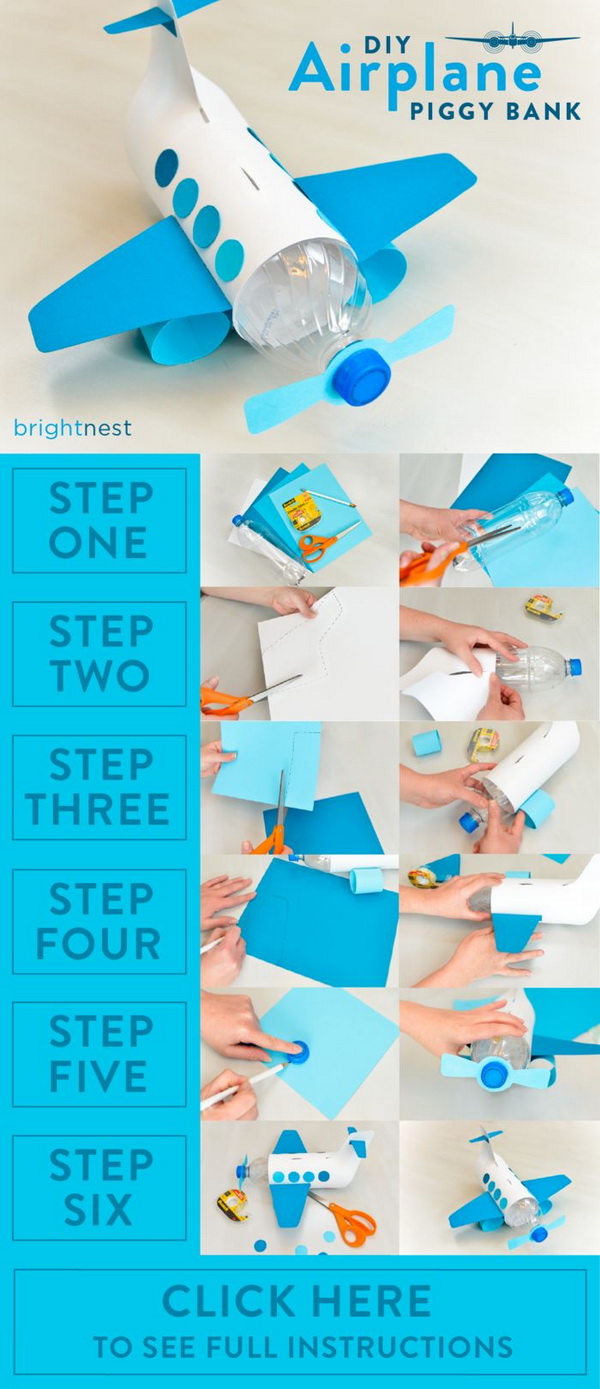 This plane is made from an old plastic bottle. It's also a cool project to have fun with your kids recycling and crafting! Tutorial via brightnest