20+ Creative DIY Christmas Door Decoration Ideas
It's December! Christmas is just around the corner! Boost the holiday cheer with door decorations that call out the season. Today in this post, we have rounded up some creative and festive DIY Christmas door decoration ideas for your inspiration! You can decorate your door with the standard holiday greenery or a door wrapped like a Christmas gift, greet visitors with a bit of humor and so on. These creative ideas would surely get your door Christmas-ready and brighten up your front porch and help spread the Christmas cheer this holiday season. Take several minutes to browse through all these ideas and get yourself into the holiday spirit and welcome guests with a display that offers tons of holiday cheer!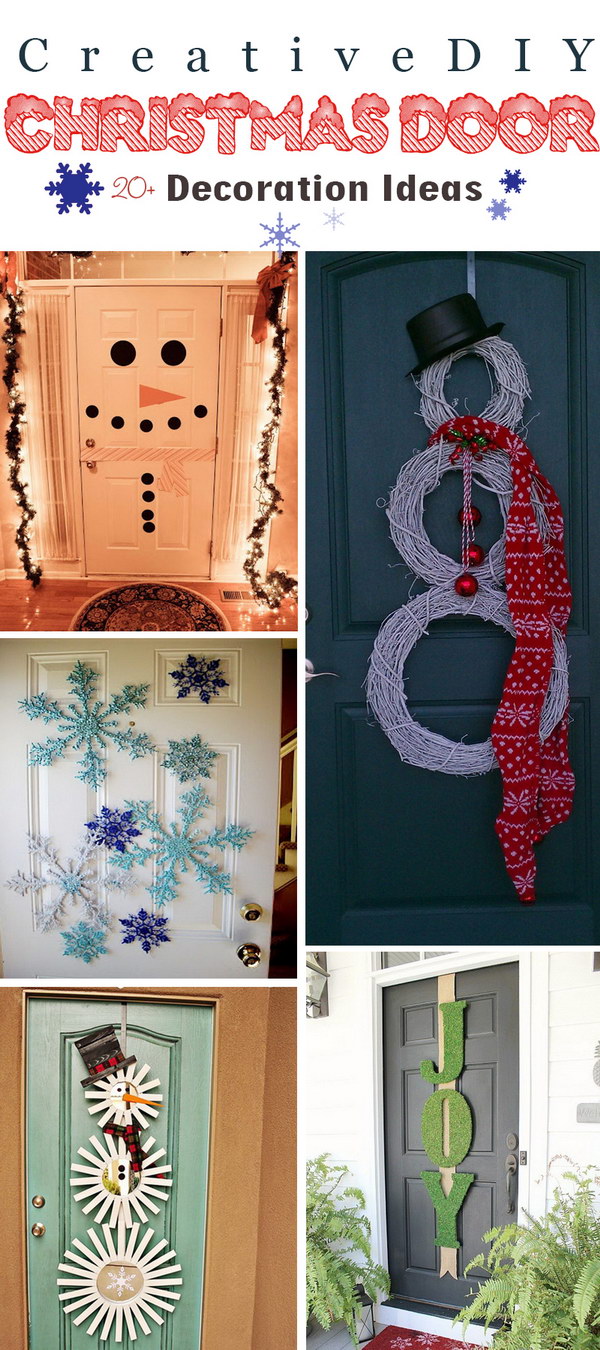 Snowman Door Decoration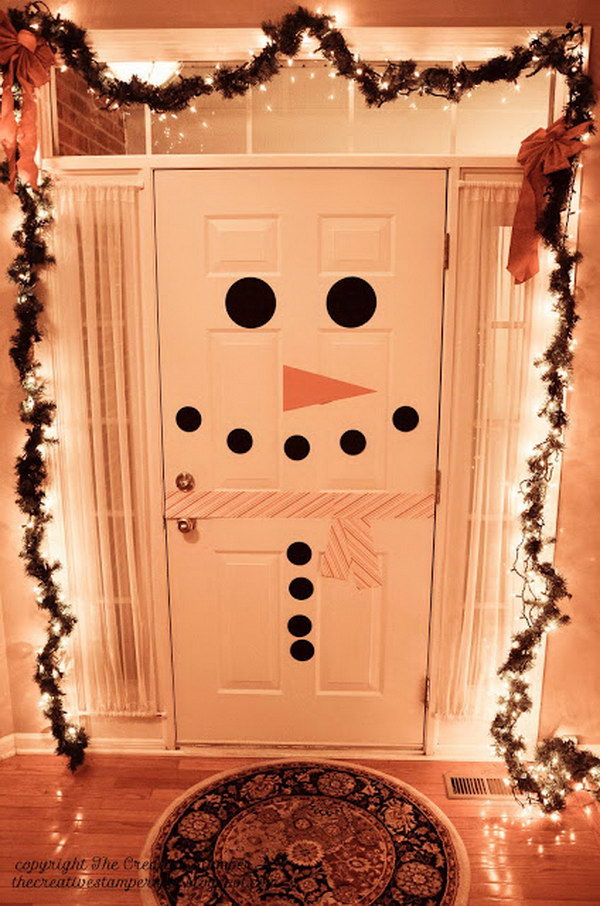 Decorate your door with this creative and simple idea. You kids will in LOVE with this snowman project! See more details via the creative stamper spot.
DIY Santa Hat Door Hanging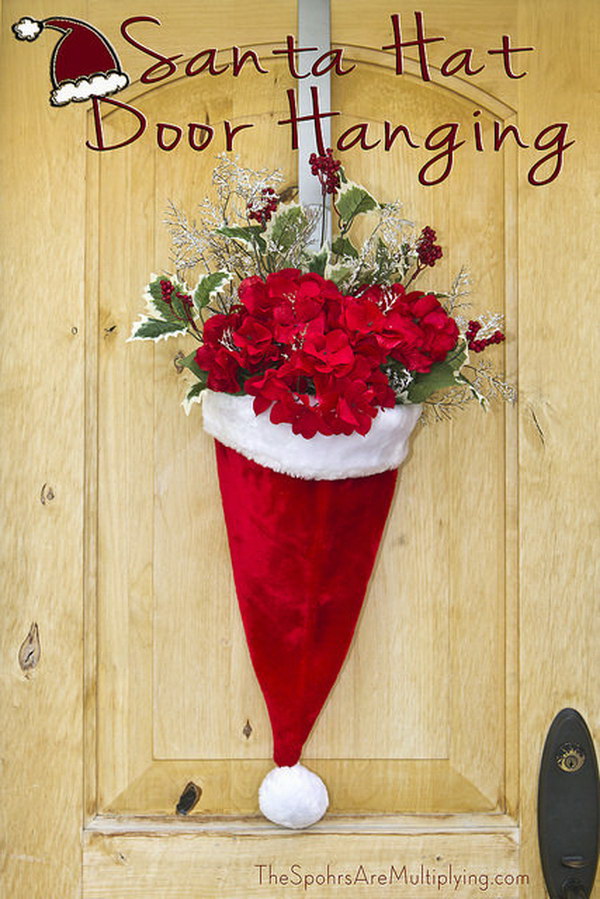 Instead of a traditional wreath try using the Santa hat and some fake flowers or evergreens to make this super cute and simple Christmas decor for your door! Get the steps via the spohrs are multiplying.
DIY Holiday Framed Ornament Wreath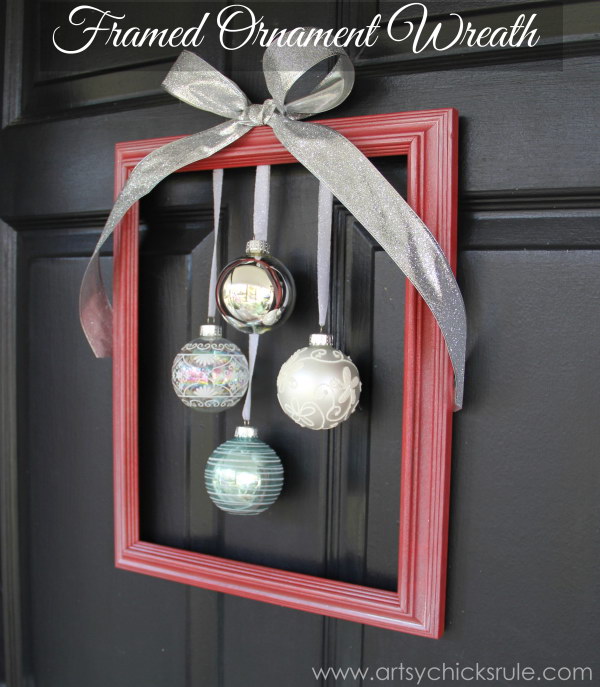 A quick and easy way to take a few ornaments and an old frame, then dress them up gorgeously for your front door! Learn how to make it via artsy chicks rule.
DIY Christmas Berries Wreath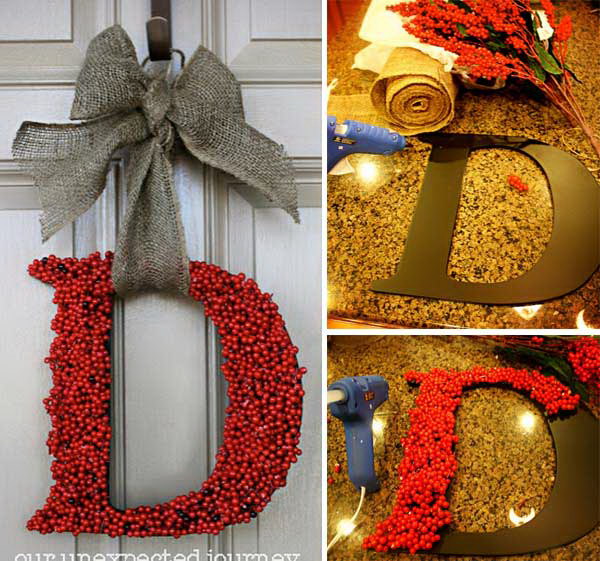 Love the solid red color of these holly berries! They are perfect materials for a DIY wreath for Christmas door decoration! See the steps to make it via our unexpected journey.
Weather Proofing Door Hangs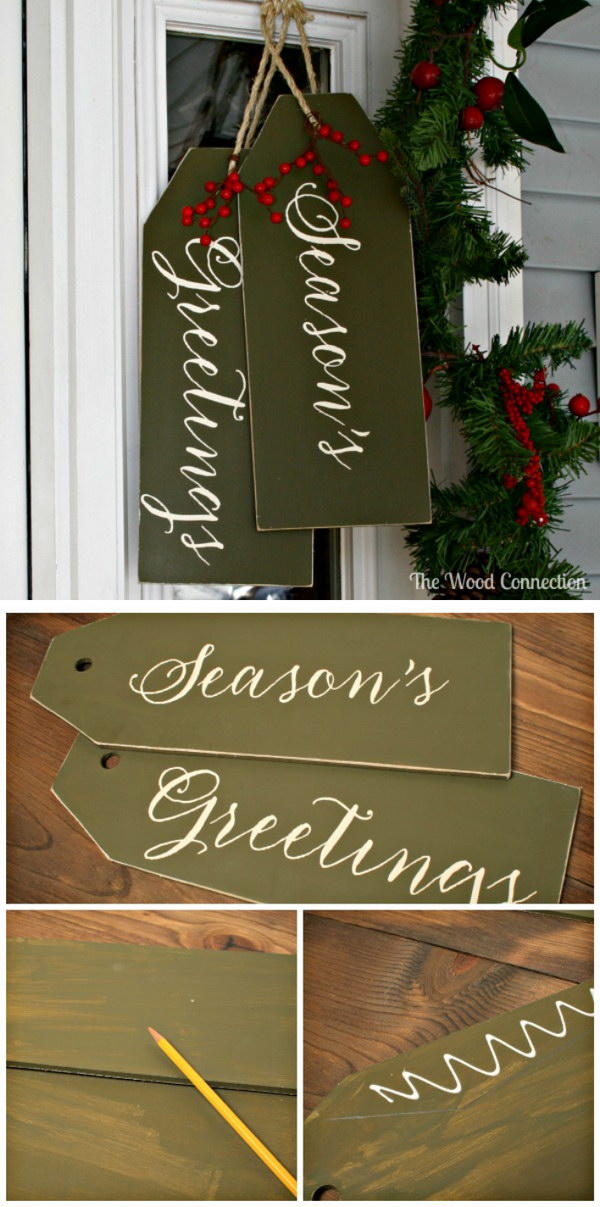 Cover your seasonal decorations with matte adhesive spray, then you won't have to worry about the winter storms to get in the way to your Chriatmas fun! See the details and steps via the wood connection blog.
DIY Rustic Snowman Wreath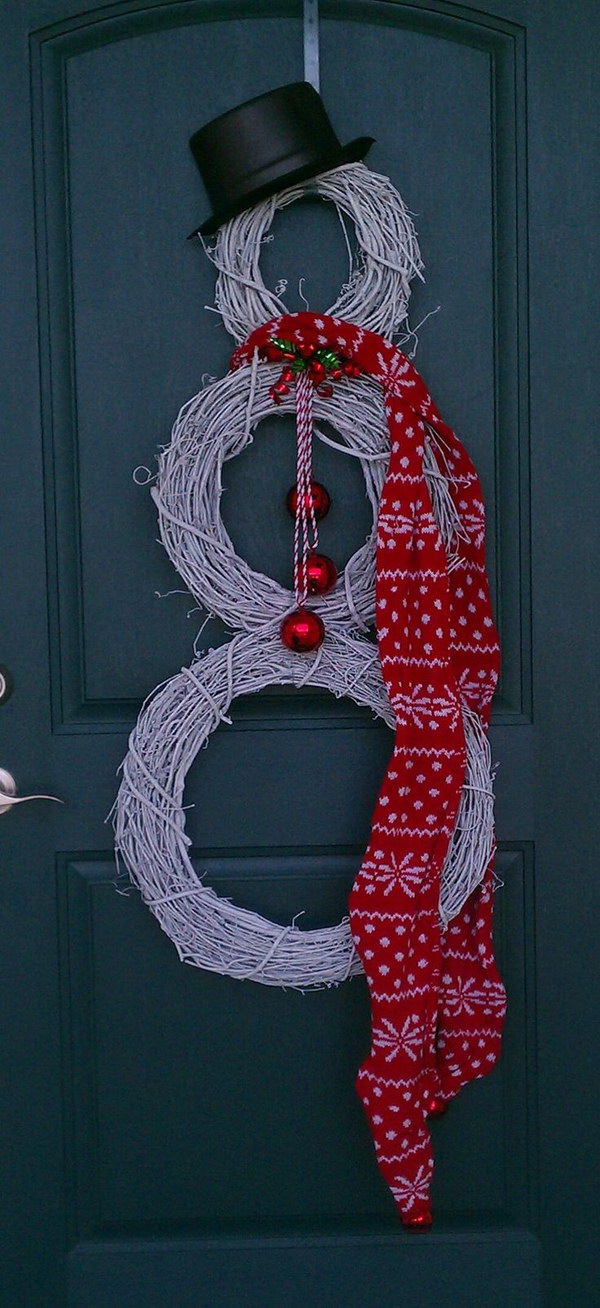 This cute snowman is made with three different size grapevine wreaths. Add rustic charm with this vine snowman wreath to your wither decor! source.
Gift Wrapped Front Door Decoration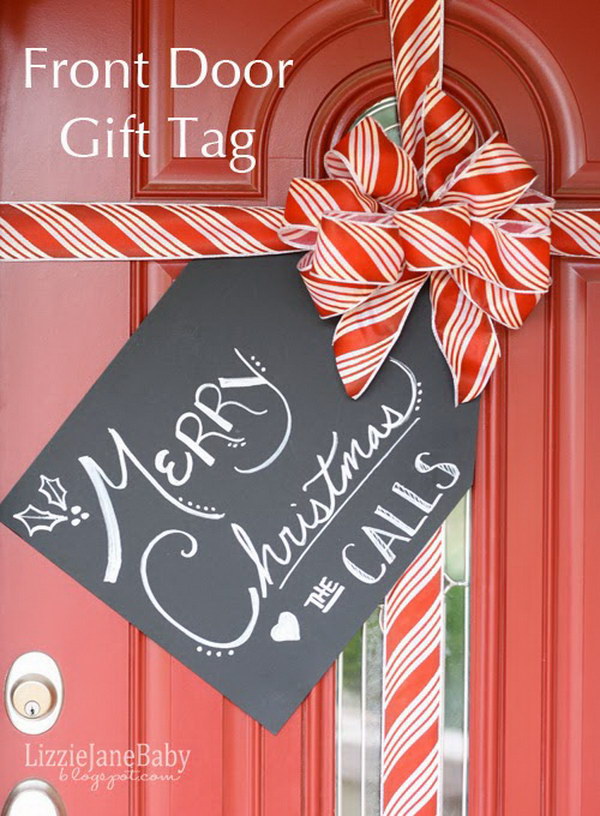 Love this gift wrapped door decoration idea. Add an adorable super sized gift tag to welcome your visitors! Super easy yet creative and fun idea! See the steps via lizon call.
Garnet Hill Inspired Moss JOY Letters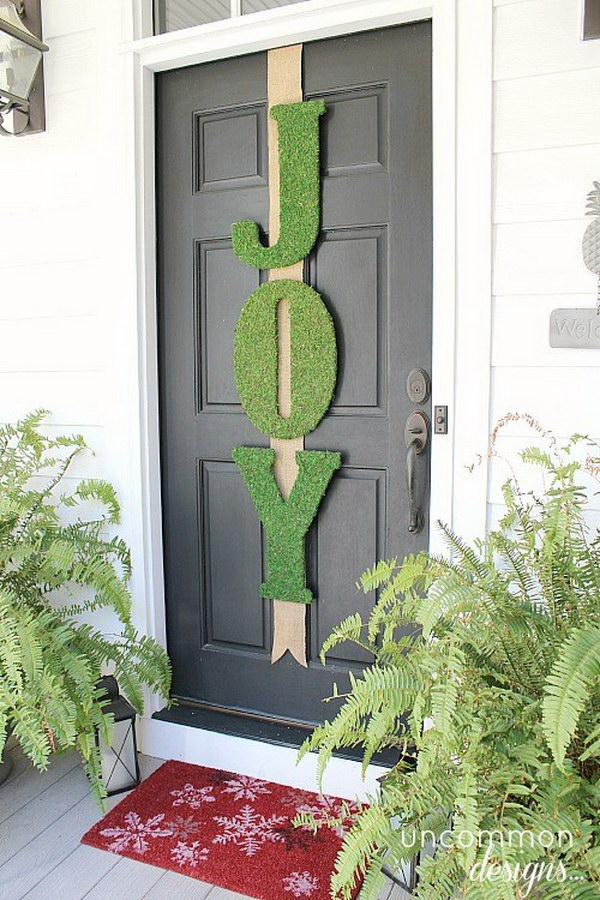 oyfully welcome your guests with a mossy JOY banner on your front door. Steps to make it via uncommon designs online.
DIY Chriatmas Swag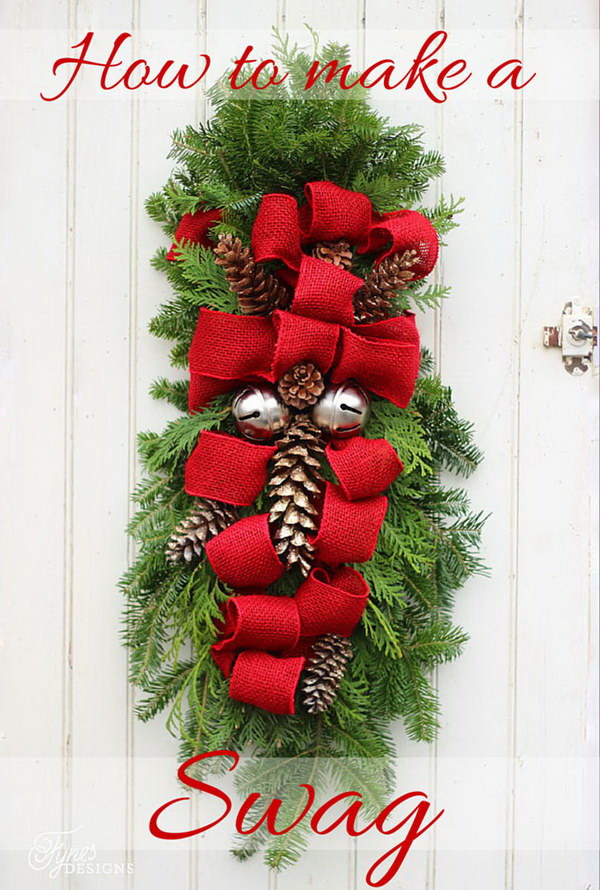 Using natural plants to make this swag, bringing all that garden freshness right to your doorsteps. See the tutorial via fynes designs.
Easy Christmas Tree Garland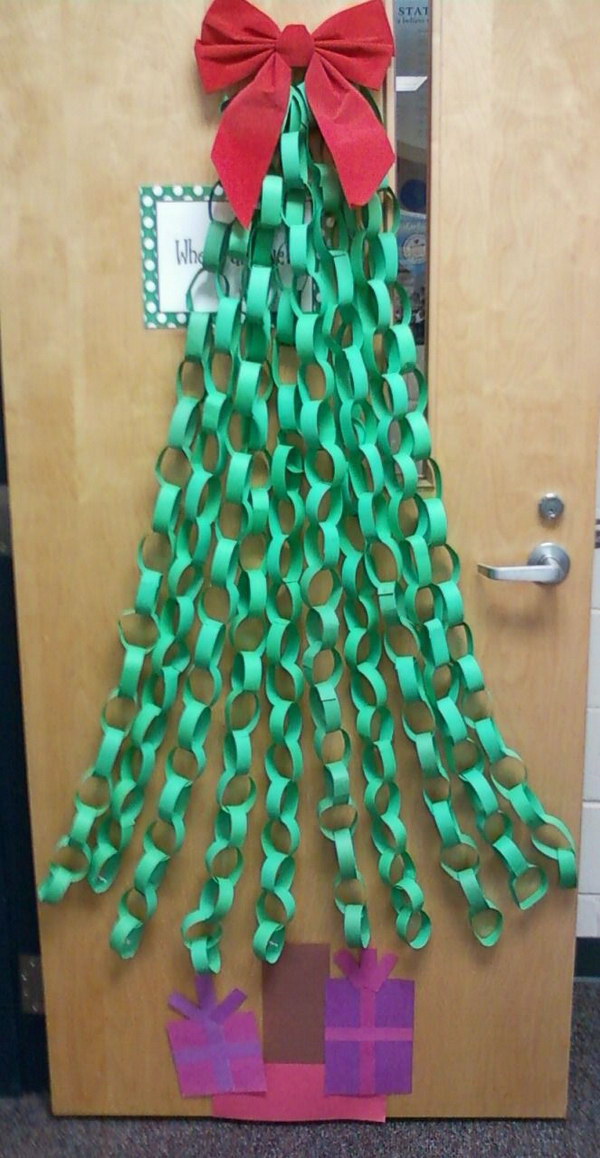 This Christmas tree garland was made from paper chains. It would definitely make any door more welcoming. You could use construction papers or colored lightweight cardboard to make a sturdy piece. Have great fun to make this one with your kids! See more details via smash blog trends.
Framed Christmas Tree Ornament Wreath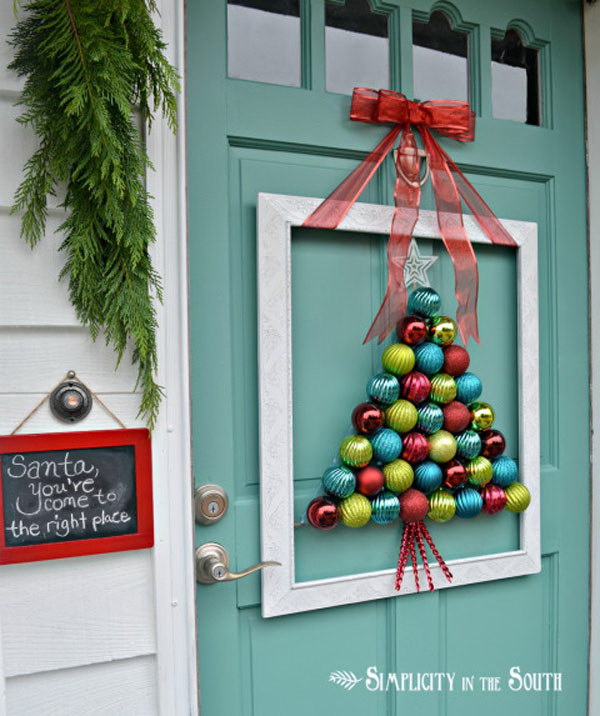 Learn how to make this beautiful framed Christmas tree ornament wreath for your door decoration via simplicity in the south.
Dollar Store Snowflake Door Decoration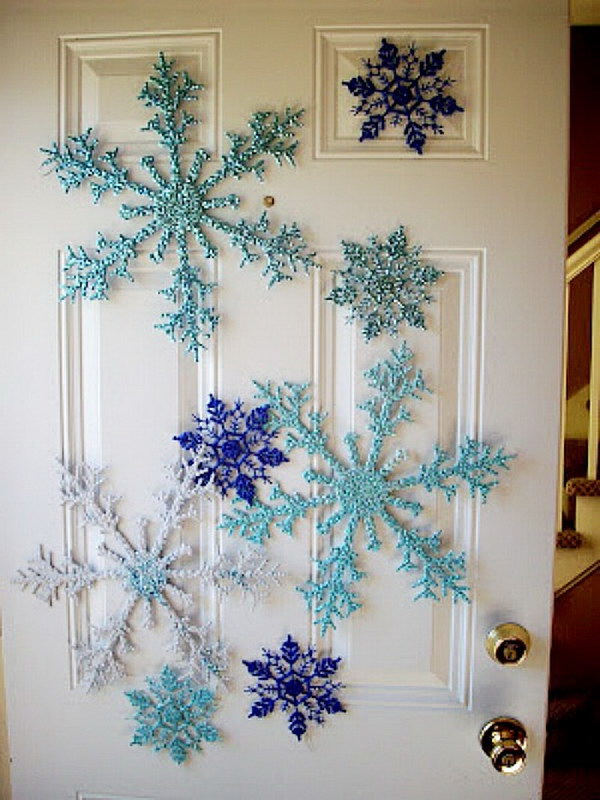 This is so cute and easy for our front door decoration this year! See details via the craft in me.
DIY Ornament Door Decoration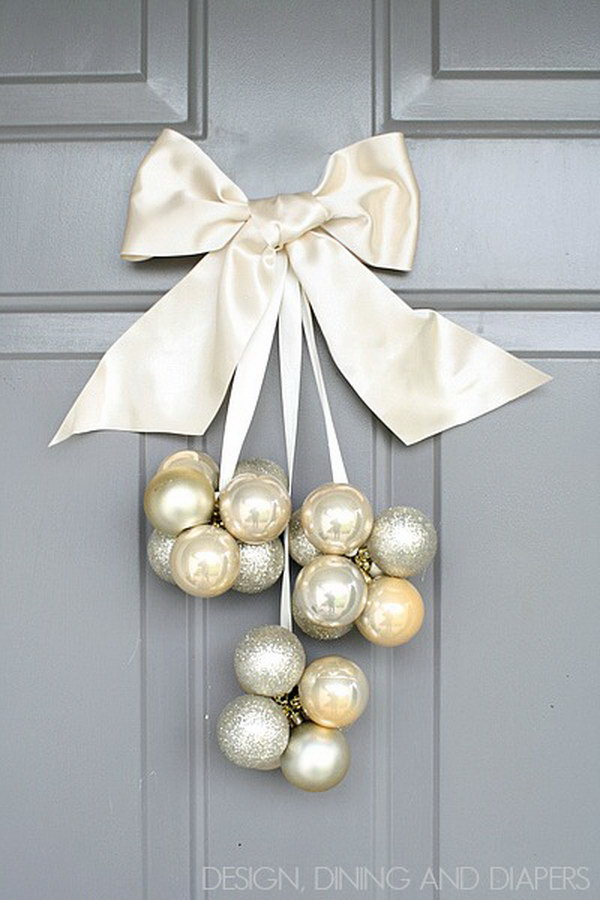 Get ornaments and ribbons from the dollar store and make this simple ans elegant decor for your door this Christmas! Create an elegant winter wonderland vibe to your home! See the tutorial via design dining and diapers.
DIY Christmas Door Decoration with Ornaments and String Lights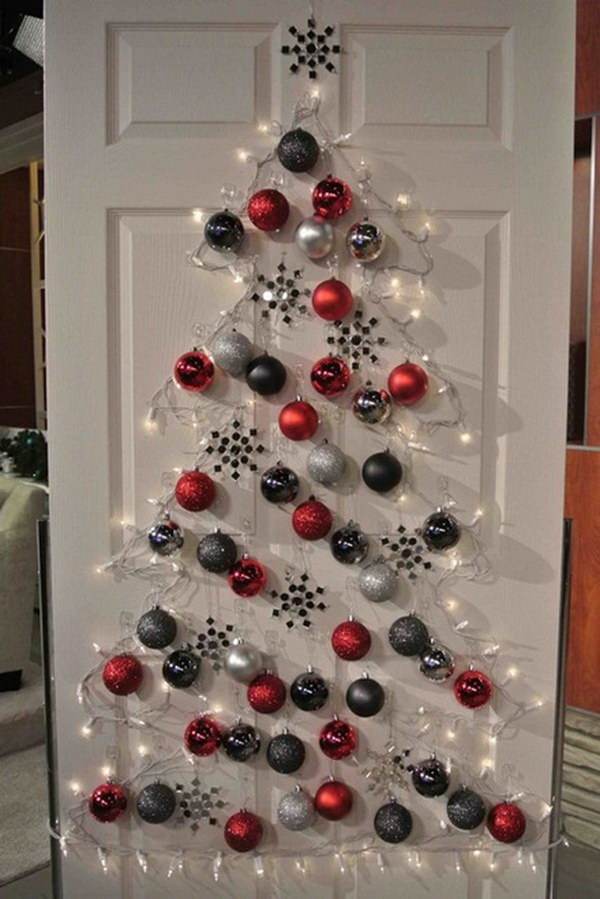 Use Christmas ornaments to make a stunning Christmas tree. It would be would be so attractive on your door and is perfect with string lights. More details via family holiday.
Joy Wreath on Your Door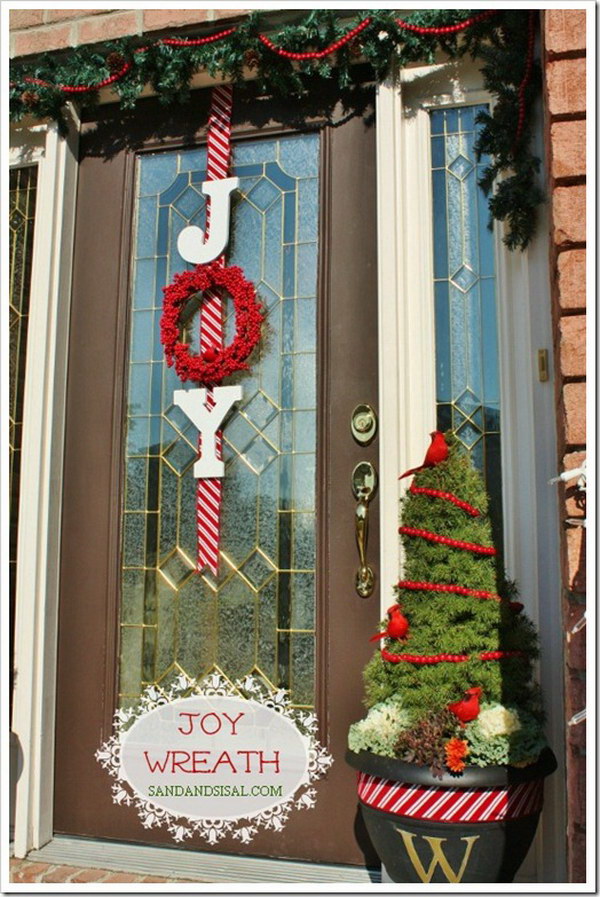 Enjoy the real joy of Christmas with this creative door docorations! See the tutorial via sand and sisal.
DIY Ornament Wreath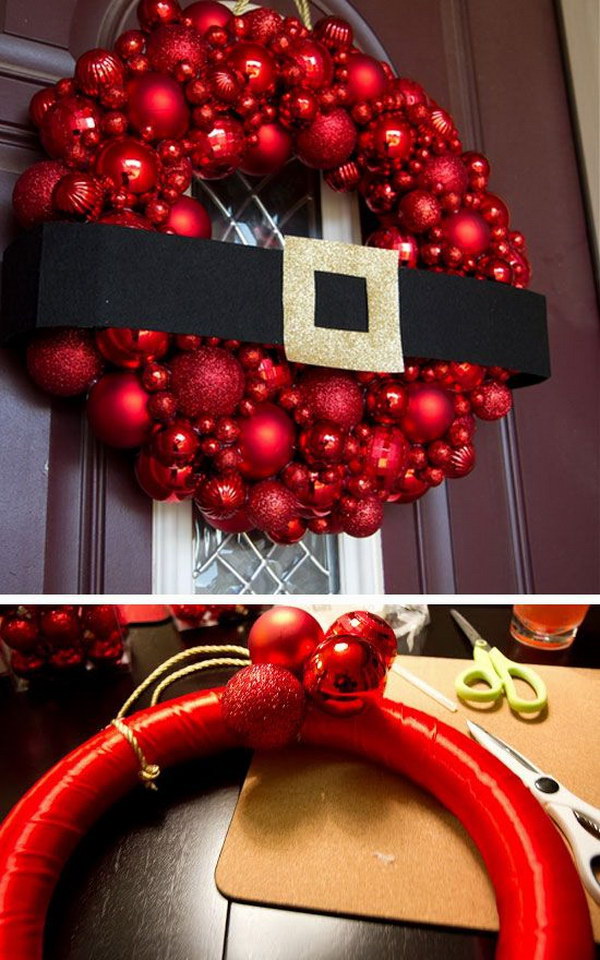 Add holiday cheer and warm to your home with this easy to make ornament wreath! Simple but stunning Christmas door decoration idea! See the steps via mk-creations.
Pinecone Christmas Door Hanger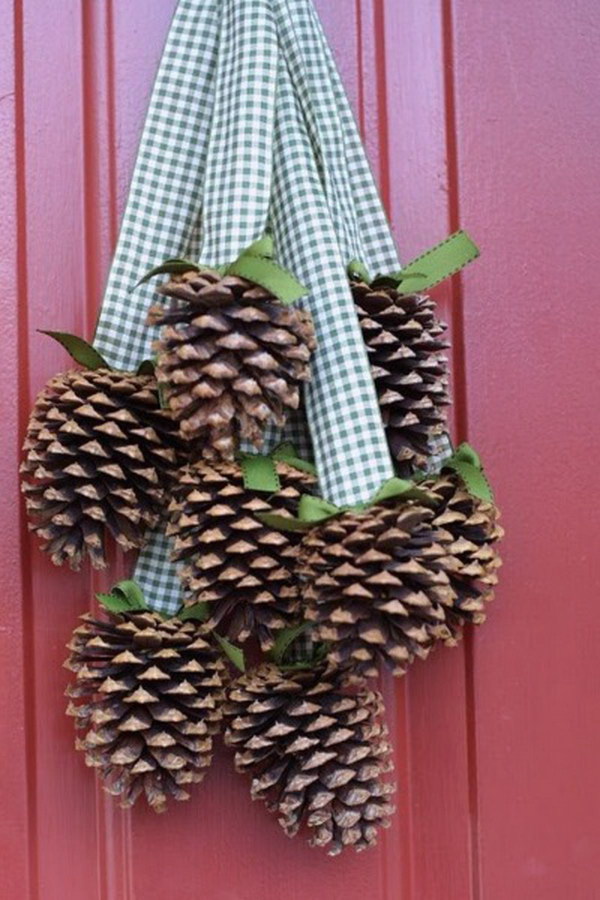 A super easy door decoration. Get a nice ribbon and tie your pine cones to add a rustic warm to your door decoration this Christmas! See more via digs digs.
Wine Cork Christmas Wreath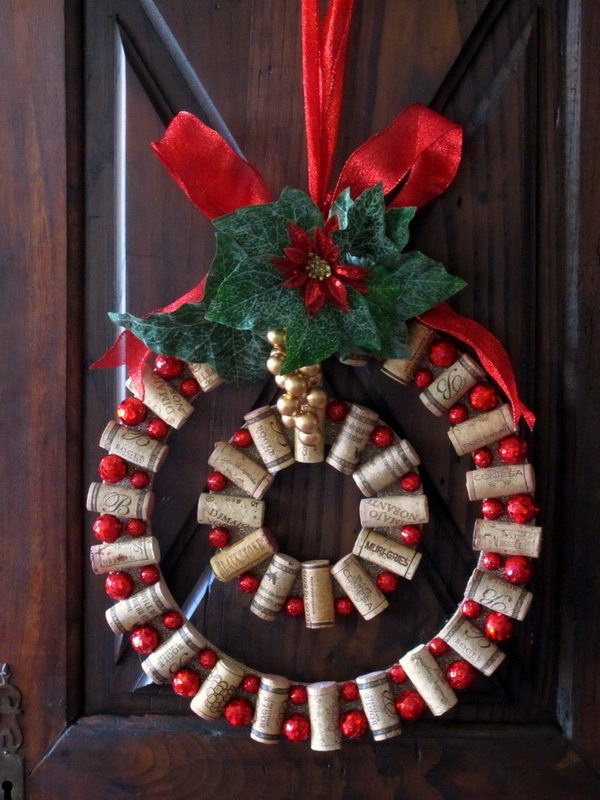 A really fun and festive Christmas wreath made with wine corks. .It's very inexpensive and would also make a great decor for Christmas door! Via wine and cork.
Christmas Door Stockings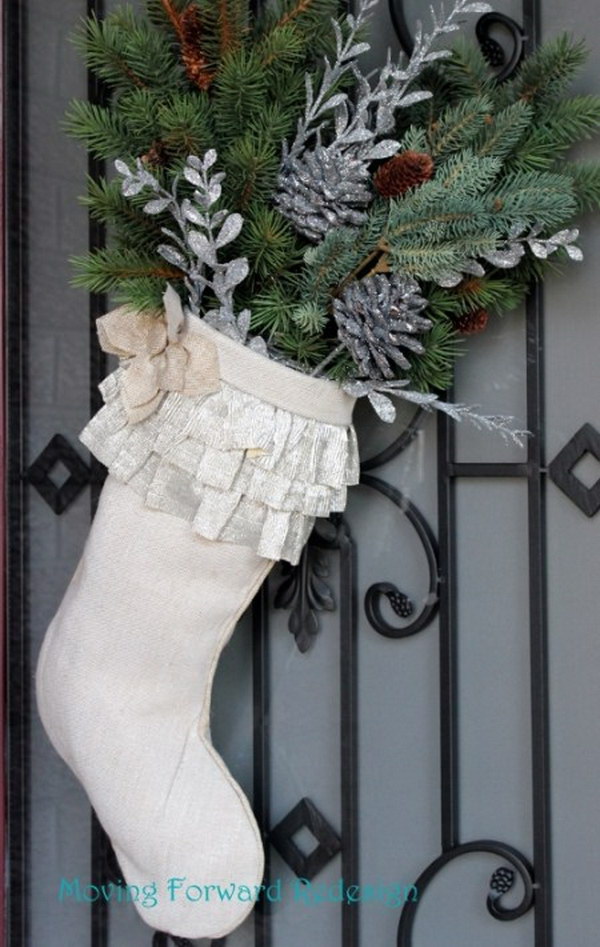 Learn how to use old stockings for door decotation this holiday via decor and dine blog.
Shining Star Door Decor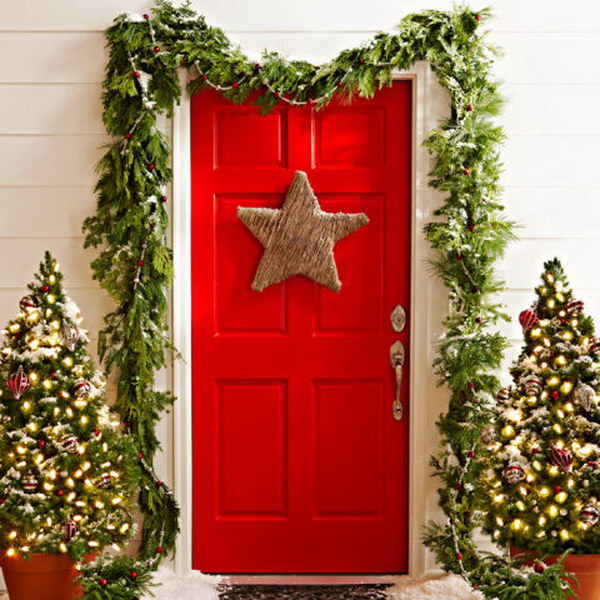 A DIY twine star is a super charming element to a holiday door. See the tutorial via lowes.
Frosty-Inspired Door Decor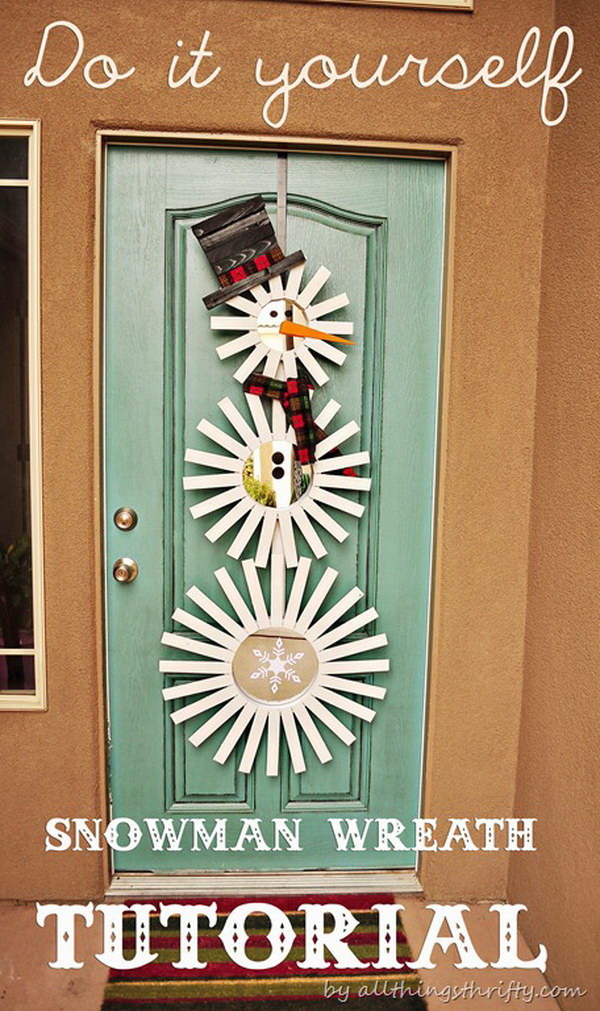 Use wood shims to craft this happy snowman! It looks great on your door! Tutorial via source.